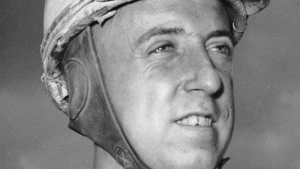 By Phillip Prichard, MSA: 
Rex White, 84 years young, will be inducted into the NASCAR Hall of Fame in 2015, along with Bill Elliott, Fred Lorenzen, Wendell Scott and Joe Weatherly. Many of today's NASCAR fan are unfamiliar with Rex White and his legacy of being Chevrolet's best driver in 1960 driving the gold and white number 4 and finishing fourth in All-Time Finishes with an average of 8.983 in 233 starts.
He finished among the top five in nearly a half of his 233 races and outside the top 10 only 30 percent of the time. White was a short track specialist in an era in which those tracks dominated the schedule. Of his 28 career wins in NASCAR's premier series, only two came on tracks longer than a mile in length. Driving his own equipment, White won six times during his 1960 Grand National championship season, posting 35 top 10s in 40 starts. In 1960, he received the Most Poplar Driver Award and the Driver of the Year.He finished in the top 10 six of his nine years in the series including a runner-up finish in 1961. Consistency was the hallmark of Rex White's NASCAR career.
White started racing in NASCAR in 1956, where he started 24 races and finished in the top 10 on 14 occasions. In 1958, he ran 23 of 44 NASCAR races, winning five times, capturing five pole positions, finishing in the top 5 eleven times and finishing in the top 10 thirteen times. White stated one of his most memorable races was the 1962 Dixie 400 at Atlanta Speedway battling Marvin Panch. In the 1962 season, white had his best career wins of a season winning eight times. He ran his last race in 1964 driving a Mercury after Chevrolet pulled out of racing in 1963.
White has written two books with Anne B. Jones: Gold Thunder: Autobiography of a NASCAR Champion and All Around The Track. In the Gold Thunder, it chronicles his boyhood during the Depression in the poverty-wracked mountains of North Carolina, where about the only way to earn a dollar was mill work or moonshine. White, with a third-grade education, found another way. "I was always good with cars," he said. "I had a natural racing ability. I started running on some local tracks, did pretty good, and before long I had an offer to drive for Chevrolet." White is avid racing historian and has many stories of his career and his rivals such as the Petty's, Ned Jarrett, Fireball Roberts, Curtis Turner, Joe Weatherly and Buck Baker.  In his book, All Around The Track , 60 Histories of Drivers, Mechanics, Officials, Owners, Journalists Others in Motorsports are profiled. Rex White is to be congratulated on his NASCAR Hall of Fame induction.