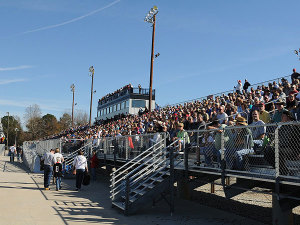 Gresham Motorsports Park will close out its 2014 season on a high note this Saturday, September 20 when the Jefferson, GA raceway hosts Fan and Sponsor Appreciation Night.
According to GMP general manager John Close, all fans will receive FREE general admission to the GMP Main Grandstand and Trackside Parking areas.
"It's going to be a fun night," Close stated. "We've had an amazing season and what better way to say thank you to our fans than to let them into our Main Grandstand and Trackside Parking areas for free. It will also provide an opportunity for new fans to check out GMP and see what all the excitement is about. We're looking forward to having a huge crowd and a great night of racing this Saturday evening."
GMP's Fan and Sponsor Appreciation Night program Saturday will feature seven divisions of racing – Legends, Bandoleros, Front-Wheel Drives, Sportsman and Renegades on the GMP quarter-mile oval and the Outlaw Late Models and Pro Trucks on the high-speed half-mile track.
Pit admission will still be $20 while all unreserved Trackside Parking spots will be sold for $15 on a first-come, first-served basis.
Meanwhile, Close indicated there will be dozens of fan prizes and giveaways awarded throughout the night from several GMP season sponsors including Budweiser (Leon Farmer and Associates), Bell's Food Stores, Coca Cola and Papa John's Pizza.
"We've got some great stuff from Budweiser including a Kevin Harvick promotional hood, four metal signs and 12 standups," Close stated. "Bell's has provided four $25 Gift Cards and we'll use two of them as first prize in our adult Speedy Spud and kid's Hula Hoop contests. Meanwhile, Coca-Cola is providing a cool tailgate picnic table and chair while Papa Johns will be handing out special discount coupons.
"We'll also have $1.50 Bud and Bud Light draughts in our GMP Beer Garden and tons of free GMP giveaway items," Close indicated. "Finally, our Souvenir Stand will have big discounts on our GMP T-Shirts, Hats and Sweatshirts. If you're looking for something special to give to your favorite race fan for Christmas, Saturday at GMP will be the time and place to buy it."
Gates for Saturday's Fan and Sponsor Appreciation Night at Gresham Motorsports Park open at 5 p.m. on with the first race rolling off at 7:15 p.m.
For more information about Gresham Motorsports Park, please visit www.racegmp.com.
You can also follow GMP on Facebook at Gresham Motorsports Park and on Twitter at GreshamMP.