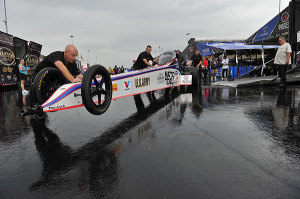 Story by Jenn McVay , photos by MSA Staff: 
NHRA Road Show rolled into town and so did the rain. NHRA safety safari's prep work of the track was washed out on Friday night and with clouds looming over head on Saturday morning gave doubt that qualifying would even be completed over the weekend.
On Sunday morning extra work was required of the safety safari due to the previous two days of persistent rains in which caused the rubber to be washed off the track. This event is the kick off to the NHRA'S 6 race chase to the Championship.
In the 1st round of Top Fuel Eliminations: Spenser Massey took down his teammate Antron Brown. Billy Torrance defeated Pat Dakin; Khalid al Booshi defeated Clay Milligan. Steve Torrance edged out Richie Crampton. Morgan Lucas dismissed Doug Kalitta. Tony"The Sarge" Schumacher advanced to the next round over Bob Vandergriff. And Leah Pritchett stole the win from Brittany Force.
Then in the Funny Car eliminations were just as interesting: Ron Capps defeating Tommy Johnson Jr., Bob Tasca III defeated Cruz Pedregon; Dave Richards dismissed Alexis DeJoria, Robert Height over Chad Head. Matt Hagan eliminating Tony Pedregon. Tim Wilkerson beating out "Fast " Jack Beckman, Jeff Arend over Del Worsham and the final but certainly not the least entertaining was John Force beating daughter Courtney Force to advance to round two.
Pro-Stock Car Round One eliminations came when Shane Gray was victorious of Richie Stevens Jr. . . . Jeg Coughlin defeated Greg Anderson; Jason Line was victorious over Chris McGaha.
Then came the match up no one will forget: Allen Johnson verses V. Gaines. Allen Johnson struggled at the 60' mark crossing the center line, at that point becoming disqualified giving the win to V. Gaines.
Just before the 1/8 mile mark V. Gaines first drifted to the right then countered back to the left. At that point his car came up on the two right side tires, causing his car to barrel roll and strike the concrete barrier. The concrete barrier shifted Gaines momentum placing the car on its nose causing it to violently spin in the air. Gaines was uninjured in the wreck. Thank Goodness.
Racing action was suspended due to heavy rains moving into the area. The event will conclude in Dallas Texas next week.