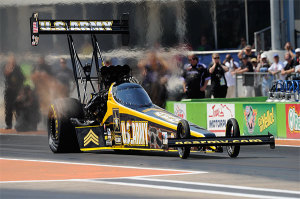 Don Schumacher Racing swept the nitro categories as Tony Schumacher (Top Fuel), and Matt Hagan (Funny Car) took home titles in the delayed Pep Boys NHRA Carolina Nationals Saturday at Texas Motorplex.
Jonathan Gray (Pro Stock) and Eddie Krawiec (Pro Stock Motorcycle) also were winners in their respective categories at the opening event in the six-race NHRA Mello Yello Countdown to the Championship playoffs.
Schumacher recorded his 75th career victory in Top Fuel when he powered his U.S. Army dragster to victory over Khalid alBalooshi's Al-Anabi Racing dragster. Schumacher had a winning time of 3.866 seconds at 318.77 mph to take his second Carolina Nationals win and move into the playoff points lead.
"It couldn't have come at a better time," Schumacher said. "It is the first race in the Countdown even though we had to move it, it doesn't really matter. In reality, fantastic timing, we took over the points lead, I don't know where we are but we are in the lead. If we can maintain and stay ahead of these guys for five more races, and I know we have the car capable of doing it, we'll be there to force the issue."
Schumacher entered the Countdown to the Championship as the fourth seed in Top Fuel, but first round losses by Doug Kalitta, Antron Brown and Shawn Langdon propelled him into the points lead.
"Textbook: one, two and three go out and you are sitting there in fourth, the best case scenario would be 'wow those guys are out, we have to go close the deal,'" Schumacher continued. "We have to make up those points as we can. So often you see the guys up front go out and you make a mistake; but if you want to win a championship, as good as the cars are, you better leave nothing on the table and absolutely dominate."
In Funny Car, Hagan defeated rival John Force for his second victory of the season and 12th of his career. Force fouled at the start in his Ford Mustang, giving the automatic victory to Hagan, who posted a 4.200 at 297.17 in his Rocky Boots/Mopar Dodge Charger.
"My guys busted their butts today, I'm so proud of them," Hagan said. "To see my guys sweating and working so hard, it makes me so proud of them. They are a great group. I wouldn't trade Dickie Venables for any crew chief out here. The guy is smart, he is methodical, and this is only our second year together and we still have a lot of growing to do."
With the win, Hagan moves from fifth to third in points, only 11 behind Robert Hight who is second in the standings.
"Dickie was able to put a car under me that went down the track every lap," Hagan said. "We wanted those bonus point, you'd love to see yourself go out there and scoop up all the points that you can but you have to be smart and what Dickie did today was smart. He went out there and raced."
In Pro Stock, rookie driver Gray recorded his first career win in his third career final. Gray defeated series points leader Jason Line with a performance of 6.589 at 209.10 in his Gray Manufacturing Chevy Camaro.
"It's huge, it is big for all the guys back at the shop and all the guys at Gray Motorsports," Gray said. "They are doing a phenomenal job, all the guys in the engine shop. I've got a really good group of guys. I've got to thank my wife and kids for their support and my mom and dad for being so supportive. I can't say enough and such a good deal."
Krawiec rode his Screamin' Eagle Vance & Hines Harley-Davidson to his third consecutive Pro Stock Motorcycle victory and moved into the series lead. He earned his 26th career win by posting a performance of 6.888 at 193.49, to hold off Johnson's Suzuki, which finished in 6.917 at 193.29.
"You want to do well at every race you go to and you want to be prepared," Krawiec said. "The key for us I think was rolling off the truck with great momentum, and making good runs down the track. That is what I have done with my Harley the last couple of laps and making good clean straight runs . Work on your setup and tweak away at it. I think I've got an awesome motorcycle and it has been great to do. I'm excited."
***
ENNIS, Texas — Final finish order (1-16) at the delayed seventh annual Pep Boys NHRA Carolina Nationals at Texas Motorplex. The race is the 19th of 24 events in the NHRA Mello Yello Drag Racing Series.
TOP FUEL:
1. Tony Schumacher; 2. Khalid alBalooshi; 3. Steve Torrence; 4. Spencer Massey; 5. Morgan Lucas; 6. J.R. Todd; 7. Leah Pritchett; 8. Billy Torrence; 9. Doug Kalitta; 10. Shawn Langdon; 11. Bob Vandergriff; 12. Antron Brown; 13. Richie Crampton; 14. Brittany Force; 15. Clay Millican; 16. Pat Dakin.
FUNNY CAR:
1. Matt Hagan; 2. John Force; 3. Robert Hight; 4. Bob Tasca III; 5. Ron Capps; 6. Jeff Arend; 7. Tim Wilkerson; 8. Dave Richards; 9. Courtney Force; 10. Tommy Johnson Jr.; 11. Chad Head; 12. Jack Beckman; 13. Tony Pedregon; 14. Del Worsham; 15. Cruz Pedregon; 16. Alexis DeJoria.
PRO STOCK:
1. Jonathan Gray; 2. Jason Line; 3. Shane Gray; 4. Vincent Nobile; 5. Dave Connolly; 6. Jeg Coughlin; 7. V. Gaines; 8. Erica Enders-Stevens; 9. Rodger Brogdon; 10. Shane Tucker; 11. John Gaydosh Jr; 12. Larry Morgan; 13. Greg Anderson; 14. Chris McGaha; 15. Richie Stevens; 16. Allen Johnson.
PRO STOCK MOTORCYCLE:
1. Eddie Krawiec; 2. Steve Johnson; 3. Andrew Hines; 4. Chaz Kennedy; 5. Hector Arana Jr; 6. Matt Smith; 7. Angie Smith; 8. Scotty Pollacheck; 9. John Hall; 10. Hector Arana; 11. Jerry Savoie; 12. Shawn Gann; 13. Michael Ray; 14. Adam Arana; 15. Jim Underdahl; 16. Brian Pretzel.