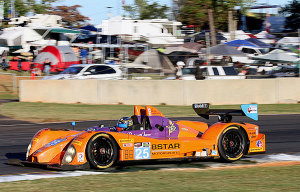 What promised to be a day of celebration and elation for 8Star Motorsports ended on a disastrous note, as a potential race victory was cruelly swiped from the team's grasp at Petit Le Mans powered by Mazda – the final round of the inaugural TUDOR United SportsCar Championship and the Tequila Patron North American Endurance Cup on Saturday (4 October).
With only 18 minutes of the ten-hour endurance feature race remaining, Sean Rayhall was leading the Prototype Challenge (PC) battle after a great comeback, when he was rear-ended into the wall.
Thankfully, the Georgia-based 18-year old emerged from the terminally damaged #25 PC machine unscathed after a tense moment of uncertainty, but was evidently frustrated.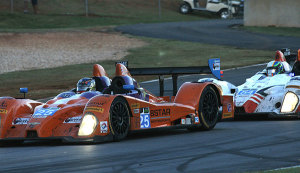 After a tough start, Eric Lux gradually eased up towards the frontrunning pace and negotiated some traffic before being spun out ten minutes into the race. Beached on a curb, the New Yorker lost three laps to the leaders, although yellow-flag caution periods, strong speed and consecutive fastest laps allowed Lux and teammates Rayhall and Tom Kimber-Smith to claw their way back into contention.
By the halfway point of the race, 8Star was tantalizingly close to the lead lap and, with Rayhall in the car and just over three hours to run, the Pompano Beach-based team overcame Frankie Montecalvo for the lead.
8Star Motorsports continued to hold the initiative and Rayhall was the one chosen to finish the 2014-running of Petit Le Mans.
Unfortunately, with 18 minutes to go, the young Georgia hotshot was involved in a crash that ended the day for the 8Star Motorsports car and a highly frustrated Rayhall said: "I'm very disappointed with the end result, after a fantastic year for me and the 8Star Motorsports crew. Today we came back from three laps down and the car felt really good but, as we were closing in on the checkered flag, I was hit up the rear, ending our race. I feel really bad for Tom (Kimber-Smith), Eric (Lux) and the guys at 8Star Motorsports, as we had a great race and a great season together. Luckily I was able to walk away from the crash."
Kimber-Smith added: "It was a very disappointing end to the race after everyone put in so much work during the build-up and having had such a strong car. I think that today's race was a prime example that we have to look at driving standards. This season has been marred by incidents and it really is not acceptable; in qualifying and the races, there is just no consistency in penalties and I hope changes will be made for 2015. I am totally gutted and want to say a big thank you to Enzo (Potolicchio) and everyone at 8Star Motorsports, as well as Sean (Rayhall) and Eric (Lux)."
Lux continued: "8Star Motorsports gave us a great car and in each session we were able to get more and more time. I didn't get the best start and, unfortunately, Renger Van der Zande spun me out at Turn 7. I was stuck on the curb and it put us three laps behind the leaders. Everybody in the team did an amazing job to get us back up to the front and Sean (Rayhall) and Tom (Kimber-Smith) did an amazing job, setting incredibly fast laps. We were able to lead a significant amount of the race and, with 18 minutes to go, a Ferrari sent Sean into the wall, ending our race abruptly. Fortunately, Sean is in good condition and we can focus on fixing the car in the off-season. This 8Star Motorsports team did not deserve to end the year in this way, as it had been working hard all season and even fighting for the championship up to the last round."
8Star Motorsports Team Owner and driver, Enzo Potolicchio, concluded: "This isn't the best way to finish the 2014 TUDOR United SportsCar Championship season, but we are really happy that Sean (Rayhall) came out fine after that horrible crash. It is a shame we were taken out of the race with 18 minutes to go, as we were cruising to the checkered flag after Eric (Lux), Tom (Kimber-Smith) and Sean brought the car back into the lead. The most important thing to me is that Sean is ok and that the 8Star Motorsports team is a force to be reckoned with in the TUDOR Championship, becoming one of the leading teams for drivers and sponsors."