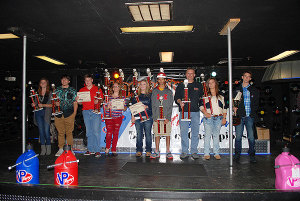 By: Wanda and Tim Glover
Hundreds of Atlanta Dragway racers, along with their families and friends, enjoyed an evening of fellowship and fun during the 2014 Atlanta Dragway Champions Banquet, held at Fuzions Bar and Grill in Monroe, GA. Thanks go to Fuzions owner, Mike Brown, who hosted the event and was spotted nearly everywhere helping the Atlanta Dragway staff make sure the event went smoothly.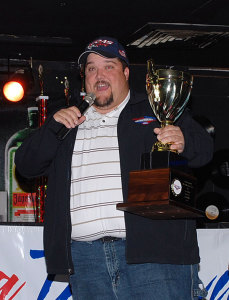 After a social hour where everyone got to catch up with each other, RFC Chaplain Scott Griffith opened the event with a prayer and then everyone got to enjoy a great buffet.  Shortly after, Atlanta Dragway staff including Mike Savage, Jodee Kennedy, Cody Savage and Taylor Parkerson thanked all of the racing program supporters for all their help.  They then began awarding a lot of the door prizes donated by these supporters.  They included, but were not limited to, Summit Racing Equipment, VP Racing Fuels, Lucas Oil Products, Coca Cola, Auto Parts International, Competition Products, Tanger Outlets, Mr. Bill's Souvenir Stand, Blanton Collision Center, Neal Racing Transmissions and ABC Paint Medics.  Mike Savage thanked the outgoing race fuel supplier VP Racing Fuels, announcing Sunoco Race Fuels will be the supplier beginning in 2015.
Special awards were given to recognize the accomplishments of racers, their crews and also Atlanta Dragway staff.  James and Cindy Rice, Tommy and Susan Spikes and Marty Wilhelm, the track preparation crew, were recognized for a great job of keeping the race surface competitive in 2014.  They were often up before daylight, making sure the track was in the best condition possible for each event.  The racer's choice for Employee of the Year went to Security Chief Harold Henderson, and the manager's choice for Employee of the Year went to Jodee Kennedy.  Both of these people are always friendly and outgoing, and they also get the job done.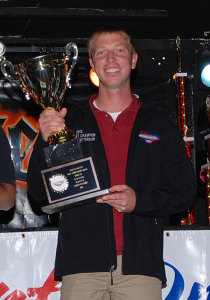 Other special awards voted on by the racers went to:
Troy Fortner – Most Improved;  Jay Rhyne – Driver of the Year;  Cole Sheriff – Sportsmanship;  Linda Wilhelm – Crew Chief Award;  Travis Bryant – Best Engineered;  Joe Haddon – Best Appearing
The first racers recognized were ones from the Junior Dragster contingent.  The special awards in younger Junior went to Cannon Stiles – Most Improved;  Bailey Dunn – Sportsmanship and Alana Carden – Best Appearing Car.  Awards in the older Junior contingent went to Rachel Flowers – Best Appearing;  Maddie Lee – Best Appearing Pit Vehicle and Rhonda Flowers (Rachel's mom) – eighth mile award.
Of note is many of the Junior Dragster racers moved straight into Super Pro class as soon as they were eligible.  The top three 2014 Super Pro points finishers were all Jr Dragster program graduates, including 2014 champion Jeremy Hancock, Hank Wilhelm (second) and Wesley Mayfield (third).
2014 Super Pro champion Jeremy Hancock said, "First off, Glory to God.  I'm thankful for everything I've been blessed with, including a great family and a great racing family."  He thanked his wife Ashley, Jr. Pippin, Stacy Blanton, Sid Neal, PAR Racing Engines and Mickey Thompson Tires for their help, and then added, "Last but not least is my dad and mentor Mark. Dad always told me to surround myself with good people.  He never pressured me to be a good racer, and this sport has helped us become as close as we can."
Four time 2014 Pro champion Chad Brewer added, "Thank you everybody.  It's been a great year.  Thank you to Dickey Forrester for helping me build the whole car.  It's really his set-up.  You can't go wrong with 40 years of his experience."
2014 Sportsman champion Nick Wagner was unable to attend due to previous commitments, but his dad Pete (owner of ABC Paint Medic), along with brothers Steve and Jeff were there to accept his award and champions jacket (which fit Pete perfectly).  "I'm proud as his dad, and he (Nick) wanted to thank God, the Atlanta Dragway track crew, his brothers and family.  He also wanted to thank the Mayor of Hickory Flat for towing him back to the pits each of the four times he broke an axle this year, and CV Source for keeping fresh axle assemblies ready.
Eight time Super Pro Motorcycle champion Jay Rhyne fought through adversity and illness in 2014 on his way to the top.   "This has been a great year.  I came on out and raced sick because I had a chance to win the championship again.  Rhyne also thanked the entire Atlanta Dragway staff for helping make it a great year.
Street ET Motorcycle champion Andrew Patterson also thanked the Atlanta staff for the track prep.  Patterson did well in both Motorcycle classes, and is looking forward to going to Pro Stock Bike school in December.  He thanked fiancee Lorene for letting him come out each week, and also thanked Jack Hagood (PP&S) and Amsoil for their help.
Older Junior Champion Austin Carden has already put a lot of championships already under his belt, and was awarded his ninth, the 2014 13-17 year old Junior Dragster champions cup and jacket this evening. Carden thanked God, the track, his mom and dad and everyone that supported his racing.  Carden's sister Alana will be moving into the spotlight soon, as she debuted here Junior Dragster earlier in the season.
Younger Junior Champion Nate "Hot Rod" Halsey also has numerous championships, and received his champions cup and jacket during tonight's event.  Like Carden, he was a young man of few words.  "Thank God, my family and Little Bill for a great engine and a borrowed car.  Look out Super Pro, here comes Hot Rod Halsey!
There is also a sub -category in the younger Junior class for the top points earner in the eight and nine year old class.  This year Cannon Stiles came out on top and was awarded the 8-9 championship.
Mike, Cody, Jodee and Taylor Parkerson ended the evening helping make a lot of racers and their families happy by giving out the remaining door prizes donated by the many sponsors.