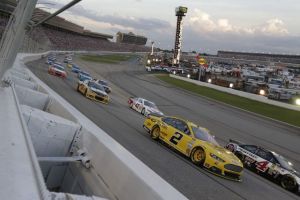 For one week only beginning today, Atlanta Motor Speedway is making an unbelievable discount offer available to fans for the Folds of Honor QuikTrip 500 on Sunday, March 1. Race fans can purchase "buy one, get one," or "BOGO" Lower Champions Grandstands or Upper Winners Grandstands seats located on the AMS front stretch.
This offer presents a 50 percent discount off the normal value and allows purchasers the opportunity to get two front stretch tickets for the price of one. Lower Champions Grandstands tickets, normally $99 apiece, will be available for $49.50 each, while Upper Winners Grandstands tickets, regularly priced $135, are on sale for $67.50 each.
The BOGO promotion is only available while supplies last and will end at 5 p.m. on Monday, Jan. 26. Fans are strongly encouraged to act quickly before the limited inventory runs out. All BOGO tickets must be purchased in pairs.
One of the best locations at AMS to watch a race, the start/finish line near the Lower Champions Grandstands affords fans an amazing, close-up view to all the high-speed drama on the front stretch. A clear look at the pits will give spectators the chance to watch pit strategy unfold before their eyes, where races are commonly won or lost.
Upper Winner Grandstands seats offer a wide-ranging view of the 1.54-mile facility, where fans can keep a close watch on their favorite driver as he or she rockets around high banks and long straightaways of one of the fastest tracks on the NASCAR circuit.
The Folds of Honor QuikTrip 500 weekend in Atlanta kicks off on Thursday, Feb. 26 for four days of nonstop NASCAR action, capped off with the March 1 Folds of Honor QuikTrip 500 NASCAR Sprint Cup Series race. For more information or to purchase tickets today, call the AMS ticket office at (770) 946-4211, (877) 9-AMS-TIX or visitwww.atlantamotorspeedway.com.