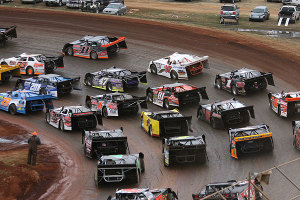 Story & Photos by Phillip Prichard, MSA:
284 cars in 7 Divisions came to the Talladega Short Track racing for the cherished Ice Bowl Trophies filled with ice and the prize money.  Fans were treated with an exciting three days of racing events that included Hot Laps, Qualifying, Heat Races, B-Mains and Feature Races. The Ice Bowl lived up to its name with cold temperatures in the 20s and 30s.
Tim Roswell of Coldwater, AL started on the pole in the Super Late Model Division on Sunday and he led flag to flag for the 50 laps.  Roswell had a picture perfect weekend being the fastest qualifier in his group, winning his qualifying heat, starting on the pole and winning the race, earning him the $6000 prize money.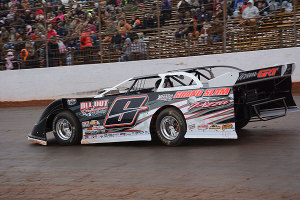 Last year's winner William Thomas finished second, followed by Riley Hickman, Donald McIntosh and Billy Ogle Jr.  51 Super Late Models were on hand competing for the 26 starting spots.
One of the most exciting parts of the race was on the last lap coming to the checkered flag. Riley Hickman made a bonsai move in turn three to pass Donald McIntosh. McIntosh did a cross over move sending him spinning into Ogle, both spun across the finish line, wrecking at the start-finish line.
48 Limited Late Models were on hand for the 25 starting spots, but it was Scottie Pritchett of Woodstock, GA, who dominated the race and took the checkers in 30 lap event.  Adam Cummings finished second with Dustin Stewart, third; Andy Picklesimer, fourt; and Chris Beck fifth.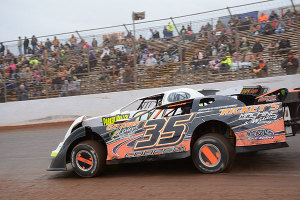 Jason Welshan of Maryville, TN dominated the 25 car field in the Crate Late Model Division race. Ray Cook was second followed by Chase Edge, Justin McRee, and Michael Page of Douglasville, GA.
Chris Yarbrough of Eastaboga, AL won the Bomber Division.
On Friday night, The Ice Bowl 2015, Kajun Mini Stock Winner was Bo Minor of Tuscaloosa, AL. He took home the $1500 prize money, as well as the coveted trophy filled with ice. Second place went to Michael Courteney. Third was Austin Baxley. Dustin Holbrook and J J Garrett round did out the top 5 of the 25 car field.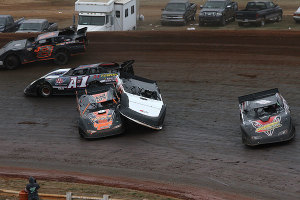 The Street Stock top five were: 1. Allen Carter (Murfreesboro, TN), 2. Richard Stephens , 3. John Smartt , 4. Tyler Hurst, 5. Michael Williams.
Also on Friday night, Jonathan Merritt won the Hot Shots Division.
Visit the Talladega Short Track Facebook page or http://www.talladegashorttrack.com/ for other events.