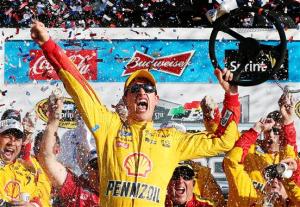 Joey Logano captured his first career Daytona 500 victory on Sunday, holding off a surging Kevin Harvick in a final three-lap, green-white-checkered finish to bring home a second Daytona 500 trophy for team owner Roger Penske.
Logano was well out in front of the pack when a crash on the backstretch brought out the final yellow flag on the white flag lap, freezing the field to give Logano the victory.
Harvick was scored in second, followed by Dale Earnhardt, Jr., Denny Hamlin and Jimmie Johnson.
Logano's win is the ninth Sprint Cup victory of his career for the 24-year-old Middletown, CT native, who becomes the second-youngest winner of the Daytona 500 behind 2011 winner Trevor Bayne, who won at just 20 years of age.
"What an amazing moment. Wow. To win this race is just amazing. My spotter did a great job giving me the information I need to get our front and stay out front before that last caution and be able to have a good restart there at the end.
"It feels just like the way you dream it. This is better than Disney World in here."
Logano may have originally been from Connecticut, but after his family moved to Georgia, he cut his teeth on the tracks of North Georgia. He was a multi-time winner at Atlanta Motor Speedway's ¼ mile "Thunder Ring" in Legends cars, and would move on to Late Models at tracks such as Gresham Motorsports Park in Jefferson, GA, Lanier National Speedway in Braselton and Watermelon Capital Speedway in Cordele, GA.
On Sunday, he took those skills learned racing the best in the Peach State right into victory lane in the Daytona 500.
Logano passed Jimmie Johnson for the lead with a daring three-wide pass on the outside with just nine laps to go and was leading the pack when the yellow flag waved with three laps to go, bringing out the red flag.
At the start of the three-lap shootout, Logano chose the high side and jumped out to a big lead with help from a big push from Clint Bowyer.
With the two out all alone in front, Harvick and Earnhardt, Jr. chased down Bowyer and hung him out to dry as the three dropped to the inside ahead of Bowyer as they came to the stripe for the white flag.
Halfway down the back straight, Jeff Gordon got turned off the bumper of Austin Dillon, setting off a multi-car crash that forced NASCAR to throw the caution, effective ending the race.
Gordon, who sat on the pole for his 23rd and final Daytona 500 – led a race high 87 laps but ended up with a 33rd-place finish after the crash.
For Logano, he was the right place at the right time, but never would have been there if it wasn't for the big push from Bowyer that put him out front.
"I knew I had the 15 (Bowyer) behind me and Clint Bowyer was the best pusher I could find out there and was able to push me to the lead and I knew I wanted the outside to make sure he was behind me to work up there again," said Logano. "We got the push that got us out front and that was just Clint pushing hard. He wasn't lifting before he got to my bumper, he was slamming into the back bumper and that is what we needed to get this Ford out front and here in victory lane."
Besides watching his mirror, Logano and plenty else to worry about after engines failures took out his teammate Brad Keselowski as well as fellow Ford driver Ryan Blaney.
"I realized that there were 13 Fords in the race and two of them had a problem. Our chances probably were pretty good that we'd be fine," said team owner Roger Penske. "I said to Joey, 'Keep focus out the window'. There was nothing else to do."
Before the yellow flag waved on the final lap, Harvick looked poised to make a run at Logano in the final turn with help from Earnhardt, Jr., but they never got the chance.
"I thought we were in good shape with the 88 (Earnhardt, Jr.) behind us," said Harvick. "I was trying to back up to him to get a run up off of Turn 4. Coming to the white, you never know what's going to happen. Obviously everything is shuffled out to where these two guys were nose to tail behind me. Maybe I should have backed up a little bit harder. But I didn't want to back up so much that they drove right by me. I wanted to try to time it so I could have them to my bumper, have a good run coming off of four and have a shot.
"That didn't pan out. Didn't even have a chance to try to time it out."
Bowyer, who helped Logano only to get shuffled back in the field, wound up finishing seventh behind Casey Mears.
"I don't know what I could have done different. I have to go back and look at it. Just you're damned if you do and damned if you don't there," said Bowyer. "I had them stacked up – some pretty good cars there behind me and I knew they were going to shuffle me out. I was kind of the lone wolf in the whole group other than the 22 (Joey Logano) and he happened to be leading. Once they got me in the middle, three-wide, I just didn't really have – I was stuck and screwed."
Martin Truex, Jr., Kasey Kahne and Greg Biffle rounded out the top ten.
Regan Smith finished 16th driving the no. 41 Chevrolet in place of Kurt Busch, who was indefinitely suspended by NASCAR on Friday, while Matt Crafton finished 19th in his Sprint Cup debut driving the No. 18 Toyota in place of Kyle Busch, who suffered a broken leg in a crash in Saturday's Xfinity Series race.
NASCAR Sprint Cup Series
Daytona International Speedway – Daytona Beach, FL
Daytona 500 – February 22, 2015
1. (5) Joey Logano, Ford, 203, $1581453.
2. (11) Kevin Harvick, Chevrolet, 203, $1157470.
3. (3) Dale Earnhardt, Jr., Chevrolet, 203, $857245.
4. (42) Denny Hamlin, Toyota, 203, $680758.
5. (2) Jimmie Johnson, Chevrolet, 203, $616232.
6. (41) Casey Mears, Chevrolet, 203, $470640.
7. (9) Clint Bowyer, Toyota, 203, $437870.
8. (10) Martin Truex Jr., Chevrolet, 203, $405297.
9. (13) Kasey Kahne, Chevrolet, 203, $375045.
10. (8) Greg Biffle, Ford, 203, $389308.
11. (26) David Gilliland, Ford, 203, $348458.
12. (38) Sam Hornish Jr., Ford, 203, $361953.
13. (27) Michael Annett, Chevrolet, 203, $330945.
14. (30) Austin Dillon, Chevrolet, 203, $365219.
15. (33) Aric Almirola, Ford, 203, $363381.
16. (24) Regan Smith(i), Chevrolet, 203, $340558.
17. (28) David Ragan, Ford, 203, $324908.
18. (4) Matt Crafton(i), Toyota, 203, $383124.
19. (36) Johnny Sauter(i), Toyota, 203, $318970.
20. (40) A.J. Allmendinger, Chevrolet, 203, $337420.
21. (20) Danica Patrick, Chevrolet, 203, $331628.
22. (19) Cole Whitt, Ford, 203, $318065.
23. (6) Carl Edwards, Toyota, 203, $335603.
24. (43) Bobby Labonte, Ford, 203, $326103.
25. (21) Paul Menard, Chevrolet, 203, $327840.
26. (34) Michael Waltrip, Toyota, 203, $347217.
27. (15) Jamie McMurray, Chevrolet, 203, $349398.
28. (31) Ty Dillon(i), Chevrolet, 203, $317190.
29. (32) Ricky Stenhouse, Jr., Ford, 203, $325778.
30. (37) Trevor Bayne, Ford, 203, $313240.
31. (23) Michael McDowell, Ford, 203, $313590.
32. (14) Reed Sorenson, Chevrolet, 203, $314228.
33. (1) Jeff Gordon, Chevrolet, 203, $594801.
34. (29) Kyle Larson, Chevrolet, Accident, 202, $344381.
35. (35) Matt Kenseth, Toyota, 202, $350826.
36. (16) Mike Wallace, Toyota, 199, $313883.
37. (18) Justin Allgaier, Chevrolet, Accident, 197, $319158.
38. (22) Ryan Newman, Chevrolet, 184, $317261.
39. (12) Ryan Blaney(i), Ford, Engine, 175, $281003.
40. (25) J.J. Yeley(i), Toyota, 161, $273790.
41. (39) Brad Keselowski, Ford, Engine, 160, $318331.
42. (7) Tony Stewart, Chevrolet, Accident, 72, $300598.
43. (17) Landon Cassill, Chevrolet, Engine, 18, $262390.
Average Speed of Race Winner: 161.939 mph.
Time of Race: 3 Hrs, 08 Mins, 02 Secs. Margin of Victory: Caution.
Caution Flags: 7 for 26 laps.
Lead Changes: 27 among 12 drivers.
Lap Leaders: J. Gordon 1; J. Johnson 2-13; J. Gordon 14-19; J. Yeley(i) 20; M. Annett 21; C. Mears 22; J. Gordon 23-45; J. Logano 46-51; J. Gordon 52-86; C. Edwards 87; D. Hamlin 88; J. Gordon 89-107; A. Allmendinger 108; J. Gordon 109-111; D. Hamlin 112; J. Logano 113; D. Earnhardt, Jr. 114-145; J. Logano 146-153; G. Biffle 154-155; J. Logano 156-157; J. Johnson 158-165; C. Edwards 166-167; J. Johnson 168-180; J. Logano 181; J. Johnson 182-187; M. Truex Jr. 188; D. Hamlin 189-190; J. Logano 191-203.
Leaders Summary (Driver, Times Lead, Laps Led): J. Gordon 6 times for 87 laps; J. Johnson 4 times for 39 laps; D. Earnhardt Jr. 1 time for 32 laps; J. Logano 6 times for 31 laps; D. Hamlin 3 times for 4 laps; C. Edwards 2 times for 3 laps; G. Biffle 1 time for 2 laps; C. Mears 1 time for 1 lap; J. Yeley(i) 1 time for 1 lap; M. Annett 1 time for 1 lap; A. Allmendinger 1 time for 1 lap; M. Truex Jr. 1 time for 1 lap.
Top 16 in Points: J. Logano – 47; K. Harvick – 42; D. Earnhardt Jr. – 42; D. Hamlin – 41; J. Johnson – 40; C. Mears – 39; C. Bowyer – 37; M. Truex Jr. – 37; K. Kahne – 35; G. Biffle – 35; D. Gilliland – 33; S. Hornish Jr. – 32; M. Annett – 32; A. Dillon – 30; A. Almirola – 29; D. Ragan – 27.