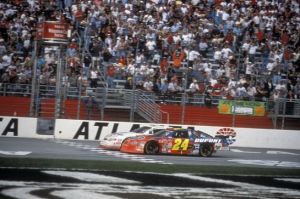 Logano Aims For Rare 2-fer
Joey Logano followed up his career-year of 2014 with a stirring win in the Daytona 500, becoming the second youngest driver to win the Great American Race at 24 years old. 
Now he looks to accomplish another rare feat: Back-to-back wins in the season's first two races. It's only happened five times since the NASCAR Sprint Cup Series' inception in 1949, the last by Matt Kenseth in 2009. The five drivers to do it: Marvin Panch (1957), Bob Welborn (1959), David Pearson (1976), Jeff Gordon (1997) and Kenseth.
Logano has a fair chance at joining that group. Though he's struggled at Atlanta in Sprint Cup competition (one top 10 in eight starts – a second in 2013), he has excelled at 1.5-mile tracks lately. Last year, two of his five wins came on tracks of that length (Texas and Kansas).
On the outside looking into the Chase Grid heading into Atlanta last year, Kasey Kahne desperately needed a win in one of the final two regular season races to qualify for NASCAR's playoffs – the Chase for the NASCAR Sprint Cup.
And he got it, coming through with one of the highlights of 2014.
Kahne seized the lead with two laps left in the race and sped to Victory Lane, punching his ticket to the Chase.
With a repeat Atlanta win in Sunday's Folds of Honor QuikTrip 500, Kahne can race pressure free until the Chase opener on Sept. 20 at Chicagoland Speedway. He boasts three victories at Atlanta Motor Speedway – his second-most at any track – in addition to two poles, seven top fives and nine top 10s.
Kahne finished ninth in last weekend's Daytona 500.
Jeff Gordon goes back to where it all began this weekend for perhaps his final race at Atlanta Motor Speedway.
Gordon made his NASCAR Sprint Cup Series debut in the 1992 season finale at AMS, sprouting a storied career highlighted by four championships and 92 wins entering his last full-time campaign. The No. 24 Hendrick Motorsports driver placed 29th in the Hooters 500 that November afternoon, a finish he has rarely replicated since. 
Gordon leads all active full-time drivers with five wins in his 41 starts at AMS. He also boasts 16 top fives (39%). 26 top 10s (63.4%) and two poles.
The 43-year-old last won at Atlanta in 2011.
Bounce-back Race For Keselowski?
A rare blown engine ended Brad Keselowski's Daytona 500 after 160 of 203 laps.
There's good news and bad news. The good news: Engine issues are incredibly rare for the Roush-Yates Engines that power Team Penske's No. 2. This was only the second blown engine for Keselowski since joining Penske fulltime in 2010. The bad news: The first one came in 2013 at Atlanta, site of this weekend's race.
Still, here's the only news that really matters for Keselowski: A win cures everything under the new format that sets the Chase for the NASCAR Sprint Cup field. Atlanta might not be the best bet, however. He's suffered DNFs in each of the last two races, and in three of his six starts.
Stewart's Early Wreck? Meh
Clearly, this wasn't the finish that Tony Stewart wanted.
An early-race wreck relegated Stewart to a 42nd-place finish and extended his winless streak in the Daytona 500 to 17 races. Still, it wasn't his worst finish ever in the Great American Race (he's finished last, twice). And, in all likelihood, he's never going to catch Dave Marcis' record of 33 Daytona 500 starts without a win. There are bright sides all over the place.
And though he wrecked out of last year's Atlanta race and finished 41st, that's just one blip in an otherwise strong career for Stewart at Atlanta. In 27 starts, Stewart has three wins and 15 top 10s.
Gaughan, Moffitt Make First Starts Of 2015
Brendan Gaughan and Brett Moffitt. So many differences, but one similarity as the series heads to Atlanta Motor Speedway.
Brett Moffitt is a 22-year-old rising star from Grimes, Iowa – population: 9,335. 
Brendan Gaughan is a 39-year-old from Las Vegas, Nevada – population 603,488. Heck, the Venetian Hotel in Las Vegas has almost as many rooms (7,117) as Grimes has people.
Moffitt has nine career NASCAR national series starts. Gaughan has 168, including a full NASCAR Sprint Cup Series season in 2004.
The similarity: Both will attempt to make their first start of 2015 at Atlanta this weekend. Still, it's under completely different circumstances.
Moffitt is making a spot start in the No. 55 Michael Waltrip Racing Toyota before Brian Vickers returns in Las Vegas next week. His best finish was a 22nd at Dover last year, when he started seven races in the No. 66 Toyota.
Gaughan is scheduled to run the remaining 35 races in the No. 62 Chevrolet for Premium Motorsports in 2015. Brian Scott failed to qualify the car for the Daytona 500. Gaughan's last start came in 2013, a 33rd place finish at Michigan.
Back To the Future: History Meets Present At Atlanta
It's known as one of the greatest races in NASCAR history, and for good reason.
The 1992 season-ending Hooters 500 at Atlanta Motor Speedway was the final race for NASCAR icon and inaugural NASCAR Hall of Famer Richard Petty – and the first NASCAR Sprint Cup race for sure-fire NASCAR Hall of Famer Jeff Gordon. 
Between those two subplots was the six-way championship battle that went down to the final lap.  Local hero, and 2015 Hall of Fame inductee, Bill Elliott won the race, but couldn't gain enough points to win his second championship. Instead, underdog Alan Kulwicki drove his self-owned Ford to a runner-up finish and his only championship. Last Friday, Kulwicki was voted as a new nominee for possible induction into the NASCAR Hall of Fame's Class of 2016.