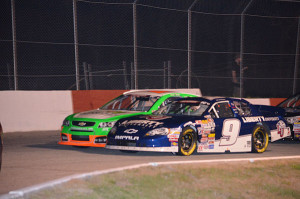 Story & photos by Phillip Prichard, MSA:
Twenty-five drivers  from 16 states entered the K & N East Pro Series East Race at the historic Greenville-Pickens Speedway. Daniel Hemric was the fastest qualifier but it was 17 year-old William Byron in his Number 9, Liberty University Chevrolet who emerged as the dominant car and driver for the entire 152 laps. Byron seized the lead on the first lap and he held off challenges to emerge as the victor. This was just the second start in the K & N Series for Byron.
Byron, a Charlotte native was crowned the U.S. Legend Car Young Lion Division National Champion in 2013 and the NASCAR Whelen All-American Series (NWAAS) North Carolina Rookie of the Year in 2014.  He looks to continue that success in 2015 with HScott Motorsports with Justin Marks in the NASCAR K&N Pro Series East Division.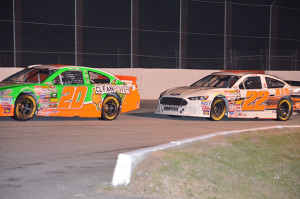 Byron competed in several series in 2014 gaining experience in full-size stock cars: US Legend Car Pro Division, NWAAS Late Model division, and select Pro Late Models. He signed on to compete regionally for NASCAR star Dale Earnhardt Jr.'s Late Model program at JR Motorsports (JRM) in January of 2014.  Byron competed 56 times and earned 24 pole awards, 11 wins, 29 top-three finishes, and 37 top-five finishes over the course of the year.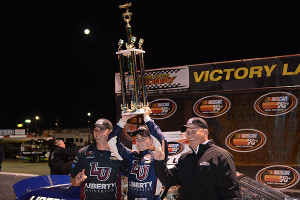 The scheduled 150 laps went into overtime with the last caution flag coming out on lap 149. At total of 8 caution flags slowed the pace for 39 laps. The average speed at the ½ mile oval was only 59.050 mph.
Gray Gaulding crossed the line second while Dalton Sargeant, Austin Hill of Winston, GA and Hemric rounded out the top five. The remainder of the top 10 finishers in the second K & N race of the year included Kaz Grala, Nick Drake, Ronnie Bassett Jr., Rico Abreu and Peyton Sellers.
With Byron's victory, the 14 all-time K&N Pro Series East races at Greenville Pickens Speedway have produced 13 different winners. He joined Brett Moffitt (2011) as the only two of those 13 to lead wire-to-wire.
William Byron joins at group of NASCAR drivers, Joey Logano, Austin Dillon and Darrell Wallace Jr. who have captured their first series checkered flag at the historic South Carolina oval in the last 10 years.
Visit hometracks.nascar.com or www.greenvillepickens.com for additional details.