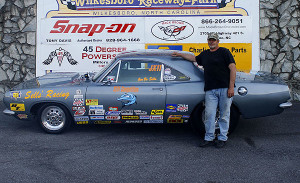 Story & Photos by Kevin Thorne:
Racers came from five states to vie for the big $10,000 purse of the Tom Watson Memorial Footbrake Shootout.
Watson,who left us to soon, was a tough, hard charging footbraker himself. But more than that, he was a true racer. Always the first to lend a helping hand to anyone who needed it.
In the Top ET class, Big Jim Bo Sells took his classic Barracuda to the winners circle once again, a place Sells is becoming used to. Sells defeated one of the best young talents in bracket racing, Ernie Humes and his Mopar Demon.
In the main event, "Fat Boy" Ricky Greer and his lethal Chevy Luv, drove passed dozens of racers to take the easy win when Tom Hettig and his classic Nova started to soon and turned on the red light.
"Me and Tom had many battles on the track over the years said Greer. I'm glad his wife Lisa and daughter Allissa are keeping his memory alive like this! I'm proud to be the winner!"
Next week here at Wilkesboro Dragway, the Outlaws invade Wilkes County!
The speedsters of The 4.90 Outlaws will be on hand as well as the stars and cars of the Wilkesboro Dragway Points Series Gates will open at noon.
Before all that, the popular Thursday night Test N Tune will be happening.
For only $10 you can watch or if you feel the need for speed, take your car down the track!
For more info, go to www.wilkesborodragway.com, call 973-RACE (7223) or visit us on facebook under wilkesboro raceway!