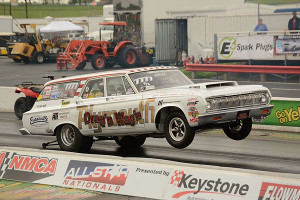 Story/Photos by Phillip Prichard, MSA:
Atlanta Dragway – Georgia House of Seed hosted the 2015 Borla NMRA/NMCA All-Star Nationals, presented by Miller Welders on April 9-12 with heads-up and index racing, a fantastic car show and a vendor area. Records were set, champions fell, and the action was intense here at the second stop of the 2015 Flowmaster Drag Racing Series. Here are the class winners:
VP Racing Fuels Pro Mod – Michael Biehle defeated Tom Dwyer's Chevelle with a 6.02/250 to 6.48/231.
Mickey Thompson Radial Wars – Tom Rainer made his debut his twin-turbocharged, fourth-generation Camaro, but it was Frank Mewshaw's Trans Am against of Keith Berry's Corvette in the final. Mewshaw's 4.49/185 defeated Berry's 4.53/179 win.
ARP Nitrous Pro Street – The top four qualifiers were only separated by 2 ½ tenth of a seconds, Joe Bucaro posted the fastest qualifying time at 7.24 at 188. In the final, Bucaro sealed the class record with a 7.26 at 188 mph to back up his previous ET, he also took the final-round win over Andy Vogt who had problems off the line.
Stainless Works Street Outlaw  – Phil Hines took the number-one qualifying spot in  with a 6.97 at 202 effort. Starter T.J. Bailey shut Hines down, after noticing transmission fluid leaking underneath his car, and that allowed Saitz to take the light and the win in the final.
Edelbrock Xtreme Street  – Tony Alm's Mustang with a 7.72 qualified number one. Alm redlighted in the final, handing the win to Dave Hutnick, who dropped a 7.70 at 179 mph.
Quick Lane of Downs Ford NA 10.5 Class Three cars qualified in the 7s. In the final, it was Mike DeMayo squaring off against Leonard Long, DeMayo redlighted giving Long the win.
Chevrolet Performance Stock presented by Scoggin Dickey  -. Ronnie Hackelton qualified number one with 10.48. The two COPO CRC Camaros met in the finals, but Glenn Pushis proceeded to the Aerospace Winner's Circle via his 10.62/124.
E3 Spark Plugs Top Sportsman  – The class was solidly in the mid to low 7s. In the final, both Casey Spradlin and James Noel left at exactly the same time, but it was the blown, '39 coupe of Casey Spradlin (7.04 on a 7.01 index) took the win over James Noel's '69 Mustang (7.67 on a 7.64).
ATI Performance Nostalgia Super Stock – Dave Schultz qualified on top, but he would not make it to the final. T.D. Holland's AMX ran 10.007 on his 10.00 index for the win over Doug Duel.
Detroit Truetrac Nostalgia Muscle Car – Andy Warren's big, bad Caprice was victorious over Gerry Vizzo, and running a 10.54 on a 10.50 index while Vizzo broke out running 11.48 on his 11.50 index.
Magna Fuel Open Comp  – Galena, Ohio's Chuck Hockenberry 's little blue Mustang defeated Mike VanHoose in the final. VanHoose had the advantage at the start (.022 to .030), but Hockenberry's 10.32 on a 10.13 index worked to his advantage versus VanHoose's 10.49 on a 10.26.
Gear Vendors True Street –  Kurt Welfel took top honors with his classic Mustang averaged 9.56 seconds over its three runs.

Willard Howard  took the 10-second win
James Barlow, who took home the 11-second win
Alan Hill took the 12-second prize
Jeramy Montrose nabbed the 14-second win in his Dodge truck
David Robinson averaged 15.12 for the 15-second prize
Fastest Street Car magazine Bracket Showdown

Bracket 1, Joe Rampley nailed a .008 light with his '92 Cavalier and went 5.252 on his 5.25 dial in, defeating Don Brown's '01 dragster
Bracket 2, David Simmons was victorious in his '94 GMC Sonoma over Austin Smith in his '70 Nova.
Bracket 3, Kurt Welfel in his '65 Mustang coupe  took out Alan Hill in his '87 Mustang.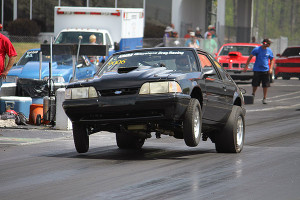 The 2015 Borla NMRA/NMCA All-Star Nationals gave fans an action packed weekend of side by side racing.
Atlanta Dragway will host the 35th Annual Summit Racing Equipment NHRA Southern Nationals on May 15-17 and the Chevy High Performance Magazine Nationals on May 29-31. Visit http://www.atlantadragway.com/ for more details.