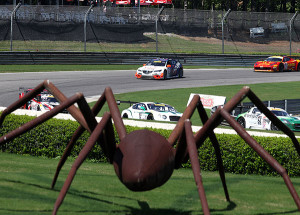 Story by Phillip Prichard, MSA/Photos by MSA Staff
Josef Newgarden of Hendersonville, Tennessee scored his first Verizon IndyCar Victory on Sunday April 26 at Barber Motorsports Park in Leeds, AL. The 24 year-old 2011 Indy Lights champion, driving the number 67 Hartman Oil CFH Racing Chevrolet held off the 23 car field for his victory. He started 5th on the grid and passing two on the first lap and captured second place at the start of the second lap. He ran behind Helio Castroneves through to the first round of pit stops. .A hard charging Graham Rahal finished second, 2.206 seconds behind the leader and Scott Dixon finished third. In previous IndyCar competition, Newgarden's best finishes were a second at Baltimore in 2013 and Iowa Speedway in 2014.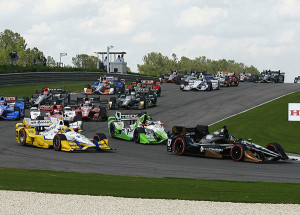 Helio Castroneves earned the pole with a lap of 1 minute, 7.1925 seconds.
Will Power, Castroneves' Team Penske teammate started on the outside of the front row. Chevy, which has won three of the first four 2015 IndyCar races had 10 of the top 12 qualifiers.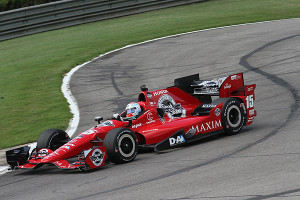 Newgarden become the fourth different winner of the season in the IndyCar competition. Juan Pablo Montoya won St. Petersburg, James Hinchcliffe won the Grand Prix of Louisiana and Scott Dixon was the victor in the Grand Prix of Long Beach.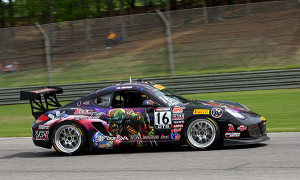 Spencer Pigot scored his first two wins in the Indy Lights series at Barber Motorsports Park. The wins delivered Juncos Racing their first wins in the Indy Lights series, also. Pigot set a new track record capturing his first pole of the season for Race One at Barber. In Race one, Pigot led all 30 laps. In Race Two, Pigot prevailed again going two-for-two in victory circle, leading the entire 35-lap race. Pigot's two wins and three prior podium finishes moved him up in the Indy Lights Championship to the top seed.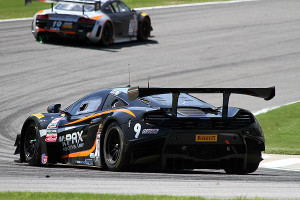 In Saturday's 30-lap 71.4 mile Pirelli World Challenge Championship GTS Round 6 race, part of the MOMO Grand Prix at Barber Motorsports Park presented by Porsche, the top five were:
1. GTS, Kris Wilson, Monument, CO., Aston Martin Vantage GT4.
2. GTS, Spencer Pumpelly, Atlanta, GA, Ford Mustang Boss 302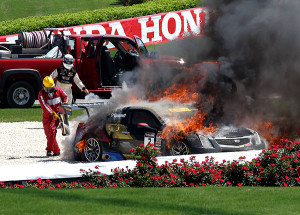 3. GTS, Ben Clucas, Northampton England, Kia Optima,
4. GTS, Andrew Aquilante, Chester Springs, PA, Ford Mustang Boss 302,
5. GTS, Lou Gigliotti, Dallas, Texas, Aston Martin Vantage GT4.
In Saturday's 29-lap 69.02 mile Pirelli World Challenge Championship GT/GTA/GT Cup Round 6 race, the top five were: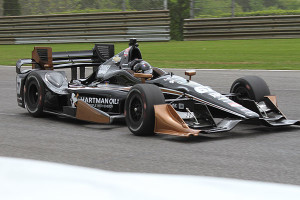 1. GT, Kevin Estre, Lochau Austria, McLaren 650S GT3
2. GT, Robert Thorne, Littleton, CO, McLaren 650S GT3
3. GT, Ryan Dalziel, Windermere, FL., Porsche 911 GT3R
4. GT, Olivier Beretta, Monte Carlo,  Ferrari 458 GT3 Italia.                        5. GT, Mike Skeen, Charlotte, N.C., Audi R8 LMS Ultra
Kevin Estre, of Lochau, Austria, driving the No. 9 K-PAX McLaren 650S GT3 claimed victory on Sunday in the GT class Round 7 race at the MOMO Grand Prix, part of the Honda Grand Prix of Alabama weekend. It is Estre's and McLaren's second win in Pirelli World Challenge this season. The GTA win went to Bryan Heitkotter, of Fresno, CA, in the No. 05 Nissan GT Academy / Always Evolving / ReplayXD Nissan GT-R GT3. In GT-Cup presented by MOMO, Colin Thompson, of Doylestown, PA., piloting the No. 11 Porsche of Bucks County / PenVal Porsche 911 GT3 CUP scored his second win of the weekend.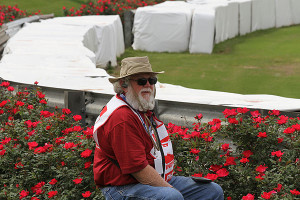 In Sunday's, Pro Mazda Race, Neil Alberico captured the checkered flag. Weiron Tan was Saturday's Pro Mazda winner.
The Barber Motorsports Park is a 740 acres multi-purpose racing facility located on the eastern fringes of Birmingham, Alabama. It was built by George Barber and includes the Barber Vintage Motorsport Museum, which has been named "World's Largest Motorcycle Museum" by the Guinness World Records. The park, which opened in 2003, has a 17-turn, 2.38-mile (3.83 km) road course, viewable from several naturally wooded or grass-covered banks. The layout is compact, with a number of elevation changes. The track has hosted numerous motorsport races including Grand-Am, Pirelli World Challenge, Vintage Racing Series events, AMA SuperBike and the Verizon IndyCar Series. It serves as the home of the North American Porsche Driving School, along with various track day events. It is also home to the newly-built "Barber Proving Grounds", which includes a new track area and wet/dry skidpad that will accommodate additional events while the existing track is in use. Mercedes-Benz USA is one of the customers taking advantage of the Proving Grounds for its employees.  Barber is noted for its landscaping and greenery; the track has been referred to as "The Augusta National of Motorsports". Visit http://www.barbermotorsports.com/ for more info.