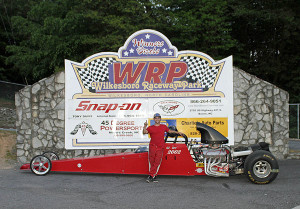 Story & photos by Kevin Thorne:
Lenoir NC's Kalem Hicks took his 4 second rail dragster to the Wilkesboro Dragway winners circle for the first time in two years this past Saturday night. Hicks, a former Wilkesboro Dragway Jr. Dragster Champion defeated the Camaro of Zionville's Mike Davis to take the Top ET win.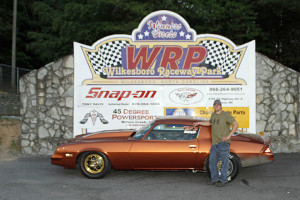 In Modified ET last weeks runner up, Brian Holbrook had a dead on run to defeat Michael Trivette
The CHRA (Carolina Heads up Racing Association) speedsters were also on hand to wow the WD fans. In the combined 5.99/6.99 class, Larry Dawless bested Coy McLead for the win. In pro comp Scott Smith took the win over Wes Compton, and in the Top Street, the all turbo Mustang final,Marion NC's David Pearson lost to Gary Lawing from Granite Falls by only 3/1000 of a second!
This week 3 big nights of action is planned. First up, Thursday is the popular Test N Tune night with gates opening at 5:30. Only $10 lets you watch or race your car down the famed drag strip!
Friday night is Retired Racers Reunion night, Some of the best of the best from years back will be on hand to share stories and maybe even do a little racing Gates will open at4:00pm and admission is free!!
Saturday night is a jam packed night of action! The 4.90 Outlaws will be on hand along with a $4000 to win Modified ET race! Top ET will also be racing. We will also be celebrating Beck White night. Come out and join the fun and action here at Wilkesboro Dragway! For more info, visit www.wilkesborodragway.com or visit us at wilkesboro raceway on Facebook.