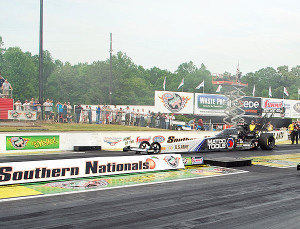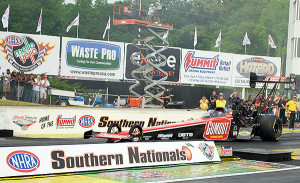 by Tim Glover/photos by Wanda Glover:
In spite of the dire predictions of 80 percent chance of rain for all three days, racers and fans turned out in droves to enjoy the seventh of 24 national events in 2015, the Summit Racing Equipment Southern Nationals, held at Atlanta Dragway in Commerce, GA on May 15-17, 2015.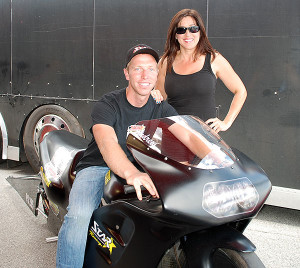 In fact, the conditions Hotlanta is notorious for were present most of the weekend, with heat  and humidity ruling the day, raising the track temperature at times to over 130 degrees Fahrenheit.  The winning crew chiefs definitely earned their money on Sunday, giving the cars just enough power to win but not overpower the track.  Summit Racing Equipment had the pleasure of seeing four of their sponsored cars in the finals (Jason Line and Greg Anderson in Pro Stock, Tim Wilkerson in Funny Car and Kenny Lang in Pro Mod), taking three wins.
In addition to the 12 different classes of racing, fans had many other things to experience, including visiting the Army display, the Harley Davidson display, the manufacturer's midway, and hundreds of racecars.  Every ticket to the Southern Nationals is also a pit pass, so fans had the opportunity to meet and greet with their favorite drivers while watching their crews rebuilt the cars in less than an hour.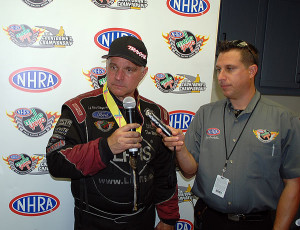 NHRA introduced their "Baptism by Nitro", where lucky fans who won a drawing got to experience Top Fuel dragsters up close from the starting line as they made a pass down the track.  Three time NHRA World Top Fuel champion Shirley Muldowney was at the track, and fans who bought a ticket to her suite enjoyed the pleasure of bench racing with her all three days.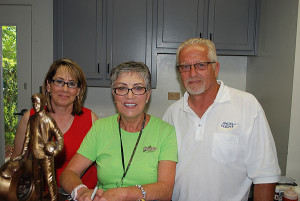 Top Fuel winner Antron Brown met first time finalist Leah Pritchett for final round action.  While Pritchett was definitely the underdog, Brown credited crew chiefs Brian Corradi and Mark Oswald for setting up the car nearly perfect for the adverse track conditions.  Brown went right down the middle of the track for the winning 3.887 second pass at 310.48mph, while Pritchett's machine ended up spinning the tires mid track en route to her second place 4.02 at 260.41mph.  Pritchett, who qualified #3, was equally complimentary of her crew chiefs Doug Cook and Rob Flynn for making her car work consistently throughout the event.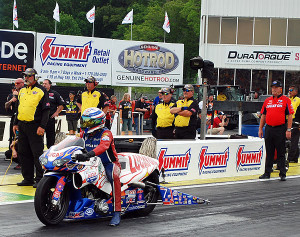 Brown added, "Our hat's off to Leah and her crew chiefs Doug Cook and Rob Flynn.  Their first win is coming."  If Pritchett had won today, she would have been the 101st different winner in Top Fuel.  Brown had a scare just before round two when one of the racing slicks picked up a screw on the way to the staging lanes, forcing a last minute tire swap.
Tim Wilkerson's 2015 Mustang Funny Car was the picture of consistency during qualifying and eliminations.  Although he qualified in sixth place for the weekend, Wilkerson's car ran the lowest elapsed time of each round for all four rounds on Sunday, due to his car working better with the hot track.
Wilkerson was happy to beat Ron Capps' 2015 Charger in the final with an off pace, tire spinning 4.318 at 260.31mph, but wasn't  so happy with the crew chief's (himself) setup for the final.  Capp's machine went up in smoke shortly after leaving the line, and slowed to a 5.781 at 125.90mph.  "We fired the crew chief in the finals," quipped Wilkerson with a smile after the event.  He thanked Richard Hartman who has been helping out, taking pressure off of Wilkerson, who is the crew chief and driver.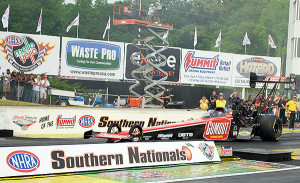 Pro Stock winner Jason Line had the pleasure of racing his boss Greg Anderson in the final round.  Both of the Summit Racing Equipment backed '15 Camaros left the starting line well, with Anderson having the better reaction time of 0.013 seconds to Line's .057 react.  However, problems set in soon for Anderson, and he slowed to an out of the groove 8.628 at 114.39mph.  Line stayed in the throttle all the way to a 6.606 at 211.33mph for the win.  "Greg actually had the car to beat today.  I was just mediocre," Line added humbly.  Line then said that before the final both he and Anderson agreed the Wally trophy was going to crew man D. J. Minter, who "saved their bacon" during round one with his quick thinking.  Anderson's throttle hung after the burnout, forcing his crew to push his car back to the starting line.  Minter figured out quickly what was needed and then reached in through the air scoop to fix it.
Pro Stock Motorcycle winner Hector Arana had to wrestle his '09 Buell XB9R to the finish line in the Pro Stock Motorcycle final round against Eddie Krawiec's '15 Harley V-Rod.  Fortunately for Arana, who posted the winning 7.236 at 162.47mph, Krawiec had even more problems with his bike, en route to a 10.107 at 85.28mph.  "I felt it jump.  It was like a bucking bronco.  However, as long as I have control I'm staying in the throttle," added Arana.
A husband and wife duo, Jeffrey and Lindsey Barker were thrilled to make it to the final round in each of their classes.  Lindsey Barker won in Top Dragster and Jeffrey went just a little too quick in Top Sportsman, finishing runner up.
Track champions from the Southeast were invited to compete in the Summit Showcase event; this time it was the Motorcycle champions.  Due to a long illness, Jay Rhyne's spot was filled by good friend and Atlanta Dragway racer Tim Sutton.  Sutton worked his way through the field, and at the very end, he faced Randy Barnett.  Five thousandths of a second separated their elapsed times, with Sutton's winning 9.068 at 128.58mph (8.98 dial) taking the crown.  Barnett was just a little further off the mark, with a 9.293 at 141.76mph (9.20 dial).  Sutton, a man of many words, simply said, "Thank you very much.  This win is for Jay Bird Rhyne."
Atlanta Dragway's Junior Dragster racers also represented their track during the weekend.  They had a booth on the midway where fans could see their cars up close and talk with the racers, who varied in age from six to 17 years old.  In addition, the Junior Dragster contingent wowed fans with exhibition passes on the track, with eighth mile times in the high seven second range and speeds in the low 80mph range.
Other Atlanta Dragway regulars enjoyed competing in the Southern Nationals. Howard Bowman and Jeremy Hancock (Super Comp) and Wayne Brooks (Top Dragster) bowed out earlier in competition.
Due to a last minute change, Atlanta Dragway motorcycle racer Andrew Patterson (he won the Star Rider's Challenge and was slated to compete in Pro Stock Motorcycle) was rescheduled to race the Star Racing Pro Stock Motorcycle at the NHRA Carolina Nationals in Charlotte, NC during September 18-20.
The rest of the class winners and runner up are as follows:
Super Stock
Win:    Gregory Rowe                       10.83  121.86                        (10.82)
R/U:     David Rampy             10.27  125.52                        (10.25)
Stock
Win:    Slate Cummings                   10.66  101.48                        (10.46)
R/U:     David Lation              10.69  105.41                        (10.56) foul
Super Comp
Win:    Ryan Richardson       8.901  168.03                        (8.90)
R/U:     Sherman Adcock      8.88    175.98                        (8.90)
Super Gas
Win:    Tim Powell                 9.91    151.75                        (9.90)
R/U:     Alan Kenny                 9.93    156.50                        (9.90)
Super Street
Win:    Matt Watson              10.94  138.56                        (10.90)
R/U:     Brad Plourd               10.94  115.38                        (10.90)
Top Sportsman
Win:    Sandy Wilkins                        6.75    205.10                        (6.73)
R/U:     Jeffrey Barker                        6.61    198.88                        (6.66)
Top Dragster
Win:    Lindsey Barker                      6.81    163.77                        (6.57)
R/U:     Richard Prince                      7.08    131.55                        (6.17)foul
Pro Mod
Win:    Kenny Lang                6.06    244.07                       
R/U:     Troy Coughlin                        7.39    142.94
For more information and results on the Southern Nationals, please log on towww.nhra.com.