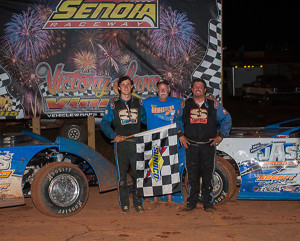 Joe Armistead, Jr. and his son Joey Armistead celebrated Father's Day one evening early as the father/son duo clean swept their respective divisions racing action at Senoia Raceway.  Armistead, Jr. nabbed a victory in the Super Late Model division while his seventeen-year-old son won the Limited Late Model feature.  It was the second time this season the Senoia racing family has won on the same night.
"This is a great victory lane celebration," said Armistead crew members.  "That's a Father's Day gift for Joe and Joe, Jr."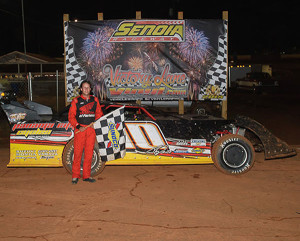 Florida's Ryan Crane also celebrated with a victory in the Crate Late Model division while Newnan's Parrish Duncan claimed his second straight victory in the B Cadet. Covington's Sam Carter returned to the winner's circle after winning the Hobby Stock main as did the Bpmber division's Lee Owenby, Jr. of Newnan.  Thirteen-year-old Cartersville hot shoe Zach Leonhardi won for the third time this year in the Legends Cars while Douglasville's James Stansel notched his first victory of the season in the Four Cylinder main event.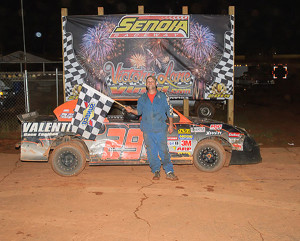 Joe Armistead, Jr. took advantage of crazy turn of events on lap 17 of the Super Late Model feature.  Cedartown's Austin Smith looked to be in control leading by several car lengths when a huge plume of white smoke came out from under the car driven by Douglasville's Mason Massey.  Austin Smith slowed expecting a caution while Armistead, Jr. and Clint 'Cat Daddy' Smith split him going down the back stretch.  When Austin Smith realized there was not going to be a caution he hit the gas, but it was too late as the aggressors had cleared him and were moving away.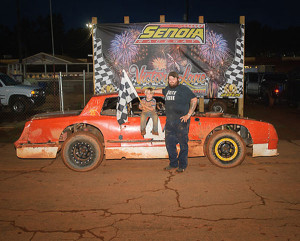 "I thought I heard the call for caution on the Raceiver," said Austin Smith. "Whatever was said was not real clear.."
Race Director Scott Duffey and all Senoia Raceway officials agreed that there was not a call for the caution on the Raceiver and that only a command for the slower car (Massey) to get on the low side of the track to access the pit area was transmitted.
The race ran clean through the end of the race and Armistead, Jr. was in victory lane for the third time this season.  Clint Smith ended up second ahead of Austin Smith.  Canton's Scott Groves finished in fourth ahead of Fayetteville's Ricky Williams.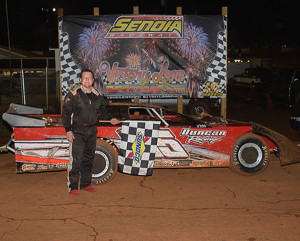 In the Limited Late Model feature, Joey Armistead inherited the lead on lap 7 after the race's initial leader, Shane Criswell, blew an engine.  Armistead would use that opportunity to get out front and let his opponents bump, bang and battle with each other behind him.  The third generation race car driver went on to win his fifth of the season ahead of Fayetteville's Glenn Morris and Matt Dooley of Brooks. Carrollton's Clifton Moran ran a string fourth while Newnan's Marcus Caswell completed the first five finishers.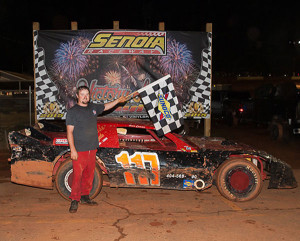 In the B Cadets, Douglasville's Corey Hillman jumped out to the early lead as seventeen-year-old LaGrange driver Jake Traylor sliced his way into the second place position.  Traylor challenged Hillman for several laps while Whitesburg's Blant Duke climbed through the field from his fourth row starting position.
Duke passed Traylor on lap six for second and then set his sights on the leader Hillman.  The next lap he caught him as the two came upon lapped traffic.  Duke went to the highside of turn one clipping the right rear quarter panel of Hillman.  The two cars locked together and could not get loose as they spun to the inside of the track causing the race's first caution.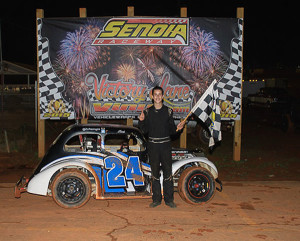 Another caution on lap 9, saw Duke trying to get back to the front but clipping Brandon Bright's ride sending him into a spin that collected a hard-charging Hillman and then McDonough's Benny Croy.
 That caution allowed Parrish Duncan to start closer to Traylor on the restart which then resulted in him passing the youngster for the lead on lap 11.  Duncan never let go of the lead cruising to his second straight win and fourth of the season.  Jackson's Craig Scott was able to work past Traylor to finish in second.  Traylor ended up third with a pair of McDonough drivers, Bailey Temple and Josh Copeland, rounding out the top five.
Ryan Crane remained undefeated in the Crate Late Models at Senoia Raceway winning for the second time in as many appearances.  Crane shot past Temples Zach Shelton on lap five and then never looked back nabbing the laurels.  Shelton would finish in second ahead of point's leader Bobby Mills of Griffin.
A great race between Lee Owenby, Jr. and Whitesburg's Shane Tizwell highlight the Bomber feature race.  Owenby slammed the door shut every time that Tizwell would be able to make a run.  It Owenby's second win of the year while Tizwell remained shut out of the Senoia Raceway winner's circle.  Tim Harmon of Conyers and Blake Harmon on Mansfield finished third and fourth followed by point's leader Jim Jackson of Zebulon.
Cartersville teenager Zach Leonhardi continues to impress during his first year on dirt piloting his Legends Car.  Leonhardi led every lap on Saturday night with only a few late race challenges from LaGrange's Jason Treschl.  It was his third win of the season while Treschl also remains without a feature victory.  McDonough's Dwight Pilgram was third ahead of Robbie Woodall of McDonough and Brook's teenager Christopher Clanton.
Legends Cars of Georgia announced on Saturday night that their feature race on Saturday, July 4th will be a national qualifier event.  The winner of the race during the holiday weekend special will receive an automatic starting position in the series national championship race this fall.
"That is big for our dirt series," said former national champion Dwight Pilgram. "We may see some pretty good dirt series legends competitors here for that weekend."
This Saturday, June 27th, will be the final tune up for all the teams before the big holiday spectacular the following weekend.  The Super Late Models, Limited Late Models, Crate Late Models, B Cadets, Hobby Stocks, Mini Stocks, Bombers and Legends Cars will be competing along with another night of kids bike, trike and power wheels racing.
The pit gates will open this Saturday at 4pm, grandstands at 5pm and hot laps will begin at 7pm with the kids races and the night's first race at 7:30pm.
Grandstand ticket prices are $12; ages 5-12 are $5; four and under are admitted for free.  Access to the pit area is available for $25; ages 5-12 are $12; four and under are free.  Trackside parking is available on a first come, first serve basis.  Trackside parking is only accessible through the pit area and pit passes must be purchased.
For additional information, schedules, rules and more, visit the Senoia Raceway website at 
www.senoiaraceway.com
.  The track also offers an e-mail newsletter (sign-up on the website), Facebook page and twitter feed for social media access to news and information. You can also contact the track directly at 
770.599.6161
.
Official results from Saturday,  June 20, 2015
Super Late Model (Feature):  1-Joe Armistead, Jr., Senoia  2-Clint Smith, Senoia  3-Austin Smith, Cedartown  4-Scott Groves, Canton  5-Ricky Williams, Fayetteville  6-Madeline Crane, Meansville  7-Oliver Gentry, Newnan  8-Mason Massey, Douglasville  9-Matt Larson, Marietta  Fast Qualifier: Smith (13.810 second/97.8 mph)
Limited Late Model (Feature):  1-Joey Armistead, Senoia  2-Glenn Morris, Fayetteville  3-Matt Dooley, Brooks  4-Clifton Moran, Carrollton  5-Marcus Caswell, Newnan  6-Austin Horton, Grantville  7-Jamie Maurice, McDonough  8-Richie Williams, Fayetteville  9-Shane Fulcher, Thomaston  10-Carey Smith, Carrollton  11-Jayce Southwell, Brooks  12-Shane Criswell, Bowden  Fast Qualifier: Armistead (14.400 seconds/93.8 mph)
Crate Late Model (Feature):  1-Ryan Crane, Panama City, FL  2-Zack Shelton, Temple  3-Bobby Mills, Griffin  4-Kyle Clifton, Ranburne, AL  5-Trey Wood, Newnan  6-Bryson Ussery, LaGrange  7-Chris Hill, Newell, AL
B Cadet (Feature):  1-Parrish Duncan, Newnan  2-Craig Scott, Jackson  3-Jake Traylor, LaGrange  4-Bailey Temple, McDonough  5-Josh Copeland, McDonough  6-Brian Womack, Villa Rica  7-Blant Duke, Whitesburg  8-Brandon Bright, Newnan  9-Bennie Croy, McDonough  10-Corey Hillman, Douglasville  11-Andrew Moody, Douglasville  12-Matt Whaley, Bremen  DNS-Jeff Carter, Stockbridge
Hobby Stock (Feature):  1-Sam Carter, Covington  2-Ben Wells, Milner  3-Clyde Alexander, Locust Grove  4-Josh Allen, Atlanta  5-Jamie Simmons, Tyrone  6-Ben Herren, LaGrange  7-Kerry Bradley, Bowden
Bomber (Feature):  1-Lee Owenby, Jr., Newnan  2-Shane Tizwell, Whitesburg  3-Tim Harmon, Conyers  4-Blake Harmon, Mansfield  5-Jim Jackson, Zebulon  6-Chris Holt, Senoia  7-Buck Ussery, LaGrange  8-Alex Rudolph, Griffin  9-Michael Couch, Senoia
Mini Stock (Feature):  1-James Stansell, Douglasville  2-Robert Caldwell, Senoia  3-Denver Stepp, Powder Springs  4-Billy Allsion, Jackson  5-Jamie Nicholson, Locust Grove  6-Scott Burgess, Pavo  7-Bo Chambers, Griffin
Legends Cars (Feature): 1-Zach Leonhardi, Cartersville  2-Jason Treschl, LaGrange  3-Dwight Pilgram, McDonough  4-Robbie Woodall, McDonough  5-Christopher Clanton, Brooks  6-Will Martin, Douglasville 7-Bailey Woodall, McDonough  8-Dennis Aiken, Villa Rica  9-Tina Johnson, Senoia  10-Tony Armbruster, Covington  11-Miranda Meredith, Locust Grove