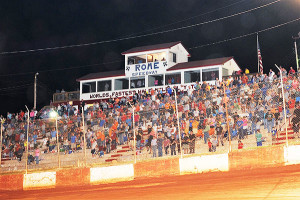 Story/Photos: Phillip Prichard, MSA
On September 6th, Labor Day weekend, 127 race cars were at Rome Speedway for the Rome Boss Races. Seven classes – Econo Bomber; Super Bomber; 525/Steelhead Late Models; Pony Division; Super Late Models; Crate Late Models and Cruiser Division were on hand. The large crowd was thrilled with the heat races, Super Late Model Qualifying; Steel Head Late Model Qualifying and the seven feature races.
The evening's features started with the Econo Bombers with Von Casey taking the checkered flag with Wesley Scott finishing 2nd and Tyler Williams finishing 3rd; the Super Bombers were up next with Blant Duke taking the checkered flag in a photo finish over Joseph Brown and Daniel Brewer finishing third.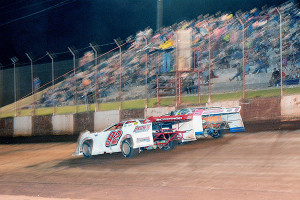 In the Steeelhead/525 Late Model Feature, Cass Fowler claimed the victory with DJ Hayes 2nd; Mario Gresham 3rd; Austin Smith 4th; and Trevor Thompson 5th.
Jason Hiett was the fastest qualifier of twenty-seven SLMs in the Super Late Model "Rome Boss" race. Hiett dominated the first 29 laps of the 40 laps until he spun in turn 2 and retired from the race. Clint "Cat Daddy" Smith started on the 8th row and steadily worked his way to the front and took the checkered flag and the $3000 check. Donald McIntosh sporting new colors finished 2nd. Third was TJ Reaid; Fourth was Bo Shirley; Fifth was Luther Jenkins; Sixth was Doug Stevens; Seventh was Austin Horton; Eighth was Dale Thurman; Ninth was Gary McPherson; and Tenth was Brian Smith.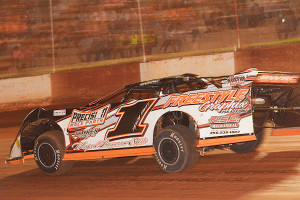 Austin Smith in the 11 who battled Heitt for the first part of the race finished eleventh. A scary wreck on lap 1 would see Dillon Tidmore getting tangled up with a couple more cars and ending up on his roof. Tidmore was able to walk away from the tangled wreckage.
Justin Shipley was the victor in the Crate Late Model Race. Bubba Pollard in just his third dirt Crate Late Model Race finished second. Pollard is best known for his victories in the CRA and Southern Super series Asphalt Late Model Series. Third – Justin Owens; Fourth – John Williams; and Fifth – TJ Brittain.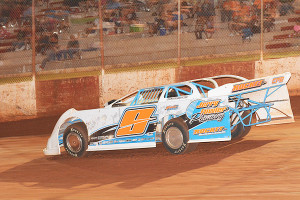 Mitchell Pope won the Pony Stock race and Jimmy Wilson won the Street Cruiser Race.
The next and final race of the season at Rome Speedway will be  Sunday, October 4 for the Lucas Oil Rome Showdown $10000 to Win plus a full slate of regular classes. Check out http://www.dixiespeedway.com/ for more information. Dixie Speedway has three more weekends before their season wraps up.