By Jerry Towns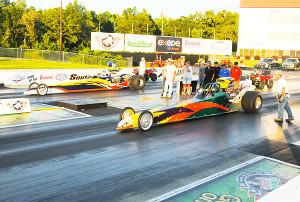 BACK TO BACK WINS FOR SUSAN SPIKES
Super Pro – First time was sweet, second time was even sweeter.  Susan Spikes from Commerce, GA in her '98 Mullis dragster defeated Wesley Mayfield from Gainesville, GA in his Worthy Dragster in the final.  Spikes ran a 5.632 ET on her dial in of 5.62 at 122.13 mph with her 0.004 reaction time.  Mayfield ran a 4.700 ET on his 4.69 dial in at 140.66 mph with his 0.007 reaction.
In the semifinals Spies sent home Bill Frame from Warner Robins, GA in his '84 Chevy S-10.  Mayfield had a single in the semis.
Susan wanted to thank her husband and crew chief, Tommy, the Wilhelm family and the rest of her friends.
POINTS LEADER TRAVIS BRYANT RACKS UP ANOTHER WIN
Pro – Travis Bryant from Bowman, GA in his '68 Camaro took the win light in the finals over Robbie Nelson from McDonough, GA in his "92 Chevy S-10. Bryant had a 6.535 ET on his 6.52 dial in at a speed of 102.28 mph and a 0.021 reaction time.  Nelson ran a 7.417 ET (break out) on his 7.44 dial in at 91.81 mph with a 0.019 reaction.
Semifinals, Bryant beat Allen Williams form McDonough, GA in his '91 S-10.  The other semifinal, Robbie Nelson defeated Bill Boomhower in his '65 Plymouth from Walhalla, SC.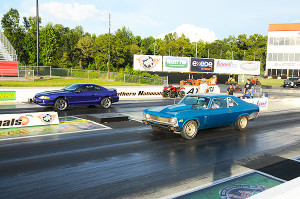 AUSTIN SMITH WINS AND MOVES HIGHER IN THE POINTS
Sportsman – Austin Smith from Baldwin, GA in his '70 Nova defeated Russell Haskins form Marietta, GA in his '94 Mustang in the final.  Smith ran a 12.735 ET on his 12.72 dial in at 100.61 mph with a 0.063 reaction time.  Haskins ran a 15.082 ET on his 15.04 dial in at 91.40 mph and a reaction time of 0.056.
Semifinals, Haskins beat Dickey Forrester from Hickory Flat, GA in his '68 Camaro.  Smith had a single run into the finals.
Austin wanted to thank his dad, Eric, for his help.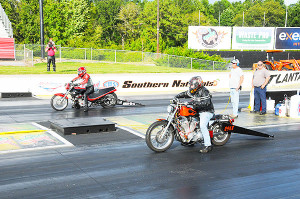 TIM SUTTON #1 IN POINTS WINS AGAIN IN THE LAST POINTS RACE
Super Pro Bike – Tim Sutton from Clermont, GA on his '89 Suzuki in the final defeated Howard Bowman from Homer, GA on his '02 Harley.  Sutton in the final ran a 5.737 ET on his 5.66 dial in at 112.31 mph and a 0.030 reaction time.  Bowman ran an 8.534 ET on his 8.44 dial in at 78.99 mph on a 0.125 reaction.
Sutton in the semis beat Adam Edwards form Winder, GA on his Suzuki.  While Bowman beat Jordan Autry from Travelers Rest, SC on his 2011 Kawasaki.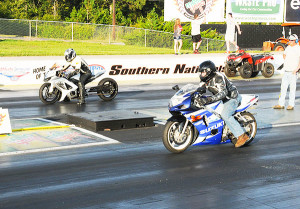 RANDY BARNETT, POINTS LEADER, PUTS THE ICING ON THE CAKE
Street ET Bike – Randy Barnett from Colbert, GA on his '08 GSXR defeated Brian Wilson from Tallapoosa, GA on his Suzuki in the final due to a red light start by Wilson. Barnett ran a 5.922 ET on his 5.89 dial in at 120.70 mph and a 0.060 reaction time. Wilson ran a 7.479 ET off his 7.36 dial in with a foul start of -0.001 at 96.83 mph.
Semifinals, Barnett defeated Adam Edwards from Winder, GA on his Suzuki and Wilson defeated Jimmy Heisler from Woodstock, GA on his '00 Kawasaki.
A PAIR OF THIRD GENERATION RACES IN THE FINAL
10 – 12 Jr. Dragster – Adam Brown (11) racers gets another win.  Adam Brown from Covington, GA got his 4th win this season over Jacob Wilson (12) from Tallapoosa, GA in a 3rd generation pair final.  Brown ran 9.231 ET on his 9.03 dial in at 65.18 mph and a 0.132 reaction time.  Wilson ran a 9.008 ET on his 8.91 dial in at 70.80 mph with a .0263 reaction.
Semifinals, Wilson defeated Nate Halsey (12) from Clermont, GA.  Brown had a single run into the finals.
ANOTHER THIRD GENERATION RACERS GET THEIR FIRST WIN
6-9 Jr. Dragster- Shawn Wilson (6) from Jefferson, GA defeated Stephen Skelton (7) from Cleveland, GA for his first win.  Wilson in the final ran a 14.411 ET his 13.93 dial in at 43.76 mph and a 0.855 reaction to Shelton's 17.128 ET on his 16.20 dial in at 34.07 mph and a 0.488 reaction time.
Semifinal, Wilson defeated Kimberly Vancica from Lawrenceville, GA.  While Skelton beat Alayna Carden (8) from McDonough, GA.
Shawn wanted to thank his parents – Jacquelyn and Matthew Wilson, grandparents – Ricki and Debbie Blackwell and Kim and Greg.  He also wanted to thank Brown family sponsors, Roper Pumps, Gingo Restaurant, Ridge Scape Landscaping and Cover Group.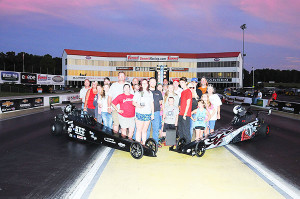 BAILEY BROWN (17) WINS HER LAST JR. DRAGSTER RACE BEFORE SHE MOVES UP 
13 – 17 Jr. Dragster – The classiest race I've ever seen when the final came down to Bailey Brown and her close friend Austin Carden (16).  When the tree came down Bailey left and Austin shut his car off and took off his helmet, giving Bailey the win.  Bailey's final race and she comes out on top.  In a sport where winning that day is the most important thing, Austin showed he was mature beyond his age.
Brown from McDonough, GA ran an 8.136 ET on her 7.91 dial in at 77.10 mph with a reaction of 0.044.  Carden showed his class and sportsmanship.
In the semi's, brown defeated Rachel Flowers (14) from Loganville, GA, while Carden had a single into the finals.
Bailey wanted to thank God and her parents-Jeff and Shawn Brown.  She also wanted to thank the Cardens and all her competitors.  It was her second win at Atlanta Dragway this year.  She'll take a short break from drag racing to start college and then come back in a Super Pro dragster.
THE THIRD – 3RD GENERATION RACER WINS 
Junior Street – Adrain Wilson (15), a third generation racer, won in Jr. Street over Katie Wilhelm (15).  Wilson in his '04 Chevy 2500 pickup truck from Tallapoosa, GA ran a (dead on) 11.365 ET on an 11.36 dial in at 59.82 mph to take the stripe first.  Wilhelm in a 2010 Camaro ran a 9.328 ET on her 9.25 dial in at 79.03 mph and a 0.266 reaction.
Wilhelm from Commerce, GA in the semis beat Maddie-Kate Halsey from Clermont, GA in her Chevy S-10.  Wilson beat James Noel, Jr. from Westminster, SC in his '06 ProFab Truck.
Adain wanted to dedicate this win in memory of Tim "Ziffle" Flower, former dragbike racer, who passed away this week.  He wanted to thank God, his family, Pioneer Ford, Muscle Car Jr. and Jimmy Harmon.
KING OF THE TRACK 2015 RACE  9/12/15
King of the Tract race takes the winners from each class.  The racers choose a dial in, and make a pass.  The driver closest to their dial in or best package, without breaking out or a red light, wins a Wally and is the King of the Track for this year.  It was between these racers:  Super Pro – Susan Spikes, Pro – Travis Bryant, Sportsman – Austin Smith, Street ET Bike – Randy Barnett, and Super Pro Bike – Tim Sutton.  The 2015 King of the Track winner was Tim Sutton from Clermont, GA on his 1989 Suzuki.
ATLANTA DRAGWAY POINTS CHAMPIONS FOR 2015
Super Pro – Wesley Mayfield
Pro – Travis Bryant
Sportsman – Scott Reynolds
Super Pro Bike – Tim Sutton
Street ET Bike – Randy Barnett
6-9 Jr. Dragster – Stephen Skelton
10-12 Jr. Dragster – Adam Brown
13-17 Jr. Dragster – Austin Carden
Junior Street – Maddie Kate Halsey
Sanctioned by the National Hot Rod Association (NHRA), Atlanta Dragway is located just off I-85 at Exit 149 in the Banks Crossing area of Commerce, Georgia. Information on all 2015 events, including the Division 2 Bracket Finals October 8-11, 2015 and The ATLANTA $10,000 Nostalgia Race October 24, 2015, may be obtained by calling the track office (706-335-2301) or logging on to www.atlantadragway.com.