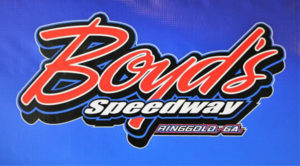 By Kenny Slayton & Boyd's Speedway:
The Boyd's Speedway Staff has been working hard to figure out a 2017 racing program to fits the changing times in the Dirt Racing Sport. Boyd's Speedway has updated their facility over the past 2 years to put their NEW plans in action. Boyd's Speedway would like to thank all the Fans and Drivers for their patients and support over the past two years as our hard planning is coming together.
The classes Boyd's Speedway will be running in 2017 are as follows. Super Late Models with six events on the books so far as other touring details are being considered. Limited Late Models are on the format for 2017 with Special Events that are being planned once Sponsor details are finalized. Crate Late Models are on the format with Specials events and the growing Sportsman Late Models with Special events are scheduled for the 2017 Season. The A-Hobby class will be running under the Hobby class for 2017 format with the B-Hobby class changing to Street Stocks with that growing class Boyd's Speedway has picked up the Nesmith Streets Stock rules for the 2017 season for this class.
The 2017 Boyd's Rule book has changes in every class and is available on the new Boyd's Speedway's web page. All Drivers in all classes need to read the 2017 Rules as they will be enforced at the 2017 Cabin Fever on January 28 2017.
All drivers need to go to My Race Pass.com and claim their profile under Boyd's Speedway and upload a Photo of your race car. At the end of an event before you leave the track the results are already posted on Boyd's Speedway's web page as well on all other social media outlets. If you have entered an event in the 2016 Season your information is there. This was part of our game plan in 2016 for the 2017 season. Line ups for heat races and features will be retrievable from your pit area on you cell phone. Details Coming soon.
Questions for Boyd's Speedway need to be sent to us in an email info on our Web Page so it can become a record and forward to the proper Staff personal for your answers. Not all Staff members pay attention to Facebook. Social Media is not a place to share this kind of information.
Thank you for your support in 2016 and 2017 is going to be fun.
Boyd's Speedway is located at 1481 Scruggs Road in Ringgold, GA 30736. Further information can be obtained by calling (706) 891-6803 or visit www.BoydsSpeedway.net. or Boyd's Speedways Facebook page for info.