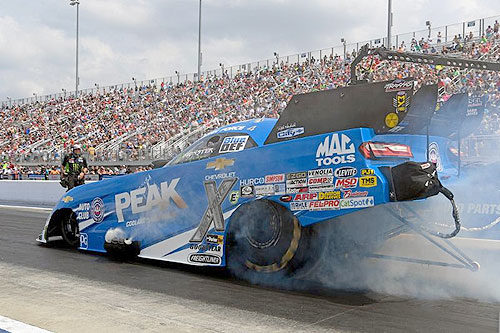 John Force knows his teams are fast and on the verge of breaking through for multiple victories at virtually any moment.
"The guys are on top of it," Force said after his semifinals appearance in Sunday's Four-Wide Nationals at zMAX Dragway in Concord, N.C. "The aerodynamics is are great and this car is really good. The motor is showing power but we have to get some more improvements for our motor program. We are right there."
He's hoping to be at the top of this weekend's NHRA Southern Nationals at Atlanta Dragway, the seventh stop on the NHRA Mello Yello Drag Racing Series schedule. Force is third in the Funny Car points standings with one victory and three semifinals appearances in 2017.
Atlanta has been a good track for Force, driver of the PEAK Coolant and Motor Oil Chevrolet Camaro SS. The Yorba Linda, Calif., driver heads to Atlanta with seven victories under his belt – the most recent coming in 2005 against one of his John Force Racing drivers, Robert Hight. His previous six victories came within a nine-year stretch, in which he went to the finals every year between 1992 and 2000.
And he's been successful even when he didn't come out completely on top. Force's last final-round appearance came in 2008, when he fell to daughter Ashley Force Hood, who that race made history by becoming the first female to win a Funny Car final.
As always, though, Force looks at the future rather than the past. After participating in a test Monday in Charlotte, Force knows wins are on the horizon. It would also be a nice, late birthday present for himself – Force turns 68 on Thursday. It'd mark his 149th victory and make himself – once again – the oldest driver to win in Funny Car history.
"They tell me I've won the most in Atlanta, but that doesn't matter," Force said. "We're going through a lot this week. The teams will be working hard, and we've had team meetings. We tested with two of our teams at Charlotte, and the other two went back to the shop to fix Courtney's car and work on Brittany's dragster. It's going to be tough, but that's what we're paid to do – to make it right.
"Where are we going to take it? We're going to go to Atlanta and win. We turned the corner in Charlotte – but we turned the corner a few races back. We're not where we want to be, but now we're going to start getting this act together."
Two sessions of qualifying for the NHRA Southern Nationals are scheduled for 4:15 and 6:45 p.m. Eastern Friday (highlights show at 8 p.m. Eastern on Fox Sports 1), with two more sessions at 1:15 and 3:45 p.m. Saturday (highlights show at 1 a.m. Eastern Sunday on FS1). Elimination rounds are scheduled to begin at 11 a.m. Sunday (highlights show at 6 p.m. Eastern Sunday on FS1).
4-Second Reads:
John Force has competed in 33 NHRA Southern Nationals races at Atlanta Dragway, and every year since 1985. His inaugural race at Atlanta came in 1983, and he did not qualify for the race in 1984.
Of those 33 races, Force has advanced to the final round of the Southern Nationals 15 times, winning seven (1992, 1993, 1994, 1995, 1999, 2000, 2005). His last finals appearance at Atlanta came in 2008.
Force has a record of 65-26 in elimination rounds in the Southern Nationals.
Force has qualified No. 1 for the Southern Nationals eight times, most recently in 2011. Of those eight, he's gone on to win the race only twice.
Force is 25-8 in first-round Southern Nationals race matchups. He won every first-round matchup between 1986 and 2000, a string of 15 in succession.
Force is currently third in the Funny Car points standings, the same as from the previous race.
In his career, Force has 148 victories, 1,272 round wins, and 155 No. 1 qualifying spots, all records.
Force's most recent NHRA victory – 2017 NHRA Gatornationals in Gainesville, Fla.
Force's most recent No. 1 qualifying effort – 2017 Gatornationals in Gainesville, Fla.
Force's best time/speed at Atlanta – 4.010 seconds (2016 Q4); 321.96 mph (2016 Q4)
Force's best time/speed of career – 3.832 seconds (2017 Gainesville); 335.15 mph (2017 Pomona 1)