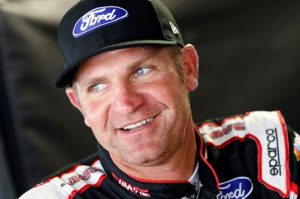 The Monster Energy NASCAR Cup Series tackles the high banks of Talladega (Ala.) Superspeedway Sunday for what is normally one of the sport's most exciting races of the season. By now, everyone knows Talladega racing often leads to nearly 40 cars racing four-abreast, 10 rows deep at 200 mph for more than three hours.
Talladega is about crashes and near crashes with short tempers among stressed-out drivers. Tune in to the radio or television broadcast of the race and the commentators are sure to call the action a "high-speed game of chess."
But Clint Bowyer, driver of the No. 14 Haas Automation Ford for Stewart-Haas Racing (SHR), isn't buying that cliché.
"Chess is sitting there, bored out of your mind, thinking of all the other things that you would rather be doing," Bowyer said. "There's a guy across from you, you're trying to figure out if he's actually into it or doing the same thing, bored out of his mind, thinking about all the things he would rather be doing."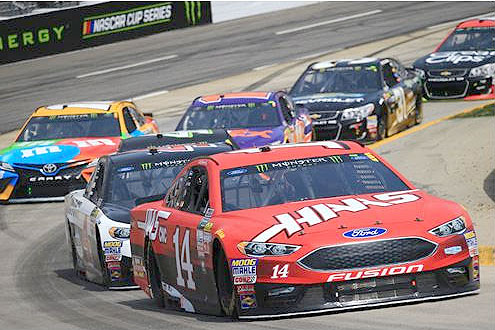 Bowyer said NASCAR restrictor-plate racing is so much more than any cerebral pursuit.
"You're literally freaking out, making knee-jerk-reaction decisions the whole race," he said. "You're reacting to things that you don't even remember. You'll get out of the car at the end of the race, and somebody'll be like, 'Man, that was an awesome move that won you the race!' And you're like, 'What the hell are you talking about?' There were at least 4,000 instances of what won that race or didn't win that race."
Don't let Bowyer kid you; he knows what he is doing on restrictor-plate tracks, especially at Talladega, where he's won twice and posted six top-five finishes in his 22 career starts at the 2.66-mile track. Bowyer has scored the most points of any driver in the last 10 Talladega races but, even after successful days like he has enjoyed there, he says he's mentally and physically weary after each race from all the exertion.
"There's so much going on inside the car, whether you're listening to the spotter, or you're looking at – as you're listening to him, you're following along to – that story in the mirror, right?" he said. "You're living it through the windshield. I mean, there are so many things that are going on, you just – you flat out – don't take it all in. I mean, your brain is registering so many things that, at the end of the race, you don't even remember half of it."
Bowyer rides a wave of success to Talladega with top-15 finishes in all nine of the 2017 races except for the season-opening Daytona 500, where a midrace accident ended his day. He's earned two top-five finishes and four top-10s this season. The No. 14 team led by crew chief Mike Bugarewicz has climbed to ninth in the standings.
"Everybody is working really hard and we are just having fun," Bowyer said. "SHR is a fun organization and Ford is a fun manufacturer to work with. We still haven't put everything together and been the best we can be, but Sunday will be our 10th race working together and we expect things will continue to improve."
Bowyer's racing fortunes have improved since arriving at SHR this season to replace three-time champion Tony Stewart, who retired from NASCAR competition. Bowyer would like to go down in the history books as the first driver to bring SHR a Talladega victory. The organization's 37 victories in 864 Cup Series races since its 2009 inception have come at every track except Talladega and Kentucky Speedway in Sparta.
Whether or not Bowyer makes history for SHR Sunday afternoon in the normally unpredictable Talladega race, it will be more entertaining than, say, a game of chess.
CLINT BOWYER , Driver of the No. 14 Haas Automation Ford Fusion for Stewart-Haas Racing:
How important are teammates during restrictor-plate races?
"Well, I think that's where the problem lies, right? You have teammates out there, and you need 'em, to get right down to the end. And, by the way, now you need to beat 'em, so it's an interesting problem when you have teammates like mine who you need all the way through. And then, hopefully, we line up one-two-three-four there at the end. You're like, 'Well, which one can I use right there to the end, who I know I can trust the most?' Nobody's trustworthy during these things. You can't be."
What are your thoughts on Dale Earnhardt Jr.'s retirement?
"His retirement is going to be a huge void. We are all going to miss Dale Jr. We all enjoy him being around. He was making fun of me on Twitter Sunday morning in Richmond. That's what I'm going to miss as a friend and person, forget the racetrack. We are all cooped up in the motorhome lot most weekends like a bunch of animals, so that time we get to enjoy with one another is what you will miss the most."
Notes of Interest:
• Sunday's race will mark Clint Bowyer's 407th career Monster Energy NASCAR Cup Series start and 23rd career Cup Series start at Talladega (Ala.) Superspeedway, where he has two victories, six top-five finishes and 12 top-10s and has led 100 laps.
• Bowyer owns career totals of eight wins, two poles, 60 top-five finishes, 171 top-10s and 2,338 laps led in 406 NASCAR Cup Series races. He also owns eight Xfinity Series victories. He is ninth in the Cup Series standings after nine races.
His most recent Cup Series victory came at Charlotte (N.C.) Motor Speedway (Oct. 13, 2012).
• His most recent Cup Series pole came at New Hampshire Motor Speedway in Loudon (Sept. 16, 2007).