ENGLISHTOWN, N.J. (June 11, 2017) Jack Beckman thought the heat had gotten to one of his Infinite Hero Foundation Funny Car crewman after he finished his run in Sunday's semifinals of the 48th annual NHRA Summernationals at Old Bridge Township Raceway Park at Englishtown, N.J.
Beckman could only watch from the cockpit of Terry Chandler's Infinite Hero 2017 Dodge Charger R/T as opponent Courtney Force faded into the distance after Beckman quickly smoked the tires and could see her run record a time of 3.993 seconds at 317.49 mph.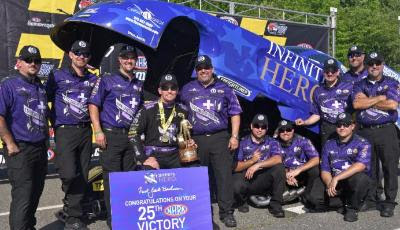 He had plenty of time to ponder how much longer it would be until he won an NHRA Mello Yello Drag Racing Series title. It took him 9.145 seconds to cross the finish line and another several seconds to coast to a stop and meet his crew.
"I was coming up to congratulate her and our guy Jesse (Freeman) beats on the car twice, which he always does when we win and I thought, 'boy, he didn't see it,' she was about 38 bus lengths ahead of us."
Beckman didn't know Force had been disqualified for a leaving the starting line too early and turned on the redlight.
Beckman went on to face Don Schumacher Racing teammate and points leader Ron Capps' NAPA AUTO PARTS team in the final round and beat Capps, the reigning world champion, with a time of 4.100 to Capps' 4.143.
"Wow, some days it's your day," said Beckman, whose last win was last July near Chicago.
"If you didn't notice, it's a fairly hot day. Put a helmet and firesuit on and it's even warmer, but I'm willing to do it. I didn't see Courtney's red light. We got our act together and raced the NAPA car when we turned on the win light the good old fashioned way."
Beckman's team led by crew chiefs Dean Antonelli, John Medlen and Neal Strausbaugh, jump three spots to third in the Mello Yello championship points heading to next weekend's race at Bristol, Tenn., which will be the third of four races in four weeks on the June Swing.
The Summernationals victory also earned a spot in the $100,000 Traxxas Nitro Shootout in which Beckman's six other teammates had qualified for the special events held during the U.S. Nationals over Labor Day Weekend near Indianapolis.
"Honest to goodness, not only we had a whole team change in the off-season, we've had three crew members change during the season.
"It was an odd race weekend. It was a very, very hot racetrack. It became a crapshoot in a lot of races down there in a pedalfest. We dodged a huge bullet when Courtney redlit against us in the semis, but we're the ones holding the trophy.
"The first one is always the toughest one. It's 25 Funny Car wins for me, plus two more in Super Comp, but it's one for this iteration of the Infinite Hero team."
It was perhaps more surprising that Capps advanced into his sixth final round in which he has won four times.
For the third straight event, Capps lost traction early but was able to recover each time to advance the second round where he faced Alexis DeJoria. Once again, Capps lost traction while DeJoria move out a lead of several hundred feet. Capps knew he couldn't catch her and was stunned as he watched her cross the centerline near the finish line and get disqualified. In the semifinals, he had another subpar run but it was enough to beat Robert Hight who smoked his tires.
"We needed some luck," said Capps, who extended his points lead to 129 over teammate Matt Hagan (Mopar Express Lane/Pennzoil).
"Most of my career I haven't had a whole lot of times where we've had great luck and I always wondered it must be nice to have those lucky breaks once in a while. You put enough credit into the luck bank and it's nice to take some out."
In the Top Fuel final, three-time and reigning world champion would have like to share some of that luck but he lost a close race in the final round to Steve Torrence.
It was Brown's third straight final round during which he has posted a record of 10-2 with one of his two event titles this year.
Antron Brown started from the No. 1 position with a track record qualifying time of 3.713 seconds then earned a second round bye due to a short 14-car field when he won in the first round at the facility about 30 miles from his hometown of Chesterfield, N.J., and 45 miles south of New York City.
The winner of the last two world championships was able to take the points lead from teammate Leah Pritchett (Dodge Demon/Pennzoil), who lost in the opening round for the first time in 10 races.
"We had a great weekend coming home to Englishtown," said Brown. "We qualified No. 1 and then we had a great E.T. in the first lap and then we ran low E.T. of the semifinals. Going into the finals, we just put it in 'rinse and repeat.' We knew we had a great car and it was a bummer. We dropped a hole at the step of the throttle. That's what happens when you're running these types of conditions. We learned a lot that we can apply for future races in the heat.
"We're heading in the right direction and we're improving every weekend. So we'll just keep doing what we're doing and let the results speak for themselves."
Through 10 races, Brown has advanced to half of the final rounds and has four more rounds wins than through 10 races last season.
DSR TOP FUEL DRAGSTERS
Event winner: Steve Torrence CAPCO Contractors
No. 1 qualifier: Antron Brown (Don Schumacher Racing), 3.713 sec.-track record, 329.42 mph
ANTRON BROWN, Matco Tools/U.S. Army Top Fuel dragster
Crew chiefs: Brian Corradi, Mark Oswald; Assistant: Brad Mason
QUALIFIED: No. 1
SUNDAY ELIMINATIONS
First round: Blake Alexander
First round: BROWN (3.783 sec., 323.12) def. Blake Alexander (3.992, 289.32)
Second round: BROWN (6.622, 103.10), bye run
Semifinals: BROWN (3.789, 324.98) def. Brittany Force (3.932, 279.09)
Final: Steve Torrence (3.857, 320.28) def. BROWN (3.932, 306.74)
QUALIFYING RESULTS
FRIDAY: 3.709 sec., 324.67 mph, (Session 1); 3.713, 329.42, (Session 2)
SATURDAY: 4.535, 170.26, (Session 3); 3.783, 322.88, (Session 4)
Best time, speed: 3.667 (2017, Phoenix); 333.16 mph (2017, Topeka)
Last event (June 2-4, Epping, N.H.): Qualified No. 4, lost in championship round to Brittany Force
A year ago at Englishtown: Qualified No. 2, lost in second round to Tony Schumacher
Career at Englishtown: Wins 3 (TF-2015/PSM-2002, 2005), Runner-ups 2 (2009, 2010),
Poles 4 (TF-2008, 2015/PSM-2001, 2005)
TONY SCHUMACHER, U.S. Army Top Fuel dragster
Crew chief: Mike Green; Assistant: Phil Shuler
QUALIFIED: No. 6
SUNDAY ELIMINATIONS
First round: SCHUMACHER (3.839 sec., 318.69) def. Leah Pritchett 3.928, 300.26)
Second round: Doug Kalitta (3.805 sec., 325.37 mph) def. SCHUMACHER (3.900, 299.00)
QUALIFYING RESULTS
FRIDAY: 5.770 sec., 116.44 mph, (Session 1); 3.763, 323.19, (Session 2)
SATURDAY: 3.853, 320.81, (Session 3); 6.298, 95.35, (Session 4)
Best Time, Speed: 3.660 sec. (2017, Topeka); 332.51 mph (2016, Brainerd)
Last event (June 2-4, Epping, NH): Qualified No. 3, lost in first round to Smax Smith
A year ago at Englishtown: Qualified No. 10, lost in championship round to Steve Torrence
Career at Englishtown: Wins 1 (2008), Runner-ups 1 (2016), Poles 2 (2007, 2009)
LEAH PRITCHETT, Dodge Demon/Pennzoil/Mopar Top Fuel dragster
Crew chief: Todd Okuhara; Assistant: Joe Barlam
QUALIFIED: No. 9
SUNDAY ELIMINATIONS
First round: Tony Schumacher (3.839 sec., 318.69) def. PRITCHETT (3.928, 30.26)
QUALIFYING RESULTS
FRIDAY: 3.785 sec., 321.42 mph, (Session 1); 4.953, 139.83, (Session 2)
SATURDAY: 3.845, 306.12, (Session 3); 6.298, 95.35, (Session 4)
Best Time, Speed: 3.658 sec.-world record (2017, Phoenix); 330.23 mph (2017, Topeka)
Last event (June 2-4, Epping, NH): Qualified No. 1, lost in semifinals to Antron Brown
A year ago at Englishtown: Qualified No. 12, lost in first round to Doug Kalitta
Career at Englishtown: Wins 0, Runner-ups 0, Poles 0
DSR FUNNY CARS
Event winner: Jack Beckman (Don Schumacher Racing)
No. 1 qualifier: Courtney Force (John Force Racing), 3.862 sec.-track record, 331.12 mph
JACK BECKMAN, Terry Chandler's Infinite Hero Foundation 2017 Dodge Charger
Crew chiefs: Dean Antonelli, John Medlen, Neal Strausbaugh
Qualified: No. 4
SUNDAY ELIMINATIONS
First round: BECKMAN (4.082 sec., 306.60) def. Jim Campbell (23.920, 130.73)
Second round: BECKMAN (4.285, 290.94) def. Cruz Pedregon (4.286, 291.76)
Semifinals: BECKMAN (9.145, 72.26) def. Courtney Force (3.993, 317.49-RED LIGHT DQ)
Final: BECKMAN (4.100, 312.42) def. Ron Capps (4.143, 299.66)
QUALIFYING RESULTS
FRIDAY: 3.895 sec., 323.04 mph, (Session 1); 3.907, 328.30, (Session 2)
SATURDAY: 4.442, 174.82, (Session 3); 4.589, 184.37, (Session 4)
Best Time, Speed: 3.825 sec., (2016 Pomona 2); 334.15 mph (Seattle 2016)
Last event (June 2-4, Epping, NH): Qualified No. 5, lost in first round to Del Worsham
A year ago at Englishtown: Qualified No. 10, lost in championship round to Ron Capps
Career at Englishtown: Wins 0, Runner-ups 2 (2013, 2016), Poles 0
RON CAPPS, NAPA AUTO PARTS 2017 Dodge Charger R/T
Crew chief: Rahn Tobler; Assistant: Eric Lane
Qualified: No. 3
SUNDAY ELIMINATIONS
First round: CAPPS (4.664 sec., 260.36 mph) def. Del Worsham (4.689, 254.95)
Second round: CAPPS (no time) def. Alexis DeJoria (disqualified for crossing the centerline)
Semifinals: CAPPS (4.195. 260.31) def. Robert Hight (6.302, 107.84)
Final: Jack Beckman (4.100, 312.42) def. CAPPS (4.143, 299.66)
QUALIFYING RESULTS
FRIDAY: 3.895 sec., 323.04 mph, (Session 1); 3.883, 329.67, (Session 2)
SATURDAY: 3.963, 313.51, (Session 3); 3.951, 320.05, (Session 4)
Best Time, Speed: 3.839 sec. (2017, Phoenix); 333.58 mph (2017, Phoenix)
Last event (June 2-4, Epping, NH): Qualified No. 3, lost in semifinals to Courtney Force
A year ago at Englishtown: Qualified No. 1, won in championship round over Jack Beckman
Career at Englishtown: Wins 2 (2006, 2016), Runner-ups 3 (2003, 2005, 2012), Poles 2 (2012, 2016)
TOMMY JOHNSON JR., Chandler's Make-A-Wish 2017 Dodge Charger R/T
Crew chief: John Collins; Assistant: Rip Reynolds
Qualified: No, 7
SUNDAY ELIMINATIONS
First round: JOHNSON (4.010 sec., 319.67) def. Bob Tasca III 4.949, 182.85)
Second round: Robert Hight (4.048, 314.75) def. JOHNSON (4.515, 195.05)
QUALIFYING RESULTS
FRIDAY: 4.312 sec., 217.60 mph, (Session 1); 3.945, 326.71, (Session 2)
SATURDAY: 4.034, 316.67, (Session 3); 3.954, 322.96, (Session 4)
Best Time, Speed: 3.837 sec. (Phoenix 2017); 330.80 mph (Seattle, 2016)
Last event (June 2-4, Epping, NH): Qualified No. 9, lost in semifinals to Matt Hagan
A year ago at Englishtown: Qualified No. 5, lost in second round to Del Worsham
Career at Englishtown: Wins 1 (2007), Runner-ups 0, Poles 1 (2007)
MATT HAGAN, Mopar Express Lane 2017 Dodge Charger R/T Crew chief: Dickie Venables; Assistant: Michael Knudsen
Qualified: No. 9
SUNDAY ELIMINATIONS
First round: HAGAN (4.013 sec., 317.44) def. Jonnie Lindberg (4.044, 314.39
Second round: Courtney Force (4.094, 312.28) def. HAGAN (4.374, 268.60)
QUALIFYING RESULTS
FRIDAY: 3.957 sec., 324.44 mph, (Session 1); 4.661, 174.71, (Session 2)
SATURDAY: 4.313, 220.80, (Session 3); 3.952, 317.72, (Session 4)
Best Time, Speed: 3.802 sec. (world record, (2017,Topeka); 338.85 mph (world record, 2017, Topeka)
Last event (June 2-4, Epping, NH): Qualified No. 4, won in championship round over Courtney Force
A year ago at Englishtown: Qualified No. 2, lost in second round to Jack Beckman
Career at Englishtown: Wins 2 (2013, 2015), Runner-ups 0, Poles 1 (2013)
2017 NHRA MELLO YELLO DRAG RACING SERIES TOP FUEL STANDINGS
(Official after Englishtown, N.J.; 10th of 24 events; wins in parenthesis; DSR drivers in CAPS)
1. ANTRON BROWN (2) 878 —–
2. Steve Torrence (3) 871 -7
3. LEAH PRITCHETT (3) 842 -36
4. TONY SCHUMACHER (1) 766 -102
5. Doug Kalitta 648 -230
6. Brittany Force (1) 609 -269
7. Clay Millican 520 -358
8. Troy Coughlin Jr. 412 -466
9. Terry McMillen 392 -486
10. Scott Palmer 380 -498
2017 NHRA MELLO YELLO DRAG RACING SERIES FUNNY CAR STANDINGS
(Official after Englishtown, N.J.; 10th of 24 events; wins in parenthesis; DSR drivers in CAPS)
1. RON CAPPS (4) 931 —–
2. MATT HAGAN (3) 802 -129
3. JACK BECKMAN (1) 652 -279
4. Courtney Force 648 -283
5. Robert Hight 645 -286
6t. TOMMY JOHNSON JR. (1) 587 -344
6t. John Force (1) 587 -344
8. J.R. Todd 444 -444
9. Tim Wilkerson 427 -504
10. Del Worsham 372 -559