ENGLISHTOWN, N.J. (June 11) – Brittany Force was unable to go back-to-back with her Monster Energy Top Fuel dragster, but her confidence remains high after a semifinal finish Sunday in the NHRA Summernationals at Old Bridge Township Raceway Park.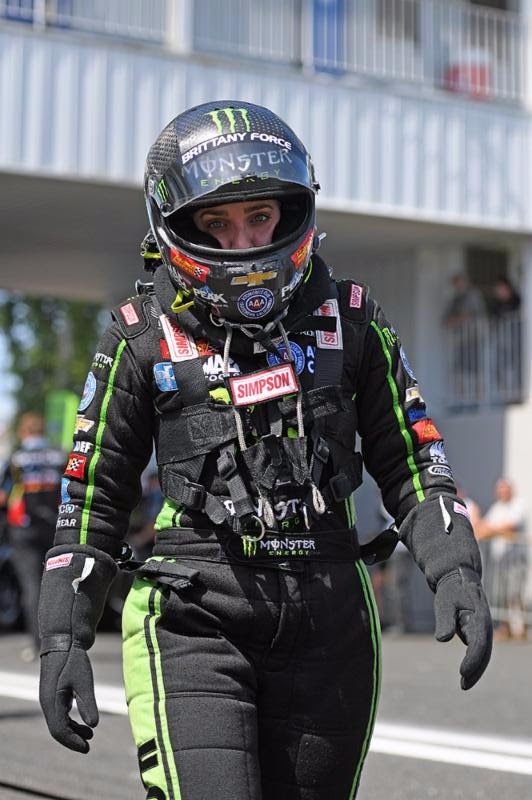 Force won last weekend's NHRA Mello Yello Drag Racing Series race in Epping, N.H., and then qualified the Monster Energy car in the No. 5 spot for Englishtown. She rolled into the semis before falling to defending Top Fuel champion Antron Brown.
"I look at the weekend overall as a positive," Force said. "We've turned this car around, and we won last weekend. We qualified well here and went to the semis – that's pretty outstanding."
What Force was happiest about was running well in the heat. Temperatures were in the 80s on Saturday when she made her best qualifying pass, and temps soared into the 90s on Sunday, when Force was quick again.
"We really struggle running in the heat, and it was warm Saturday night when we ran a 3.76, so that's pretty good for us," Force said. "Now, we're going into these hotter races where the track temps are going to be through the roof. That's where we need to focus and figure out how to make the car run."
In Sunday's first round, Force made a solid pass of 3.809 seconds at 321.96 mph to dispatch Troy Coughlin Jr.'s 3.852-second run at 309.91 mph. And she earned lane choice for the semifinals with a 3.838-second run at 316.67 mph to beat Scott Palmer (3.901 at 314.90 mph).
But Force's car struggled in the semis against Brown, slowing to a pass of 3.932 at 279.09 mph as Brown rolled to the final with a 3.789-second run at 324.98 mph.
Force remains sixth in the Top Fuel standings as the class heads to Bristol Dragway for the NHRA Thunder Valley Nationals this weekend.
"My confidence level has definitely risen since the win in Epping," Force said. "And not just for me, but the whole team. It gives us that fire in our gut. We were in the winner's circle last weekend, and we can do it again. We pulled together as a team, turned four win lights on and ended up in that winner's circle. We can do it again, and that's our plan."
4-Second Reads:
Best Qualifying Effort: 3.762 seconds/320.81 (Round 4); Qualified No. 5
Elimination Round 1 (Left Lane): 3.809 seconds/321.96 mph, def. No. 10 Troy Coughlin Jr., 3.852 seconds/309.91 mph; vs. Coughlin – now 2-1 all-time; 2-1 this season; 1-0 at Englishtown
Elimination Round 2 (Quarterfinals, Left Lane): 3.838 seconds/316.67 mph, def. No. 11 Scott Palmer, 3.901 seconds/314.90; vs. Palmer – now 2-0 all-time; 1-0 this season; 1-0 at Englishtown
Elimination Round 3 (Semifinals, Left Lane): 3.932 seconds/279.09 mph, lost to No. 1 Antron Brown, 3.789 seconds/324.98 mph; vs. Brown – now 4-9 all-time; 1-2 this season; 0-2 at Englishtown
Force is now 13-9 this season in 22 elimination rounds.
Force is now 9-5 in 14 elimination rounds at Old Bridge Township Raceway Park.
-Force is now 13-7 all-time in 20 elimination rounds from the No. 5 qualifying spot.
-Force is now 100-98 all-time in 198 elimination rounds.
-Top Fuel Points Standings: 1. Antron Brown, 878; 2. Steve Torrence, 871; 3. Leah Pritchett, 842; 4. Tony Schumacher, 766; 5. Doug Kalitta, 648; 6. Brittany Force, 609.