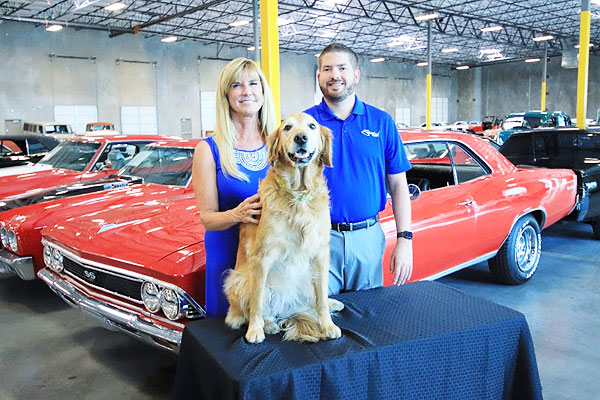 We recently had the pleasure of catching up with Donna Robbins, President of Streetside Classics, to find out a little more about the driving force behind the company's success and what the future holds for the multi-location classic car dealer.
Q: How did you get started in the classic car industry?
A: In 1999, a partner and I opened the first showroom in St. Louis, MO. We had a business consulting company and a client presented the business plan, but didn't want to own the company. He just wanted to manage it for investors. It was a good business plan and looked like it would be a really cool business to own. After five years, we opened a second showroom in Charlotte, NC. In 2008, we terminated our partnership and I took the Charlotte store. I then proceeded to open a showroom in Atlanta in 2010, Fort Worth in 2012, Tampa in 2015, Nashville in 2016 and we just opened Phoenix in September 2017.
Q: What sets Streetside Classics apart from its competitors?
A: The number one reason for Streetside's success is our employees. We are very careful to hire professional, experienced people who have a proven record of success. We then take the time to train them on our philosophy, which is that we give our customers the best service possible and we create trust in the market. When we open a new market, Bob Mueller, VP of Sales & Marketing, Shelby (my golden retriever) and I spend at least 6-12 months at the new store and personally hire and train 8-10 employees. If possible, we also promote employees from current stores to assist. We teach our ideas of integrity, honesty and making our customers happy. We always pay our consignors within 24 hours of the sale. We do everything possible to make sure our consignors are happy with the money they receive for their vehicle. We promote teamwork highly at Streetside. Each showroom is a team but also part of the large team. It's like I have six different families in six cities that are all part of the big Streetside family. Last, but definitely not least, our company mission statement is 'Nation's Most Trusted Consignment Dealer.' We take this very seriously and do everything possible to prove it in every transaction.
Q: Where do you see Streetside in the future? In five years? Ten years?
A: Streetside will continue to open new markets when the right opportunity arises. I project that we will open a couple stores in the next five years and possibly two more after that by year 10.
Q: What is unique about your current inventory?
A: Our inventory is always unique because it's so diverse. From discerning collectors looking for a documented six-figure plus vehicle, to an entry-level buyer looking for their very first classic car, Streetside has a vehicle for them. Our current inventory levels are about 1,500 vehicles nationwide and growing.
Q: What is it like being a female business owner in this industry?
A: This is definitely a male-oriented business, but I feel there are many benefits of being a female in this industry. I've overheard many customers ask my staff, 'who owns this business?' The staff reply, 'a woman named Donna Robbins.' The customer then replies, 'I knew it! You can tell by how organized and clean the showroom is and the professionalism I see.' I think as a woman I do give more attention to detail than most men. Biologically, women are nurturing and caring and I know I apply those traits with my employees and customers. There are times when I feel like I'm mom to 60 employees but I'm not complaining. It's wonderful to be part of such a large, close family.