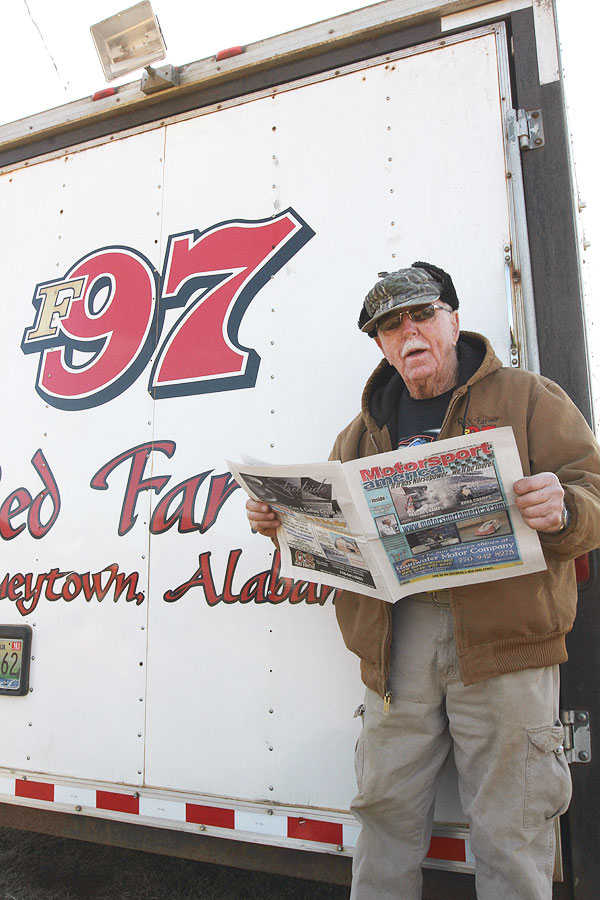 Story/Photos: Phillip Prichard, MSA
The 27th Annual Ice Bowl at the Talladega Short Track was January 4th – 7th. Two hundred and fifty (250) plus entries were on hand for the six (6) features. Sunday began with B-Mains and Hot Laps for all six divisions. Living up to its name the Ice Bowl, Sunday was 34 degrees at the start but got up into the 40s. This is the 41st season at the Talladega Short Track.
Michael Page of Douglasville won the Super Late Model Series going flag to flag for 50 laps to pick up the $6000 Prize Money. Billy Ogle Jr was the fastest qualifier with a lap time of 14.074 but Page took the lead on lap one. This was Page's second consecutive Ice Bowl victory.  Page finished 1.288 over second place finisher Jason Hiett. John Ownbey was third, Billy Ogle Jr was fourh, and Ronnie Johnson was fifth.
Ronnie Johnson moved up the most positions, he started 20th and finished 5th. Rounding out the top ten were: Bret Holmes, Dallas Copper, Aaron Ridley, Chris Jones and Corey Roulette. The Heat Race Winners were: John Owenbey, Michael page, Justin Shipley and Jason Hiett. Consolation Race Winners were Bret Holmes and Mark Page.
Ronnie Johnson won the NeSmith Dirt Late Model Crate Feature in a dominating performance, Johnson led all 50 laps. After lap 30, Johnson just keep pulling away from the field, looking like he was enjoying his Sunday afternoon drive. Michael Page finished second. Rounding out the top ten finishers were: Jimmy Elliot, Jesse Lowe, Andy Picklesimer, Sam Seawright, Dylan Knowles, Brad Berry, Shane Smith and Chase Walls.
Dallas Cooper of Talladega, AL took the win in the Griffin Lazer Sportsman division, Tony Gray won the Nesmith Late Model Sportsman Feature, Wyatt Hill won the Nesmith Street Stock Feature, and   John Smartt won the KMSA Mini Stock Feature.
Check out http://talladegashorttrack.com/ for the 2018 schedule The Season Opener will be on March 25th with a Full Racing Program.