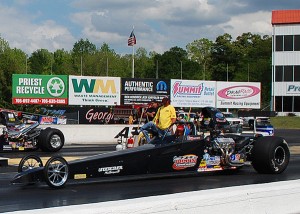 By Tim Glover:
April 15:  Hundreds of race cars from all over the United States converged at Atlanta Dragway during the weekend of April 13-15, 2012 for the NMRA NMCA Allstar Nationals.
Many classes were contested, and at the end of the day, several local racers rose to the top in their class.
Mark Hancock from Commerce, GA took on all comers in Bracket One class, and had the pleasure of meeting another local racer from Commerce, Hank Wilhelm.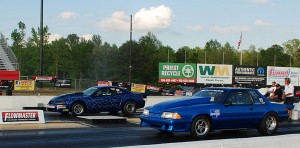 Only three thousandths of a second separated the two racers at the starting line, with Hancock taking a slight advantage at 0.009 seconds.  Wilhelm actually crossed the top end stripe first, but went too quick in the process, breaking out with a 5.209 on a 5.23 dial.
Hancock won with a slight breakout run of 4.817 seconds (4.82 dial).  "My son Jeremy won this class last year at the NMRA NMCA event, but he had to work, so he told me it was my turn," added Hancock.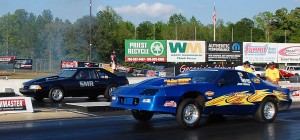 John Norris regularly enters his Royston, GA based '86 Camaro in three different classes in Atlanta Dragway's Summit ET racing program; Pro, Open Comp Full Body and 7.00 Index.  Today he raced in the NMCA Open Comp class, and by the end of the event, earned what amounted to a double win.
Because he was also entered in the NHRA Unleashed program, Norris won his second NHRA "Wally" trophy (his first was earned at the 2011 Lucas Oil event in the 12.00 program) in addition to the NMCA Open Comp trophy.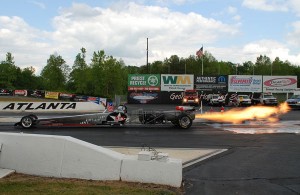 Norris met North Carolina racer William Smith in the final, and while both racers had great reaction times (0.028 seconds for Norris and 0.036 seconds for Smith), Norris' familiarity with the finish line paid off, with a 0.03 over 11.61 at 115.10 mph (11.58 dial).  Smith crossed the finish line 0.03 seconds later, posting a 10.15 at 136.41mph (10.10 dial).
Norris said he had been having trouble with red lights the past couple of weeks, but overcame that during today's action.  He thanked Tri-County Chevrolet, Wade Bryant Automotive and Mason racing.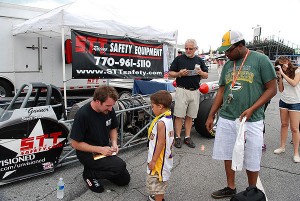 Alton Clements III from Central, SC used to compete in the Atlanta Dragway Junior Dragster program, and returned to the Atlanta NMRA Renegade final for the third year in a row.  Clements won the Atlanta NMRA Renegade event in 2010 and 2011, but unfortunately his engine was wounded during the semi-final round.  However, he went ahead and did a burnout, then staged his '89 Mustang hoping opponent Brian Mitchell from Philadelphia, PA would make a mistake in his '04 Mustang.
Mitchell, however, simply staged up and ran his own race, winning the 2012 event with an 8.51 at 149.86mph.  Clements chose to save his engine parts for another day, and never left the starting line.  "I suspected his engine was hurt," added Mitchell.
Russ Glover grew up at Atlanta Dragway, first drag racing bicycles on the 330 foot course in 1993 and 1994.  He then stepped into a Junior Dragster from 1995 though 1999 for Bill Gillen of YoungGuns Motorsports, and graduated to Super Pro from 2000 to 2005.
With a lot of help from Jet racer Paul Miller from Watkinsville, GA and Jet racer and car owner Scott Holdridge, Glover realized a long-time dream this weekend, debuting a jet dragster at Atlanta Dragway.  During each of the three full afterburner passes he made during the weekend, Glover impressed the spectators first with a fire and smoke show in the General Electric J-85 powered Air Force One jet dragster, followed by a personal best run of 5.35 seconds at 293mph.
Glover gave a big thanks to Chris Vandergriff of Hedman Hedders for helping bring all his extended family to the track to see the debut, another to Phillip Wiginton, who hosted his family, and also thanked Scott Holdridge and Paul Miller for taking him under their wing and teaching him everything he needed to earn his Jet Dragster license.
Sanctioned by the National Hot Rod Association (NHRA), Atlanta Dragway is located just off I-85 at Exit 149 in the Banks Crossing area of Commerce, Georgia. Information on all 2012 events, including the Summit Racing Equipment NHRA Southern Nationals on May 4 – May6, 2012, may be obtained by calling the track office (706-335-2301) or logging on to www.atlantadragway.com.