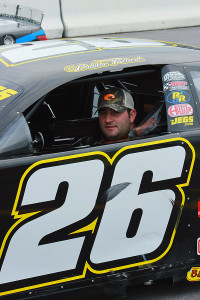 All photos by MSA Staff.
Pollard Holds Off Fellow Georgian T.J. Reaid for Second-Straight Southern Super Series Win
Two Georgia drivers battled under the lights Saturday night at Jefferson, Georgia's Gresham Motorsports Park, both desperately wheeling their cars to pick up the Southern Super Series presented by Sunoco victory in their backyard.  In the end, Senoia's Bubba Pollard would win the Racing Radios 125 presented by Schoenfeld Headers after a fierce, but clean, battle with Acworth's T.J. Reaid.
As a result, Pollard remains undefeated in Southern Super Series presented by Sunoco competition.  He captured the inaugural race victory at Tennessee's Fairgrounds Speedway Nashville three weeks ago and his win Saturday was a popular one judging by the warm ovation fans gave him as he climbed out of his No. 26 JEGS.com Ford.
"Racing clean, that's what racing is all about," a smiling Pollard said after hoisting the trophy in victory lane.  "He (Reaid) bumped us a little bit through turns three and four coming to the checkered.  That's expected.  That's racing and that's how I like to race.  I have a lot of respect for him to race me that way."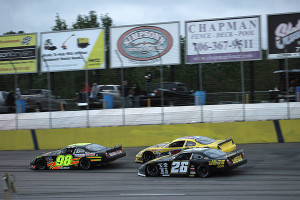 Pollard has plenty of respect headed his way after two strong showings to start the year.  He gave the 31 Southern Super Series teams in attendance a taste of what was to come in time trials, turning in a 16.416-second lap to claim a $500 bonus for the pole award presented by Ford Racing, Hamner Racing Engines, McGunegill Engine Performance, Progressive Racing Engines and RW Engines.  Reaid, as he did in the race, came in right behind Pollard with a 16.429-second circuit around the fast Gresham half-mile.
The invert for the start of the race was six, leaving Florida's Travis Cope up front in his first Southern Super Series start.  Cope pulled out of the race before the start due to a power steering leak and Georgia's Russell Fleeman would lead the first few laps.
After starting fifth, Reaid made his way to the lead in just 12 laps and would pace the field from there until the lap-75 competition break.  Daniel Hemric was second at that time with Pollard, Stephen Nasse and Mike Garvey also mixing it up and running at the front of the field.
After teams came in to change two tires and adjustments, another invert was done with the top six getting swapped around.  Fleeman would lead the first two laps after that restart, but Pollard and Reaid made some gutsy moves to get to the front in a hurry.  Pollard got to the front first, taking the lead for good at lap 78.  Reaid moved into second two laps later and was never more than two car lengths from Pollard for the remainder of the race.
Reaid pulled under Pollard at the lap-100 mark, but after two laps of side-by-side racing, he had to pull back in line.  From there, Reaid kept the pressure going all the way to the white flag but could never put a bumper inside Pollard's quarter panels.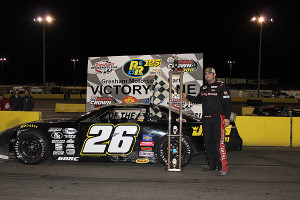 It was the frantic restart after the mid-race break that Pollard pointed to as the key to victory.
"That's [good restarts] the key to winning these races," added Pollard.  "You have 50 laps to go and everyone has two fresh tires.  You have to go because everyone's car is feeling good.  I think the key to the race was getting up there first and staying out front of him [Reaid].  If we had let him by, we'd have never gotten back by him.  This place is tough to pass and being up front is important."
Reaid settled for second, but remained positive after a great night of racing.
"I was trying to pick the perfect moment to take my chance and try to make a pass on him," said Reaid.  "We were so close there that I felt like if I made a hard run on him, it might have taken us both out.  I didn't to do that because we had run the last 45 laps there nose-to-tail.  I tried to make a run on him and size him up early so I could see where I was going to have to make a run on him later."
The two leaders wound up pulling away from the rest of the field in the final 25 laps despite their torrid battle.  Daniel Hemric ultimately took the final place on the podium with a third-place finish.  The 2012 JEGS/CRA All-Stars Tour champion still had his hands full over the closing laps after another tight and clean battle with Russell Fleeman.
"We were really close the first run and I felt we were one good adjustment from running with T.J. and Bubba," Hemric said after climbing from his Carswell Motorsports entry.  "We probably went a little too far at the break to give us the forward drive that we needed.  So we came up a little short tonight and congrats to Bubba Pollard on his second win.  He's got it figured out and here especially he's as good as it gets."
The next event for the Southern Super Series presented by Sunoco is the Southern Super Series 125, May 4 at Montgomery Motor Speedway in Montgomery, Alabama.  Pollard will look to go three-for-three at a track he has not won at since its re-pavement a few years back.
For more information on the Southern Super Series, visit www.SouthernSuperSeries.com.  The Facebook page for the Southern Super Series is located at www.facebook.com/southernsuperseries and on Twitter it's @SoSuperSeries.  For advertising or sponsorship questions, please contact the track representatives.  For media inquiries, please contact Matt Kentfield at 51 Sports via matt@51sports.net.
SOUTHERN SUPER SERIES PRESENTED BY SUNOCO
RACING RADIOS 125 PRESENTED BY SCHOENFELD HEADERS
Gresham Motorsports Park
April 27, 2013
Official Results
Pos.
No.
Driver
Laps
1
26
Bubba Pollard
125
2
41
TJ Reaid
125
3
98
Daniel Hemric
125
4
18
Hunter Robbins
125
5
98
Russell Fleeman
125
6
29
Austin Theriault
125
7
1
Mike Garvey
125
8
51
Stephen Nasse
125
9
8
John Hunter Nemechek
125
10
30
Jerick Johnson
125
11
25
Ross Kenseth
125
12
112
Augie Grill
124
13
91
David Quackenbush
124
14
2
DJ VanderLey
124
15
127
Brandon Booth
124
16
129
Spencer Davis
124
17
22
Clay Alexander
124
18
5
Spencer Wauters
123
19
22
Tyler Audie
123
20
60
Tyler Speer
123
21
31
Kyle Grissom
80
22
97
Fredrick Moore
63
23
95
Trey Gibson
20
24
10
RS Senter
20
25
7
Michael Lance
18
26
19
Zak Hausler
7
27
26
Travis Cope
4
28
47
Allen Karnes
0
29
86
Chet Morrison
0
30
2
Donnie Wilson
0
31
75
David Odell