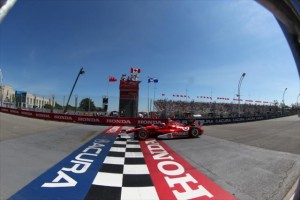 Becoming the active Indy car leader with 32 victories is something that Scott Dixon will reflect on after the IZOD IndyCar Series season.
Through the finale Oct. 19 at Auto Club Speedway, he'll be focused on securing his third series championship.
Dixon, who was seventh in the standings (92 points behind front-runner Helio Castroneves) following the June 23 race at Iowa Speedway, has vaulted into second (29 points arrears of Castroneves) courtesy of victories at Pocono on July 7 and sweeping the July 13-14 Honda Indy Toronto doubleheader.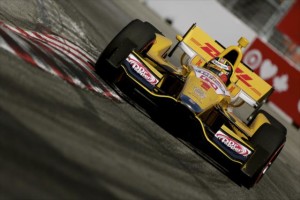 The run tied Mario Andretti's streak of three race wins in eight days (July 30 to Aug. 6, 1968, which included Langhorne, Pa., and a doubleheader at St. Jovite, Quebec). Al Unser won four consecutive races in eight days in July 1969 (a doubleheader at Indianapolis Raceway Park and a doubleheader at Langhorne), and the total was five in a row with a win July 13 at Nazareth, Pa.
"It's nice to put a little pressure on Helio, and hopefully we can keep that going," said Dixon, whose next opportunity to gain on the three-time Indianapolis 500 winner is Aug. 4 at Mid-Ohio Sports Car Course.
Dixon has won the past two years at the 2.258-mile road course and four times overall.
"Helio has had a pretty stress-free year as far as not being involved in accidents or having mechanicals," continued Dixon, who also had a three-race winning streak in 2007 (Watkins Glen, Nashville and Mid-Ohio). "Ryan Hunter-Reay, every time I kept seeing him this weekend, he was in some kind of altercation. He lost a lot of points over the weekend.
"I think it's still going to be a tough battle. I like the look of the tracks we have coming up. I think we are in the hunt. I think some tracks we'll be at a slight disadvantage to the Chevys, some we might have an advantage."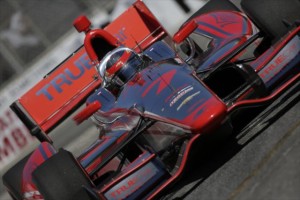 Dixon won Race 1 by 1.7 seconds over Sebastien Bourdais and won under caution to complete the sweep and earn the $100,000 SONAX Perfect Finish Award.
"It's nice to give the boys a bonus after our rough start to the year," Dixon said of the prize that will be $50,000 for the Houston doubleheader in early October. "That's fantastic."
Dixon's 32nd Indy car victory overtook Dario Franchitti, Bourdais and Paul Tracy for seventh on the all-time list. He's won three races since Franchitti won his last in the 2012 Indianapolis 500. Bourdais' last Indy car victory was Nov. 11, 2007, in Mexico City. Tracy, who is retired from Indy car racing, last won on June 24, 2007, at Cleveland.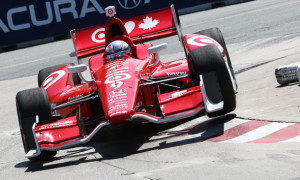 Al Unser Jr. is next up with 34 victories (nine on ovals, 25 of road/street courses).
Of Dixon's total, 17 have been on ovals and 15 on road/street courses. Dixon made his first Indy car start at Monterrey, Mexico, on March 11, 2001, and picked up his maiden victory at Nazareth less than two months later in a PacWest Racing car. He's been with Target Chip Ganassi Racing since '03.
"I'm very fortunate to have 31 of those wins with this team, 12 years with this team," Dixon said. "I think me and Helio are probably the longest active drivers with one team, which I think says a lot for the wins we've had and what we've achieved together.
"I would have wished some of those were a couple more '500s' and a few more championships. But that's the way it's gone. We'll keep digging, trying to improve on that. It's cool to be on that list and moving up it."