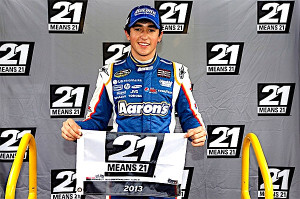 By Phillip Prichard, MSA:
Chase Elliott, became the youngest driver, a just 17 years old, in the NASCAR Camping World Truck Series history to win the pole position for the UNOH 200 at Bristol Motor Speedway. Elliott drove the .533-mile oval in 15.328 seconds at roughly 125.183 mph to earn the first Camping World Truck Series pole of his career. Elliott is two years younger than previous record holder Ryan Blaney.
Elliott went on to led 63 laps and finish fifth in the race, which marks his fourth straight top-five Camping World Truck Series result of the 2013 season.
Elliott, driver of the No. 94 Aaron's Dream Machine/Hendrickcars.com Chevrolet Silverado prepared by Turner Scott Motorsports, started the day with a strong run in first practice and finished second on the speed charts. Despite finishing the final practice in 14th, Elliott and crew chief Lance McGrew were confident in their set up for qualifying. Their confidence was rewarded when Elliott clocked in a fast qualifying lap at 125.183 mph.
Chase is the son of 1988 Sprint Cup Series champion Bill Elliott of Dawsonville, GA. Chase Elliott won the 21 Means 21 Pole Award for the 16th Annual UNOH 200 with a lap of 15.328 seconds, 125.183 mph. This is his first pole in five NASCAR Camping World Truck Series races and fourth top-10 start in 2013.
Ryan Blaney started on the front row with Elliott after he turned a lap at 125.028 mph. Ty Dillon qualified third, followed by Timothy Peters, who won last year's race at Bristol after leading all 204 laps. German Quiroga rolled off from the fifth spot and Matt Crafton, the current points leader, will start sixth.
Ben Kennedy, who is the great-grandson of NASCAR founder Bill France Sr., grabbed the 19th starting position in his truck debut.
Kyle Busch won the UNOH 200 at Bristol Motor Speedway on Wednesday night for his 3rd win of the season and 33rd of his Truck Series career.
#17-Timothy Peters was second, followed by:
#29-Ryan Blaney
#98-Johnny Sauter
#94-Chase Elliott
#3-Ty Dillon
#31-James Buescher
#9-Ron Hornaday
#19-Brad Keselowski
#88-Matt Crafton in the top-10.
There were 5 caution flags for 32 laps, and 7 lead changes among 4 drivers.