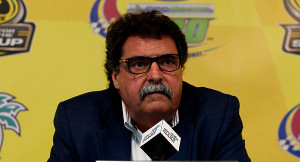 NASCAR President Mike Helton reaffirmed Friday that it's in the sport's "best interest'' not to restrict Sprint Cup drivers in other series, left open the possibility of changes to the 2015 schedule and that series officials will talk more to drivers about socially acceptable comments after penalizing three for either slurs or stereotypes.
Helton made those comments in a 35-minute session with reporters at Homestead-Miami Speedway.
One issue that has gained prominence lately is that Austin Dillon could win the Nationwide title Saturday despite not winning a race this season. Sprint Cup drivers have won 25 of the 32 Nationwide races this season. Sam Hornish Jr., who is challenging Dillon for title, has only one Nationwide victory this season.
"We believe that it's in NASCAR's best interest currently to have an open model for its three national series and not restrict who participates in them,'' Helton said. "As we go forward we always look at what's next as far as possibilities are concerned.
"But our general philosophy is to make our products be competitive and open, and we want to have the best competition, if it's for 400 miles or 300 miles, and the guy who ends up in Victory Lane is the guy who deserves to be there. If the guy that wins the championship deserves to be the champion, whether he has a win or not, the emphasis was on him earning the championship as opposed to earning a win.''
Another key topic is what might happen with the 2015 Sprint Cup schedule. There has been speculation that NASCAR's schedule, including the Chase lineup, could change in 2015 because that marks NBC's return to broadcasting Cup races.
When we first started the Chase, we said that we weren't going to change the schedule to fit the Chase, but that was 10 years ago,'' Helton said. "Things change, and you never know what may or may not happen. But certainly I think the expectations of the entire schedule is something the industry relies on, and it goes back to the conversation I had earlier about having the full industry to weigh in. While we may not think it needs to be tweaked or changed, others have influence on our decision to make it better. And certainly we keep an open mind of that.''
The track lineup for the Chase last changed in 2011 when Chicagoland Speedway replaced Auto Club Speedway. The Chase has never had a road course even as support for such a move has grown on social media.
Helton also addressed the behavior of drivers on social media or settings. NASCAR has penalized three drivers this season for making slurs or stereotypes on social media or in social settings.
"NASCAR began a rookie symposium and '14 will be our fourth year of our rookie symposium, and part of that was to lay out the minefield that you're getting into beyond the racetrack itself,'' Helton said. "I'm sure '14 will address it even more as we see the progression of social media being such a part of our everyday lives, of the ramifications and the expectations from NASCAR as well as there are other stakeholders to be aware of this type of thing.''
During its recent meeting with drivers at the R&D Center, NASCAR officials addressed social media implications. Series officials also plan to address the situation during it's annual meeting drivers and owners in January.
Among other topics discussed:
Helton called the Michael Waltrip Racing scandal at Richmond and its repercussions "a defining moment.'' He also said "we're confident in what we did.''

Asked about the 100 percent rule NASCAR instituted after the MWR scandal, Helton said:
"It's an issue that we have to continue to monitor as well as the industry, but I think for some time the incident itself and our reaction to it and the industry's reaction to it, whether it's through the fans or sponsors or what have you, creates such a huge awareness around it that I think teams will actually, for some time, be more careful.
But I would also tell you that we're experienced enough to know that it's on us to continue to monitor it and to find new ways through technology or steps that we may take to be sure that the garage area is reminded that someone is still concerned with this topic and we'll continue to keep after it and watch after it.
Helton addressed driver safety in light of IndyCar driver Dario Franchitti announcing Thursday he must retire because of injuries suffered in a crash last month.
"The one other thing we've learned again and are reminded of in 2013 is that it's a dangerous sport. We're all very anxious or the most anxious to have Tony back in the Cup garage real soon and certainly hope his rehabilitation and his healing goes as well as it has been going.
"Dario is a very significant motorsports figure. We enjoyed him when he was in NASCAR. He's not only a talented race car driver, he's just a talented individual and a very personable person. The good thing is he was able to do this in his own terms, so to speak, and we wish him the best and hope we see him at some of our races sitting on Ganassi's box or wherever he wants to sit.