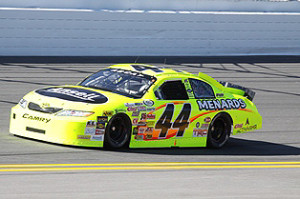 Ten-time ARCA Racing Series presented by Menards champion Frank Kimmel is not exactly behind the 'eight-ball', but there was a hiccup in his program Thursday during the four-hour practice session here at Daytona Int'l Speedway.
"We had a miss in the motor early on that set us back a bit, but we think we have it cured," Kimmel said.
"We think we had a faulty fuel pressure regulator that was screwing up what was going to the carburetor. It was really strange, but I'm glad it happened then rather than in the race. It was actually a blessing that our practice session was cut short to fix this problem."
Kimmel, driving the No. 44 Ansell-Menards Toyota for his new team Win-Tron Racing, ended up 29th among 42 cars that posted speed yesterday in practice. However, much of his practice session was spent trying to find the miss in the engine.
"Our very last run was the fastest of the day. It was actually the first time it ran properly all the way around the racetrack. It was a clean lap; nobody was running with me, but it ran good all the way around.
"I'm sure Jamie (Jones/crew chief) had a few more things he wanted to try, but at this point, we'll lean more on our teammate Terry Jones. He ran very well yesterday and tested here back in December, so we'll do what we have to do. It's nice to have a teammate to share notes with.
"The wind was blowing really hard yesterday which was affecting speeds, but everyone was dealing with that."
Menards Pole Qualifying presented by Ansell, which sets the field for Saturday's Lucas Oil 200 presented by MAVTV American Real, begins today at 2:00 p.m. ET. ARCAracing.com will feature live timing and scoring.
"Let's just say we're cautiously optimistic that we'll run better in qualifying."
In 22 consecutive starts at Daytona, Kimmel has eight top-five finishes including five consecutive (2001-2005) during which he finished second in back-to-back years (2004 & 2005) and third back-to-back in '01 and '02. Kimmel finished fourth in last year's race, setting the tone for his championship run.
The Lucas Oil 200 presented by MAVTV American Real at Daytona is live on FOX Sports 1 Saturday, February 15, and precedes NASCAR's Sprint Unlimited, also live on FOX Sports 1.