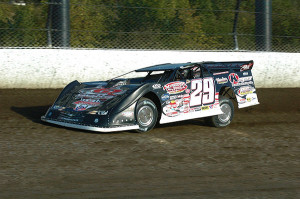 Kentucky Star Holds Off O'Neal For $12,650 Top Prize At Bubba Raceway Park
By Kevin Kovac, WoO LMS P.R. Director
OCALA, FL – Feb. 16, 2014 – Darrell Lanigan of Union, Ky., ended the Bubba Army Dirt Late Model Winter Nationals on a high note, breaking through to capture Sunday night's 60-lap World of Outlaws Late Model Series 'Super Sunday Showdown' at Bubba Raceway Park.
Finding the winning touch with his self-designed Club 29 car after top-five finishes in each of the first two events of the weekend, Lanigan passed Don O'Neal of Martinsville, Ind., for the lead on lap seven and controlled the remainder of the distance. The two-time WoO LMS champion turned back a late challenge from O'Neal while racing through lapped traffic to pocket the race's $12,650 top prize.
O'Neal settled for second place, about one second behind Lanigan at the checkered flag. The driver of NASCAR star Clint Bowyer's Barry Wright car once again fell short of his elusive first-ever WoO LMS triumph.
Friday-night winner Brady Smith of Solon Springs, Wis., finished close behind O'Neal in third place in his Rocket machine, sending him out the gates of the three-eighths-mile oval with the WoO LMS points lead. He scored a podium finish in all three events.
O'Neal's Bowyer Racing teammate, Steve Francis of Ashland, Ky., placed fourth in his Barry Wright car after getting shuffled back to eighth on a lap-22 restart. Morgan Bagley of Tyler, Texas, finished fifth in Wayman McMillan's Rocket machine – just his second career top-five finish on the WoO LMS – after battling past Saturday-night winner Brandon Sheppard of New Berlin, Ill., for the position on lap 48.
The 21-year-old Sheppard was in position to sweep a WoO LMS program for the second consecutive night after setting fast time and winning a heat, but he settled for a sixth-place finish after starting eighth. He steered the Rocket Chassis house car as high as fourth midway through the A-Main but slipped backward in the closing circuits while unsuccessfully searching for traction on the outside of the track.
Lanigan, 43, also found the top side of the egg-shaped speedway difficult to grip late in the race. He tried using the outside line to overtake a pack of lapped cars with less than 10 laps remaining and it nearly cost him the race.
After racing virtually unchallenged for most of the distance, Lanigan suddenly found O'Neal on his back bumper on lap 53. With Lanigan's pace hampered by two slower cars ahead of him, the door was open for O'Neal to duck to the inside and come within inches of grabbing the lead on lap 54.
But then Lanigan summarily dived to the inside in turn one, breaking O'Neal's momentum and building just enough of an edge to carry him to his first WoO LMS win of 2014 and his fifth victory in 11 starts at BRP over the past five years.
"The lapped cars were tough," said Lanigan, who sits atop the alltime WoO LMS win list. "We were definitely a lot faster than they was (lapped cars), but there just wasn't no (outside) groove. I just lost too much ground up there so I had to get back to the bottom."
O'Neal saw the golden opportunity to steal the race from Lanigan's grasp, but his hopes were effectively snuffed out by Lanigan's move to the inside. He had to be satisfied with matching his career-best WoO LMS finish.
"He got on the outside of that (lapped) traffic and the outside wasn't the place to be," O'Neal said of Lanigan. "Now, if he would've stayed out there just a little bit longer, we may have gotten him, but that's part of racing.
"He just cut down real hard in front of me, but that's part of it. I would've done the same thing if I was him. We made it exciting there at the end but just didn't get the job done."
One of the most accomplished veterans in dirt Late Model racing, O'Neal remained winless in 31 career WoO LMS A-Main starts over the past decade. He has 17 top-five and 25 top-10 finishes in his limited appearances on the tour.
Lanigan's series record 54th career win was his first in World of Outlaws action since debuting the Club 29 chassis he partnered with noted crew chief Ronnie Stuckey to build and market. He needed a couple nights to get the machine tuned just right.
"It's a little bit different from what we've been used to," said Lanigan, who scored finishes of third and fifth in the first two legs of the Winter Nationals. "We've been close (in the previous events), but it needed a little bit more. We found some stuff tonight and it seemed to like it."
Putting a WoO LMS victory on his ledger so early in the season certainly gave Lanigan a boost.
"It relieves a lot of pressure," said Lanigan. "I had a lot of pressure on myself to do good with this piece. We put a lot into it to do well."
Finishing in positions 7-10 was 17th-starter Mark Whitener of Middleburg, Fla., who enjoyed a career-best WoO LMS outing; Tim McCreadie of Watertown, N.Y., who quietly moved forward from the 13th starting spot; Shane Clanton of Zebulon, Ga., who used a provisional to start 23rd after breaking a driveshaft in his car during heat action; and Jack Sullivan of Greenbrier, Ark., who rose as high as sixth before a worn right-front tire slowed his pace.
Four caution flags slowed the race, all for slowed or stopped cars: Scott Bloomquist of Mooresburg, Tenn. (lap 17), Chase Junghans of Manhattan, Kan. (lap 22), Chub Frank of Bear Lake, Pa. (lap 28) and Rick 'Boom' Briggs of Bear Lake, Pa. (lap 39).
Thirty-two cars were entered in the event.
Sheppard was quickest in Ohlins Shocks Time Trials, which were split into two groups. His lap of 14.626 seconds in Group 'A' was the overall fastest, giving him his third fast-time honor in as many nights.
Heat winners were Sheppard, Brady Smith, Francis and O'Neal. The B-Mains were captured by Whitener and Raymond Merrill of Sallisaw, Okla.
The WoO LMS will return to action with three consecutive nights of action (Feb. 20-22) during the 43rd DIRTcar Nationals Presented by Summit Racing Equipment at Volusia Speedway Park in Barberville, Fla. The traditional race meet at the Volusia half-mile also includes three evenings of DIRTcar-sanctioned Late Model competition from Feb. 17-19 that will see many WoO LMS regulars in action.
Results of World of Outlaws Late Model Series 'Bubba Army Dirt Late Model Winter Nationals' Night 3 at Bubba Raceway Park (Finishing Position/Start/Driver/Laps Completed/Money Won):
1. (3) Darrell Lanigan/60 $12,650
2. (2) Don O'Neal/60 $6,550
3. (1) Brady Smith/60 $4,625
4. (5) Steve Francis/60 $3,600
5. (4) Morgan Bagley/60 $3,550
6. (8) Brandon Sheppard/60 $3,050
7. (17) Mark Whitener/60 $2,150
8. (13) Tim McCreadie/60 $2,350
9. (23) Shane Clanton/60 $2,050
10. (14) Jack Sullivan/60 $1,400
11. (19) Rick Eckert/60 $1,900
12. (11) Frankie Heckenast Jr./60 $1,250
13. (24) Chub Frank/60 $1,700
14. (9) Brandon Overton/60 $1,100
15. (12) Tim Fuller/60 $1,600
16. (7) Ivedent Lloyd Jr./60 $1,050
17. (20) Eric Wells/60 $1,500
18. (10) Chase Junghans/60 $900
19. (18) Raymond Merrill/59 $850
20. (21) Clint Smith/59 $1,350
21. (16) Rick 'Boom' Briggs/59 $800
22. (15) Scott Bloomquist/50 $900
23. (6) Dan Stone/28 $800
24. (22) Gregg Satterlee/1 $800
* Earnings include Winners Circle program and cash contingency award bonuses
Time of Race: 26 Mins., 29.203 Secs.
Yellow Flags: 4 (laps 17, 22, 28, 39)
Lap Leaders: O'Neal (1-6); Lanigan (7-60)
Provisional Starters: Clanton, Frank
WoO LMS 'Bonus Bucks' Winner: O'Neal ($500)
Ohlins Shocks Time Trial Results (Position/No./Driver/Hometown/Best Lap):
Group 'A'
1. 1-Brandon Sheppard/New Berlin, IL 14.626
2. 2-Brady Smith/Solon Springs, WI 14.785
3. 39-Tim McCreadie/Watertown, NY 14.846
4. 25-Shane Clanton/Zebulon, GA 14.879
5. 29-Darrell Lanigan/Union, KY 15.051
6. 18c-Chase Junghans/Manhattan, KS 15.091
7. 76-Brandon Overton/Appleton, GA 15.114
8. 18x-Jack Sullivan/Greenbrier, AR 15.153
9. 101-Casey Roberts/Toccoa, GA 15.173
10. 21L-Ivedent Lloyd Jr./Ocala, FL 15.189
11. 58-Mark Whitener/Middleburg, FL 15.190
12. 24-Rick Eckert/York, PA 15.220
13. 44-Clint Smith/Senoia, GA 15.242
14. 1*-Chub Frank/Bear Lake, PA 15.640
15. 157-Mike Marlar/Winfield, TN 16.482
16. 11-Austin Kirkpatrick
Group 'B'
1. 21d-Dan Stone/Thompson, PA 14.937
2. 5-Don O'Neal/Martinsville, IN 14.941
3. 99Jr-Frankie Heckenast Jr./Orland Park, IL 14.996
4. 14M-Morgan Bagley/Tyler, TX 15.123
5. 15-Steve Francis/Ashland, KY 15.135
6. 19-Tim Fuller/Watertown, NY 15.318
7. 12M-Raymond Merrill/Sallisaw, OK 15.359
8. 22-Gregg Satterlee/Indiana, PA 15.385
9. 0-Scott Bloomquist/Mooresburg, TN 15.424
10. 99B-Rick 'Boom' Briggs/Bear Lake, PA 15.476
11. 33-Brian Reese/Sharpsburg, GA 15.521
12. 1G-Michael Lake/Uniontown, PA 15.912
13. 18-Eric Wells/Hazard, KY 16.010
14. 32-David Gibson Jr./Charleston, WV 16.177
15. 17J-John Winge/Sioux Falls, SD 16.717
16. 60-Jim Manka/Rincon, GA 17.321
Heat No. 1 (10 laps – Top 4 Transfer): Sheppard, Lanigan, Overton, McCreadie, Roberts, Whitener, C. Smith, Marlar
Heat No. 2 (10 laps – Top 4 Transfer): B. Smith, Lloyd, Junghans, Sullivan, Eckert, Frank, Clanton (DNS) Kirkpatrick
Heat No. 3 (10 laps – Top 4 Transfer): Francis, Stone, Heckenast, Bloomquist, Merrill, Wells, Winge (DNS) Reese
Heat No. 4 (10 laps – Top 4 Transfer): O'Neal, Bagley, Fuller, Briggs, Satterlee, Gibson, Manka, Lake
B-Main No. 1 (12 laps – Top 3 Transfer): Whitener, Eckert, C. Smith, Roberts, Frank, Marlar, Clanton (DNS) Kirkpatrick
B-Main No. 2 (12 laps – Top 3 Transfer): Merrill, Wells, Satterlee, Gibson, Winge, Lake, Manka (DNS) Reese
World of Outlaws Late Model Series Contingency Award Winners (awards presented to noted finisher/qualifier or next highest displaying decal):
Ohlins Shocks ($50 cash to fast qualifier): Don O'Neal
Comp Cams ($50 certificate to A-Main winner): Don O'Neal
MSD Ignition ($50 cash to A-Main winner): Brady Smith
Quartermaster ($100 certificate to A-Main winner): Mark Whitener
Wrisco (three sheets of aluminum/certificate to A-Main winner): Darrell Lanigan
STP ($50 cash to 2nd-place finisher in A-Main): Brady Smith
Penske Racing Shocks ($50 to 3rd-place finisher in A-Main): Mark Whitener
Roush-Yates ($50 cash to 4th-place finisher in A-Main): Brandon Sheppard
JE Pistons ($50 cash to 5th-place finisher in A-Main): Morgan Bagley
Lincoln Welders ($50 cash to 6th-place finisher in A-Main): Mark Whitener
American Racing Wheels ($50 cash to 7th-place finisher in A-Main): Mark Whitener
VP Racing Fuels ($50 cash to 8th-place finisher in A-Main): Tim McCreadie
Edelbrock ($50 cash to 9th-place finisher in A-Main): Shane Clanton
Comp Cams ($50 cash to 10th-place finisher in A-Main): Jack Sullivan
Cometic ($50 cash to 12th-place finisher in A-Main): Frankie Heckenast Jr.
JRI Shocks ($50 cash to 13th-place finisher in A-Main): Chub Frank
Superflow Dynos ($50 cash to 14th-place finisher in A-Main): Ivedent Lloyd Jr.
Quartermaster ($25 certificate to 15th-place finisher in A-Main): Tim Fuller
JE Pistons (one set of rings certificate to 16th-place finisher in A-Main): Ivedent Lloyd Jr.
Roush-Yates ($50 certificate to 18th-place finisher in A-Main): Raymond Merrill
Quartermaster ($50 certificate to 19th-place finisher in A-Main): Raymond Merrill
Arizona Sports Shirts ($100 certificate to 20th-place finisher in A-Main): Clint Smith
JE Pistons (one set of rings certificate to 21st-place finisher in A-Main): Rick 'Boom' Briggs
Roush-Yates ($50 certificate to 22nd-place finisher in A-Main): Gregg Satterlee
MSD Ignition ($25 cash to 24th-place finisher in A-Main): Brady Smith
Armor All (one case of product to highest-finishing non-WoO driver): Don O'Neal
2014 World of Outlaws Late Model Series Point Standings as of Feb. 16 – 3 A-Mains completed (rank/driver/points/deficit to leader):
1. Brady Smith 440
2. (tie) Brandon Sheppard 434 (-6)
2. (tie) Darrell Lanigan 434 (-6)
4. (tie) Rick Eckert 404 (-36)
4. (tie) Tim McCreadie 404 (-36)
6. Tim Fuller 402 (-38)
7. Ivedent Lloyd Jr. 396 (-44)
8. Shane Clanton 392 (-48)
9. (tie) Frankie Heckenast Jr. 388 (-52)
9. (tie) Morgan Bagley 388 (-52)
11. Brandon Overton 376 (-64)
12. Chub Frank 372 (-68)
13. Eric Wells 362 (-78)
14. Mike Marlar 358 (-82)
15. Jack Sullivan 356 (-84)