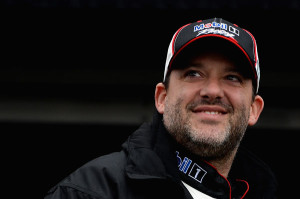 Kurt Busch set a Chase for the NASCAR Sprint Cup era record the moment he hit the finish line to close last Sunday's race at Martinsville Speedway – six different winners in the first six races.
And incredibly, Matt Kenseth and Jimmie Johnson – the top two winners from the 2013 season – aren't among that group.
Neither are marquee winners like Kasey Kahne or Greg Biffle or Jeff Gordon or Denny Hamlin.
In other words, expect that list of different winners to grow, and maybe as soon as this weekend. If that does happen, here are two nuggets to consider.
The last time there were seven different winners in the first seven races was 2003.
The record for different winners to start the season is 10, in 2000.
In neither of those seasons were there more than 16 winners after 26 races. There were 13 different winners after 26 races in 2000, and 16 different winners after 26 races in 2003 (and the points leader at the time, Matt Kenseth, was indeed one of them).
So, historically speaking, it's a very safe assumption that the six different winners thus far will be safely in the Chase after Richmond.
Who might join that list at Texas? Well, the names above all should contend.
Johnson dominated the last time the series raced at Texas (more on him, below). Biffle is a two-time champion, and has finished in the top 10 in 10 of the last 11 races at Texas.
Kenseth has two wins here – though both were while under the Roush Fenway Racing umbrella – and finished fourth in last year's Texas Chase race. Hamlin swept the 2010 races at Texas, but has finished in the top 10 only once in his last five starts (he missed last spring's Texas race with a back injury).
Tony Stewart is an intriguing watch. Owner of two Texas wins, he looks to join teammates (and employees) Kurt Busch and Kevin Harvick on the 2014 wins list, and eventually, the Chase.