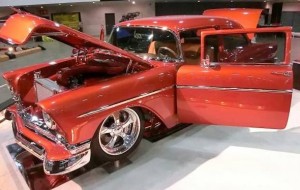 Sure, there'll be a lot of vehicles at Atlanta Motor Speedway April 26-27 during an event that will celebrate anything with a motor in it, the Summit Racing Equipment Atlanta Motorama presented by Classic Collectors Insurance & zMAX. But that's only the beginning of everything that'll be taking up the entire AMS infield during this inaugural event!
Here are five things that you'll need to be sure to see and do at Motorama!
1. Celebrating anything with an engine!
Classic and modern cars, boats, motorcycles and planes, some which are rarely seen by the public, will be on display! Rare vehicles in the Speedway Salon, set aside for the most valuable vehicles, will include a 1939 Packard convertible sedan and a Dusenburg Some of the ars from Truett Cathy's Collection will also be on display in the Show area.
2. Car-crushing exhibition by BIGFOOT
That's right! One of the world's most famous monster trucks will be putting on two demonstrations of destroying cars twice each day!
3. Hot Rodders of Tomorrow.
See high school-aged students show off their engine-building skills as they take apart and rebuild engines in timed competition.
4. Massive Vendor Midway
The Summit Racing Equipment Atlanta Motorama midway will rival any collection of vendors seen at America's biggest car shows with nearly 200 vendors signed up so far!
5. Lawnmower racing
These aren't your everyday landscaping machines! Racing among lawn mowers will take place multiple times during the two day event near turn three of the Speedway.
– See more at: http://www.atlantamotorspeedway.com/media/news/five-things-summit-racing-equipment-atlanta-motorama-presented-classic-collectors-insurance-zmax.html#sthash.AaLLKALZ.dpuf