Story & photos by Tim Glover:
(Commerce, GA – May 24) During the course of the event, Mother Nature made her presence known again at the Summit ET Series Bracket event being held at Atlanta Dragway in Commerce, GA, soaking the facility with rain. However, thanks to a lot of hard work by the Atlanta Dragway track crew, the event was delayed less than two hours. Today's event featured a double race for all of the Junior Dragster participants. Chad Brewer enjoyed his day at the races, winning all the rounds and taking all the points available in both Pro class and Open Comp class.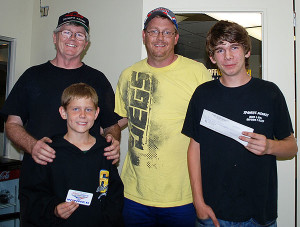 Fuzions Bar and Grill owner Mike Brown from Covington, GA has not done worse than the Super Pro quarterfinals in 2014 Summit ET Series action, finishing at three cars and then five cars during the April 24 event, and topping it off with a win this time against Jeff Sanford from Campobello, SC. Brown's car turned in a lot of 5.27 passes today, and for the final his '96 Horton dragster posted the winning time of 5.273 at 131.74mph (5.27 dial). Sanford, hot off of a 0.003 second package in the semi-finals, clipped the starting line beams 0.003 seconds before the clock started for the final, making the dreaded cherry colored bulb glow in his lane. Sanford then chose to lift off the throttle and stopped the clocks with a 9.86 at 58.27mph (5.94 dial). Joe Rampley ('85 Olds – Gainesville, GA) was the lone semi-finalist.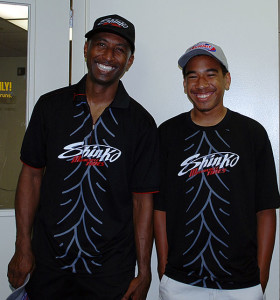 The first "big car" winner of the day was actually Chad Brewer of Canton, GA in Open Comp class. Brewer entered his "Mayor tuned" '73 Nova into the show, and found himself facing "Fireman Joe" Rampley's '85 Gainesville, GA based Oldsmobile in the final. Brewer reacted first with a better 0.009 second time (Rampley's reaction time was 0.017) and posted a 0.01 second over 6.874 at 97.12mph (6.86 dial) for the win. Rampley crossed the finish line stripe 0.02 seconds later with a 5.800 at 110.69 on a 5.77 dial. Bobby McNair ('82 Mustang – West Union, SC) and Jeff Wagner ('71 Duster – Braselton, GA) were the semi-finalist pair. Brewer added, "I couldn't do this without the help of the Big Guy upstairs."
Later in the day, Brewer found himself facing Tim Polnaszek in the Pro final. Both racers had been on their game all day, and were almost identical at the starting line (Brewer's react was 0.025 and Polnaszek was 0.026 seconds). At the top end stripe, Polnaszek was actually first by 0.018 seconds, but broke out with a 6.763 at 100.08mph on a 6.78 dial. Brewer carded a dead-on 6.882 at 99.48mph for the win. Rickey Morris ('98 Trans Am – Ellenwood, GA) and Woody Bryant ('68 Camaro – Bowman, GA) ended their day with the semi-finalist portion of the purse. Brewer first thanked the track crew for a great job drying the track after the rain, and then dedicated his win in memory of Dale Wilson, who passed away earlier in the week.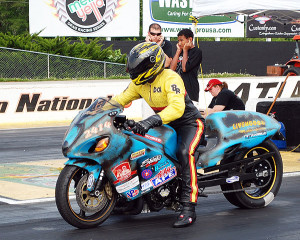 Long time racer Randy Franklin from Loganville worked his way through the Sportsman field with his trusty white '79 Chevy pickup, using his skill and benefitting from some luck along the way to make the final round against Austin Smith's Baldwin, GA based '70 Nova. Although this class is completely no-electronics, both racers bolted off the line with amazing 0.005 second reaction times. Unfortunately for Smith, the throttle cable chose the moment after launch to quit working, and Smith coasted to a stop at the half track mark. Franklin was watching, and trimmed some speed off his vehicle, breaking the top end beams with a 16.95 at 49.43mph (15.84 dial). Smith's dial in time was 12.74. Austin Richardson ('96 Monte Carlo – Ballground, GA) made it to the semi-final round. "I'm just an old timer from the Atlanta Speedshop days," added Franklin, who also won at Silver Dollar earlier this season.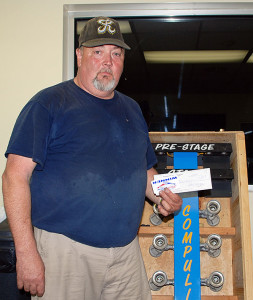 Lawrenceville, GA racer Don Chavous broke David Fletcher's Super Pro Motorcycle win streak today. Fletcher did make it to the final with his Lawrenceville, GA based '84 Kawasaki, but left the starting line too early, resulting in a -0.021 red light en route to a dead-on 9.351 at 138.86mph. Chavous made the winning pass of 8.86 at 156.43 (8.80 dial) astride his '06 Suzuki. Zach Hulsey ('82 Suzuki – Clermont, GA) made it to the semi-final round for the second time this season. Chavous thanked the folks of Atlanta Dragway who got the track race ready after the rain and also thanked Livengood Motorsports, son Andre Chavous, Tim Houghland, Cycle Gear of Lawrenceville and David Fletcher (for red-lighting).
Street ET Motorcycle found a new winner visiting the winner's circle, Jimmy Mullinax from Cartersville, GA. Mullinax's '12 Ninja took the win stripe first with a 10.66 at 124.57mph (10.57 target). Team mate Allen Hitt, also from Cartersville, was second on his '99 Kawasaki with a 10.82 at 122.62mph (10.70 dial). Dave Hamilton ('06 Suzuki – Braselton, GA) became the semi-final finisher. "This is just beginner's luck. I began running out of the Johnsey stable last year. If it wasn't for Daryl Johnsey and Allen Hitt, I wouldn't be here," added Mullinax.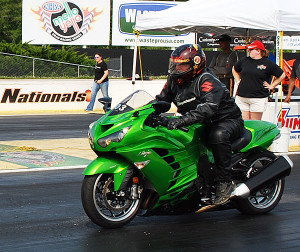 Just like "big car" racers did on April 24, Junior Dragster racers enjoyed running a double event today.
14 year old Katie Wilhelm from Commerce, GA was the first winner in 13-17 Jr Dragster action. Wilhelm faced multi time track champion Austin Carden (15 – McDonough, GA) in the final, and got the automatic win as soon as Carden left the starting line with the red light glowing in his lane. His elapsed time was 7.93 at 83.31mph on a 7.90 target. Knowing the win was hers, Wilhelm chose to run it on out through the finish line, posting an 8.03 at 80.89mph (8.06 dial). Bailey Dunn (14 – Flowery Branch, GA) and Chris Bowden (17 – Homer, GA) were the semi-finalist pair for the first race of the day. "I was a little shocked (seeing Carden go red). I am really thankful for everyone who helped me and thankful for everything I have," added Wilhelm.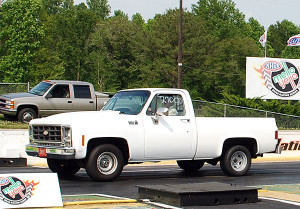 The first 8-12 Junior Dragster winner of the day was 10 year old Wallace Wilson from Taylors, SC, who also won the April 24 event. Wilson parlayed a better reaction time and a 0.05 over 8.96 at 73.83mph (8.91 dial) into the win. Second year racer Cannon Stiles (9 – Winder, GA) won his first ever round today, and continued that streak up to the final. Austin Bowden (12 – Homer, GA) was the semi-final finisher. "First, I want to thank God for giving me this victory," said Wallace. He then thanked his family and friends for being there when he went down the track.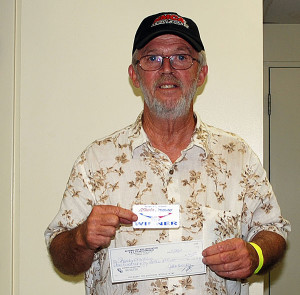 13-17 Junior Dragster #2 race winner Daniel Bruce (14 – Covington, GA) made it to the finals on April 24, and then turned on the final round win light tonight against Austin Carden (15 – McDonough, GA), who was in his second final of the day. Just like earlier in the day, Carden went red, handing the automatic win to Bruce. Bruce tripped the top end timers with a 7.97 at 81.45mph (7.94 dial). Carden's mount posted a 7.95 at 83.29mph (7.93 dial). For the second time in the day, Bailey Dunn (14 – Flowery Branch, GA) earned a position in the semi-finals, along with Rachel Flowers (13 – Loganville, GA). Bruce's dad Barry asked him if he wanted to go to a different track today, but Bruce wanted to go to Atlanta. "Thanks to Chris Kittle, mom and dad, Johnny Pennington and Rusty Denton," added Bruce.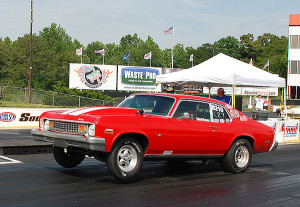 Nate "Hot Rod" Halsey returned to the 8-12 Junior Dragster #2 winner's circle, courtesy of a final round victory against "Wilson Gang" racer Jacob Wilson (11 – Tallapoosa, GA). Wilson made it easy for Halsey when he lit up the dreaded tomato colored bulb, handing the automatic win to Halsey. Halsey then posted an all-out 9.00 at 71.78mph (9.05 dial) and Wilson's time was 9.10 at 71.04mph (9.02 dial). Macey Ludolph ended her day with the semi-final position. "First, thank God. I also want to thank Little Bill, James Wilson, my family and friends," said Halsey. He then added, "I want to dedicate this race to Papa."
Sanctioned by the National Hot Rod Association (NHRA), Atlanta Dragway is located just off I-85 at Exit 149 in the Banks Crossing area of Commerce, Georgia. Information on all 2014 events, including the Chevy High Performance Magazine Nationals on May 30 – June 1 may be obtained by calling the track office (706-335-2301) or logging on to www.atlantadragway.com