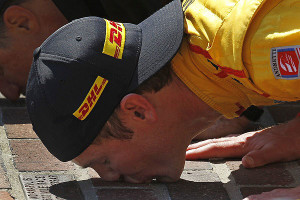 Ryan Hunter-Reay, No. 28 DHL Honda
– Captured his first Indianapolis 500 win after starting 19th
Marco Andretti, No. 25 Snapple Honda
– Started from the sixth position and came to the twin checkers in third place"We were close, but we never really dominated. Every time we got to the front, we got shuffled back. I think we did what we could, but congrats to Ryan (Hunter-Reay)."
On the intensity of the battles on the track:
"I think if it wasn't for the Indy 500, I would be pretty mad at Ryan (for almost crashing me). But… it is for the Indy 500. He's up there and I'm not, so what are you going to say? I think this is as competitive as IndyCar has ever been, I don't care what anybody has to say."
Carlos Munoz, No. 34 Cinsay Honda
– His second Indianapolis 500 saw the Colombian come home in fourth "I think we were missing a little bit of speed to get a win. Before I got in the car, I said that I'd be happy no matter the result if I gave it my all, and I think I gave everything I had. I think fourth brings us good points for the championship. I have two starts at the 500 – one second and one fourth-place finish. I'm very happy for Ryan (Hunter-Reay); finally the team won the 500 after many years of being right there. I think we won as a team because everyone worked together to win together. I'm definitely happy for him – he's a great guy, he's been here for a long time, so hopefully it will be my turn soon."
Kurt Busch, No. 26 Suretone Honda
– "Double Outlaw" finished sixth in his debut Verizon IndyCar Series race after starting from the 12th grid position "Well I'm not halfway yet. It was an incredible journey to sniff the lead of the Indy 500 in that lead group. I'll tell you, though, the top five are incredible in this series at getting all they can out of their car, being able to keep it under control and being able to race for position. I felt like I could hang on to that lead pack. I gave it my all, and I know the car was better than I was, but I'm very satisfied with the sixth place."
James Hinchcliffe, No. 27 United Fiber & Data Honda
– Seen running in the top 10 before an on-track incident ended his day early in P28″I was the last guy on the scene, so I guess that's pretty fair [taking the blame]. From where I was, it could have been the last restart – it's the last stint for sure and you've got to go for it. Ed (Carpenter) pulled out, there was a car there and I went for it. Ed gave me the room initially… I honestly don't think that Townsend (Bell) knew that we were three-wide. From what I saw, Townsend came down into Ed and Ed came down into me. Like I said, I was the last guy there, and I've got to take a portion of the blame for sure.
"I feel bad for Ed. I honestly didn't think that Townsend was going to hold the outside because you can't do that here. For as high as Ed was entering, I knew that Townsend was going to be way up into the grey, and I thought he was going to lift and it was going to be Ed and me in the corner. Obviously that's not how it played out; Townsend kept his foot in it and turned into Ed. Maybe Townsend's fault, maybe a little bit my fault, but 100% not Ed's fault. I feel really bad for him. He had a great month and was doing a great job. I'm gutted for the United Fiber & Data guys because we weren't great in that middle part of the race and we fought back; got the car to where it needed to be and I just feel bad for the Andretti Autosport guys."