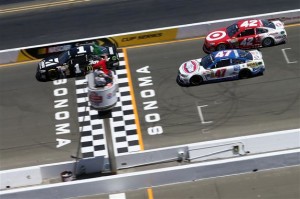 A well-timed caution helped get Carl Edwards to the front of the field, and the driver of the No. 99 Roush Fenway Ford did the rest.
Edwards passed Marcos Ambrose for the lead moments after a restart on Lap 86 and subsequently held off a charging Jeff Gordon to win Sunday's Toyota/Save Mart 350 at Sonoma Raceway.
The victory was Edwards second of the season—guaranteeing him a spot in the Chase for the NASCAR Sprint Cup, provided he finishes in the top 30 in points after race No. 26 and attempts to qualify for every race. It was the 23rd win of his career, and first Sprint Cup win on a road course.
Gordon finished second, .591 seconds behind Edwards. The runner-up result was Gordon's fifth at Sonoma, matching his number of victories at the 1.99-mile road course. 
The triumph had special meaning for Edwards precisely because it was Gordon who was chasing him to the finish line.
"That's a moment I'll never forget, to be standing in Victory Lane and to have held off Jeff Gordon, with all the success he's had here and in our sport," Edwards said after climbing from his car. "It's just really, really special.
"I'm living proof right here that, whatever it is you're doing, just keep doing it, and don't ever give up, because somehow things can work out. I'm just very fortunate."
Long before he made his Sprint Cup debut in 2004, Edwards had watched Gordon dominate road races at the tricky, technical track in wine country.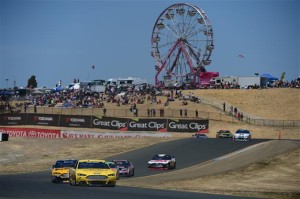 "Literally, I'm a fan of this sport, and I grew up watching Jeff Gordon go through those esses and watching how he drove his car, so to be able to hold him off like that means a lot," Edwards said.
"I'm glad there wasn't one or two more laps in the race, because I don't know if it would have worked that way, but it definitely meant a lot to have Jeff Gordon in my mirror."
Dale Earnhardt Jr. ran third, his best-ever road course result, followed by pole winner Jamie McMurray and Paul Menard. Kasey Kahne, Jimmie Johnson, Marcos Ambrose, Greg Biffle and Clint Bowyer completed the top 10.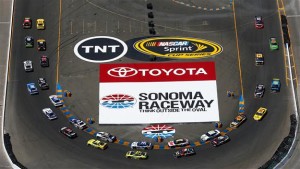 Bowyer and Ambrose led the field to green on Lap 80, after Matt Kenseth's brutal contact with the tire barriers in the esses brought out the fourth caution of the afternoon.
Kenseth's No. 20 Toyota spun out of control from contact with Dale Earnhardt Jr.'s No. 88 Chevrolet, which bounced off the curbing and into the side of Kenseth's car.
"My bad–I hit the curb and ran into him," Earnhardt said on his radio.
What happened before the previous caution, however, was the crux of the race. Edwards, Ambrose and Bowyer all came to pit road right before NASCAR called a caution for debris in Turn 10 on Lap 71. That enabled them to stay out under the yellow and propelled them to the front of the field.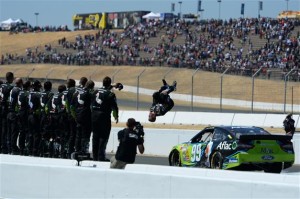 Edwards was able to stay there, despite heavy pressure fron Gordon in the closing laps.
In fact, Gordon said a mistake in Turn 4 six laps before the finish may have cost him the race.
"Gosh, I wish I could have had those last five or six laps to do over again," Gordon said. "I started overdriving it a little bit trying to catch him and making a few mistakes, and I made one in particular that really cost me.
"I think if I had just stayed smooth and stuck with it—looked like his car really started falling off those last couple laps, and I might have had a shot at least putting more pressure on Carl to force him to make a mistake or maybe get a run inside of him."
There were significant fireworks, however, before that final run. Bowyer started losing positions after the restart on Lap 80 as Edwards surged into second place. Johnson passed the No. 15 Toyota entering Turn 11 on Lap 81, and Bowyer, who had a tire going down, spun after contact from the front bumper of McMurray's Chevy.
With nowhere to go on the inside of the corner, Kevin Harvick slammed into Bowyer. Harvick had one of the fastest cars on Sunday but had gotten mired in traffic because of a slow stop on pit road before a restart on Lap 75.
The wreck dropped Harvick to 20th at the finish, but Bowyer rallied for his 10th-place result.
Notes: Edwards' victory was the first at Sonoma for a Ford driver since Ricky Rudd took the checkered flag in 2002 … Edwards' first road-course triumph also extended the streak of consecutive different winners at the 1.99-mile road course to 10.