Jul 20, 2014 (TORONTO) – Mike Conway earned his second Verizon IndyCar Series victory of the season by holding off Tony Kanaan over a three-lap sprint to the finish in the second race of the Honda Indy Toronto doubleheader.
Conway, driving the No. 20 Fuzzy's Ultra Premium Vodka car for Ed Carpenter Racing, won by 3.5418 seconds following the Lap 54 restart after a red flag with 4 minutes, 23 seconds left in the 80-minute race. The race director called for the red flag to freeze the field on Lap 52 after a multiple-car incident in Turn 3 the previous lap.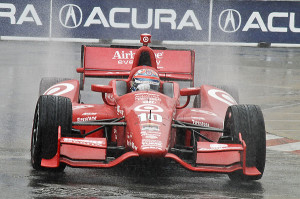 Will Power finished third in the No. 12 Verizon Team Penske car and Charlie Kimball advanced 14 positions relative to his starting spot in the No. 83 Levemir FlexTouch Chip Ganassi Racing car to finish fourth. Takuma Sato rebounded from 23rd place in Race 1 to finish a season-high fifth in the No. 14 ABC Supply A.J. Foyt Racing entry.
Verizon IndyCar Series championship front-runner Helio Castroneves, the pole sitter as the race lineup for the standing start was determined by entrant points, sustained wing damage on the No. 3 PPG Team Penske car on the penultimate lap and dropped to 12th place. He holds a 13-point lead over Power through 14 of the 18 races.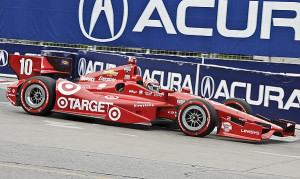 Conway was the second to switch from Firestone rain tires to alternate tires on Lap 43 as the 1.755-mile, 11-turn street circuit was drying following a light rain that started on Lap 12. He was running third after gaining one position on a Lap 49 restart and overtook Justin Wilson and Josef Newgarden – both still on rain tires – for first on Lap 50.
"The tire temperatures came in really fast and that's what you need in those types of conditions so I could just control it and not have to push too hard and enjoy those last few laps," said Conway, who had not recorded a top-10 finish since his win at Long Beach on April 13.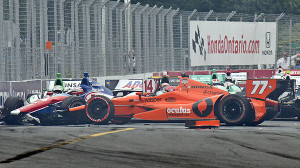 Conway, earning his second victory of the season and the third for Ed Carpenter Racing, won the 250th race for Firestone since its return to Indy car racing in 1995.
"Mike said he was ready for drys. This one is all Mike; he did a great job," said team owner/driver Ed Carpenter, who won at Texas Motor Speedway in June. "A big part of the reason why we brought Mike in (this season to run road/street courses) was just to try to be stronger all the time. We believed as a team, we had won before as a team. We're trying to grow the business, grow the team and get results for all our partners. It's been nice to be able to do that more consistently so far this year."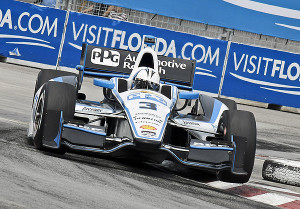 Kanaan, who finished third in Race 1, and started ninth in Race 2, brought out a Lap 1 caution when the No. 10 Target Chip Ganassi Racing car nosed into the tire barrier in Turn 3. He fell to 23rd leading to the restart.
"I made a little mistake on the start. I got too excited and I had to make it up," said Kanaan, who had podium finishes in the past three races.  "You have to believe. You can't give up. We're here racing. I hate when I make mistakes, so I had to make it up."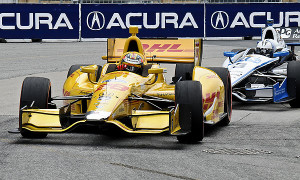 In Race 1, Sebastien Bourdais, driving the No. 11 Hydroxycut KVSH Racing car, claimed his 32nd Indy car career win. Bourdais broke a tie with Dario Franchitti and Paul Tracy for eighth on the all-time win list.
"It's really sweet. We had to fight and wait for it for a long time but today was just kind of one of these days when the stars align," said Bourdais, who led 58 of the 65 laps and won by 3.3 seconds over Castroneves. "I guess I was not expecting it because here I know how things can go. Last year we were second and third and it's great to get this win."