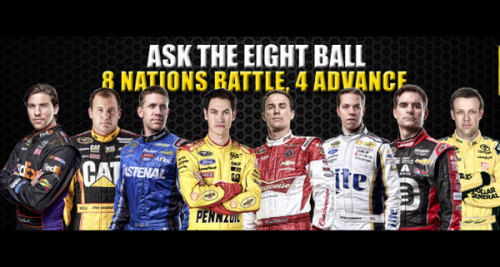 Before we get into the nitty gritty of this story, a quick primer of the Eliminator Round – the final hurdle before the NASCAR Sprint Cup Series Championship race at Homestead-Miami Speedway.
Only eight drivers remain in championship contention as the Chase for the NASCAR Sprint Cup kicks off its Eliminator Round with the Goody's Headache Relief Shot 500 at Martinsville Speedway on Sunday (1:30 p.m. ET on ESPN).
Points for the remaining drivers in the Chase – Joey Logano, Brad Keselowski, Kevin Harvick, Ryan Newman, Carl Edwards, Jeff Gordon, Matt Kenseth and Denny Hamlin – have been reset to 4,000. Following Martinsville, the NASCAR Sprint Cup Series will visit Texas Motor Speedway (Nov. 2, 3 p.m. ET on ESPN) and conclude the Eliminator Round at Phoenix International Raceway (Nov. 9, 3 p.m. ET on ESPN). Like the previous two Chase segments, a win by a championship-eligible driver guarantees advancement to Homestead. The four winless championship-qualifying drivers lowest in points will be "eliminated" after Phoenix. The advancing four drivers left in NASCAR's Playoffs will move on to the one-race Championship Round at Homestead-Miami Speedway (Nov. 16, 3 p.m. ET on ESPN).
No driver without Chase eligibility has won a race so far in NASCAR's playoffs. Four drivers – Kyle Busch, Dale Earnhardt Jr., Jimmie Johnson and Kasey Kahne were knocked out of the Chase following Talladega. Six-time series champion Johnson led the most laps (84) at the Alabama track, but he was unable to close the race and defend his 2013 title. Of the final eight drivers, Jeff Gordon (four: 2001, 1998, 1997, 1995), Brad Keselowski (one: 2012) and Matt Kenseth (one: 2003) have previously won series championships.