Harvick Heads To Homestead In Hunt For First Championship
Entering the penultimate race at Phoenix in last place among Chase for the NASCAR Sprint Cup contenders, Kevin Harvick could only guarantee himself a spot in The Championship 4 by winning at the Arizona track. Shrugging off the pressure, Harvick turned in a dominant performance leading 264 of 312 laps on his way to Victory Lane.
Now, Harvick heads into Sunday's Ford EcoBoost 400 Championship Round Race at Homestead-Miami Speedway (3 p.m. ET on ESPN) needing just one more clutch performance to earn his first NASCAR Sprint Cup Series title in his 14 years competing on the circuit.
Following last Sunday's showdown at Phoenix, Harvick and the three other drivers who advanced to The Championship 4 – Joey Logano, Denny Hamlin and Ryan Newman – had their points reset to 5,000. At Homestead, the format is simple. Drivers cannot earn bonus points for leading laps. Whoever crosses the line first among the quartet will win the 2014 NASCAR Sprint Cup Series championship. None of the drivers have ever won a NSCS title, guaranteeing that the series will crown its 30th champion in its 66-year history.
Harvick, whose 109.9 driver rating and 2,083 laps led lead the series, has to like his odds of taking home his first title. He has finished higher than Logano, Hamlin and Newman in 11 races this season – the most of the Championship 4. Comparatively, Logano was the highest finisher of the four in 10 races; Hamlin in eight and Newman in six.
Although he has never won at Homestead, he has been highly successful at the 1.5-mile track with five top fives, 11 tops 10s and an average finish of 8.1 in 13 starts. The No. 4 Budweiser/Jimmy John's Chevrolet driver has two victories in the past five weeks and four total this season.
If Harvick wins the championship, he would join Bobby Labonte and Brad Keselowski as only the third driver to boast both a NASCAR Sprint Cup Series and NASCAR Nationwide Series championship. Competing in his first season with Stewart-Haas Racing, he would earn the organization its second premier series title.
Logano Looks For One More Large Performance In Chase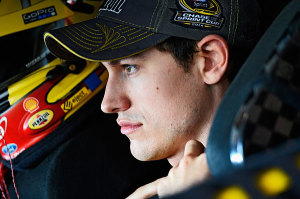 No driver has been better in this year's Chase for the NASCAR Sprint Cup than Joey Logano. The 24-year-old has coasted his way to the Championship 4 behind a Chase-best 5.3 average finish and two victories.
To earn his first NASCAR Sprint Cup Series championship, Logano likely needs to produce one more dominant effort in Sunday's Ford EcoBoost 400 at Homestead-Miami Speedway (3 p.m. ET on ESPN). The No. 22 Team Penske driver does not need to win the event to take home the title, but instead must finish ahead of Kevin Harvick, Denny Hamlin and Ryan Newman – a task he has completed 10 times this season.
Logano has the worst previous statistics at Homestead among the Championship 4 with one top 10 and an average finish of 20.8 in five starts there. The silver lining… he finished eighth at Homestead last season in his first campaign with Team Penske and has performed at an elite level on 1.5-mile tracks this year. In Logano's nine starts at 1.5 mile courses in 2014, he boasts two victories and leads all drivers with a 5.8 average finish and six top-five performances.
If Logano wins the championship, at 24 years, 5 months and 23 days, he would become the youngest driver to capture the series crown since Jeff Gordon in 1995 – and third premier series champion under the age of 25, joining Gordon and Bill Rexford, who was 23 years old when he won the title in 1950. A native of Middletown, Connecticut, he would be the first driver from the Constitution State to win a NASCAR premier series title.
In addition, a Logano championship would mark the second title for Team Penske, that claimed its first with  the efforts of Brad Keselowski in 2012. Currently leading the NASCAR Nationwide Series owner standings by 29 points, Roger Penske's racing outfit has a legitimate chance of becoming the first team to win a NSCS, NNS and IndyCar championship in the same season.
Hamlin Hopes To Repeat At Homestead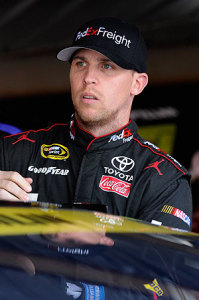 After going winless the first 35 races last year, Denny Hamlin captured the checkered flag in the season finale at Homestead-Miami Speedway to salvage his streak of notching at least one victory in each of his first eight full-time NASCAR Sprint Cup Series campaigns.
The stakes are higher for the No. 11 FedEx driver in Sunday's Championship race at Homestead-Miami Speedway (3 p.m. ET on ESPN). If Hamlin wins at the 1.5-mile track, or just finishes ahead of Kevin Harvick, Joey Logano and Ryan Newman, he will capture his first series championship.
Hamlin expressed his confidence in a title race at Homestead on Eliminator 8 Media Day, saying:
"Truth be told, if you ask me 'you have one race to race heads up for a championship, pick either Martinsville or Homestead?' I'd almost pick Homestead simply because we've just had a lot of success there over these last few years and it's been a great track for us."
Hamlin has won at the Miami-area track twice and also claims four top-five and ten top-10 finishes there.
In 2010, Hamlin found himself in a similar situation in the biggest race of his life prior to Sunday – the Ford 400 season finale at Homestead. The Chesterfield, Virginia native entered the race 15 points ahead of Jimmie Johnson for the standings lead. With the championship in his sights, Hamlin failed to stave off Johnson. He qualified 37th and spun on the 25th lap, events that culminated in a 14th-place finish. Johnson took second to win his fifth straight title.
With a new shot at redemption, Hamlin can accomplish two major milestones by winning the championship:
Unable to compete at Auto Club in March due to an injury caused by a piece of metal lodged into the back of his eye, Hamlin can become the first NSCS champion to miss a race since NASCAR Hall of Famer Richard Petty in 1971. Petty missed two races that year: A Daytona qualifying races – which was a points race at that time – and a race in Macon, Georgia's Middle Georgia Raceway.
Hamlin, 33, can pilot the first Toyota to a NSCS title.
Master of Survival: Newman Can Capture Cup Title At Homestead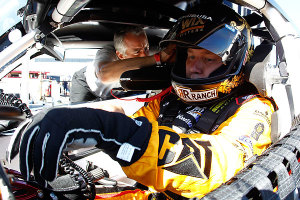 On the final lap of last Sunday's penultimate race at Phoenix, Ryan Newman found himself on the verge of elimination, needing to gain one more position from his 12th-place spot on the track. In a final move of desperation, Newman was able to force Kyle Larson into the Turn 4 wall and pass him for 11th-place – a performance that put him one point ahead of Jeff Gordon for the final berth in the Championship 4.
Newman's Arizona effort was not the first time he rose to the occasion under pressure in this season's Chase for the NASCAR Sprint Cup. Clinging onto the final position on the Chase Grid entering the Challenger Round cutoff race at Dover, the No. 31 Caterpillar, Inc./Quicken Loans driver produced an eighth-place finish to advance to the Contender Round. He also avoided "The Big One" at Talladega and registered a third-place showing in the process to solidify his spot in the Eliminator Round.
The NASCAR world will see if Newman has one more clutch effort left in the tank for Sunday's Championship race at Homestead-Miami Speedway (3 p.m. ET on ESPN). A 13-year full-time veteran of the NASCAR Sprint Cup Series, Newman can capture his first title in any NASCAR national series by finishing ahead of Kevin Harvick, Joey Logano and Denny Hamlin.
In 12 Homestead starts, Newman owns one top five and four top 10s. His highest finish at the Miami-area track was a third-place showing in 2012. One potential note of interest: Newman is the only one of the Championship 4 who did not test at Homestead at the end of October.
Competing in his first season with Richard Childress Racing, Newman can earn the organization its first premier series title since 1994 when Dale Earnhardt captured RCR its sixth championship. Newman would be the only driver other than Earnhardt (six titles) to clinch a premier series crown with RCR.
Newman has proven to be the true underdog story in the Chase. Despite not winning a race during the regular season, the consistent 36-year-old racked up 10 top-10 finishes and placed lower than 30th only two times to clinch the 16th and final spot in NASCAR's playoffs. No matter how Newman fares at Homestead, he will achieve a career-best finish in the final standings. His previous high finish was sixth – a feat he has achieved three times (2002, '03, '06).
Fast Five: Battle For Fifth
The spotlight is on the Championship 4 this week, but 39 other drivers will also compete in Sunday's Ford EcoBoost 400 at Homestead-Miami Speedway (3 p.m. ET on ESPN), including the 12 eliminated Chase for the NASCAR Sprint Cup competitors.
Drivers eliminated in any of the first three rounds of the Chase can still finish as high as fifth in the final standings, no matter in which segment they were knocked out. Once removed from NASCAR's playoffs, a driver's points total is reset to 2,000 (plus any bonus points from regular season wins) and his points accumulated during Chase races are added.
At the moment, Brad Keselowski occupies the fifth spot in the standings with an eight-point advantage over Jeff Gordon. Matt Kenseth (24 points behind Keselowski), Kyle Bush (-40), Carl Edwards (-42) and Dale Earnhardt Jr. (-39) round out the top 10.
As is the case almost every week, series wins leader Keselowski and four-time NSCS champion Gordon are two of the favorites to win at Homestead. Keselowski has finished worse than 20th in three of his six career Homestead starts, but finished sixth there last season and leads the circuit with three victories on 1.5-mile tracks this season. Gordon won at Homestead in 2012 and boasts seven top fives and 11 top 10s in 15 starts at the Miami oval.
Although Carl Edwards has not had the fastest car lately, he is a likely contender for the checkered flag on Sunday. The No. 99 Fastenal/Aflac Ford driver, who races for the final time for Roush Fenway Racing on Sunday, has been strong at Homestead throughout his career with two wins, five top fives, seven top 10s and two Coors Light Pole Awards. Edwards' Homestead loop statistics, including series bests in average running position (8.0), driver rating (115.5) and fastest laps run (266), back up his race results.
Last year's NSCS champion Jimmie Johnson is currently 13th in the standings, 80 points behind Keselowski.
Elliott Has Clinched, Now Time To Accept His Trophy        
Chase Elliott is the 2014 NASCAR Nationwide Series champion.
The JR Motorsports standout and son of NASCAR Hall of Famer Bill Elliott, has become the youngest all-time NASCAR national series champion at the age of 18 years, 11 months, 18 days. The Elliotts are now the fifth father/son combo in NASCAR national series history to win series championships joining the Jarretts, Pettys, Pearsons and Earnhardts. Young Elliott is also the third NASCAR national series champion from the state of Georgia (Dawsonville), joining NASCAR Hall of Famers Tim Flock and his father Bill Elliott. And to boot, Chase Elliott clinched the title in just 32 of the 33 scheduled NASCAR Nationwide Series races; he is currently 52 points ahead of Regan Smith in second place.
"This team knows how to get it done," said Elliott. "I can't thank Dale Jr., Rick Hendrick (co-owner) and Greg Ives (crew chief) enough. I'm so thankful to be able to enjoy this with them, because they've worked so hard. They had a rookie come in and they gave me a chance. It was pretty obvious this was a championship-caliber team early in the season. We just had to keep digging and stay focused."
After conquering so many goals so early in his career the question begs – is Elliott the next big thing?
Only time will tell, but the future is bright for Elliott, especially since he has the opportunity to repeat his success in the NASCAR Nationwide Series next season with JR Motorsports in the No. 9 Chevrolet team. Elliott's car owner Dale Earnhardt Jr. won back-to-back series driver titles in 1998-'99, it will be interesting to see if Elliott can do the same.
Even though Elliott already has the championship in hand, he was adamant about going for one more win on Saturday at Homestead-Miami Speedway (4:30 p.m. ET on ESPN2), where he also looks to lock up the Sunoco Rookie of the Year Award (he currently holds a 46-point lead over Ty Dillon).
"Hopefully, next season we are able to go and have the same result as this season, a championship with some more wins," said Elliott. "I think that the biggest thing next season is get more wins, and we still have one more week to get another win this season."
Elliott has posted two poles, three wins (Texas-1, Darlington and Chicago), 16 top fives and 26 top 10s this season. He is the first Sunoco Rookie to win a title and also the first rookie to win three or more races since Carl Edwards won five in 2005.  
Roger Penske's Second Owner Championship Awaits In The Sands Of Sunny Florida
Homestead-Miami Speedway will host the NASCAR Nationwide Series this weekend for the final race of the season, the Ford EcoBoost 300 on Saturday; the proverbial last hurdle for car owner Roger Penske before he claims his second consecutive NASCAR Nationwide Series owner championship.   
Penske has tapped 2010 NNS driver champion Brad Keselowski to bring home the owner title in the No. 22 Ford this weekend. Originally, teammate Joey Logano was scheduled to run this event, but after the results of the NASCAR Sprint Cup race last Sunday at Phoenix, Logano has turned his focus solely to winning the NASCAR Sprint Cup Series championship. 
The No. 22 Team Penske Ford leads the No. 54 Joe Gibbs Racing Toyota by 29 points. The No. 22 will clinch with a finish of 24th or better; or 25th with at least one lap led; or 26th and the most laps led.
Keselowski has made 10 starts this season posting five wins, 10 top fives and an average finish of 1.8.
"To be in a front running car and to have great pit crews, and a good crew chief, obviously a great team owner to provide all the resources, that's the type of results you get from it," said Keselowski. "I am proud to be a part of it. This season is one I will remember for a long-time."
Keselowski has made seven series starts at Homestead posting two wins, four top fives and an average finish of 10.9. Keselowski will be joined by teammate Ryan Blaney in the No. 12 Ford this weekend.
Second To Fifth In The Points Are Taking Their Talents To South Beach
With Chase Elliott clinching the top spot, the driver standings spotlight has turned to the four drivers sitting in positions second through fifth as they head to Homestead-Miami Speedway this weekend. Just 22 points separate the four drivers and South Florida will be the stage on which it all shakes out. 
Regan Smith is currently second in the standings, 13 points ahead of third-place Brian Scott.  If Smith holds on to the runner-up position after the season finale at Homestead-Miami, JR Motorsports would become the first team in 14 years to finish first and second in the series point standings.  The Greg Pollex-owned PPC Racing team was the last to do it in 2000 with drivers Jeff Green and Jason Keller. Smith has made four starts at Homestead posting one win (2012) and an average finish of 22.3.
Smith's closest competitor, Brian Scott (-13), has had a career-season.  In 2014, he has posted in six top fives and 22 top 10s. This weekend is Scott's last chance to catch Smith. Scott has made four starts at Homestead posting two top 10s and an average finish of 16.5.
Nipping at Scott's heels are veteran Elliott Sadler (-1) in fourth-place and Sunoco Rookie candidate Ty Dillon (-9) in fifth-place.  Sadler has the most experience at Homestead of the four drivers with eight starts amassing one top five, three top 10s and an average finish of 17.6. Dillon, on the other hand, has only made one start at HMS finishing 14th.
NASCAR Nationwide Series Etc.
The NASCAR Nationwide Series will hold a championship press conference at Homestead-Miami Speedway Thursday, Nov. 13. Expected guests include the driver standings championship driver, owner and crew chief as well as the car owner standings champion. The event is scheduled to begin at 11 a.m. (ET). For additional event information and assets visit NASCARMedia.com. … South Florida native and rapper/pop star Tramar Dillard, also known as Flo Rida,  will serve as the honorary starter and wave the green flag for the NASCAR Nationwide Series race on Saturday, November 15. Flo Rida was born and raised in Miami Gardens, located in north Miami-Dade County. He has released four albums since breaking into the hip-hop scene in 2008 and his music has accumulated more than 80 million downloads worldwide.
The Final Showdown: Championship Title On The Line
The season-finale at Homestead-Miami Speedway has arrived and with it the 2014 NASCAR Camping World Truck Series champion will be crowned.
Following his runner-up finish at Phoenix last Friday, Matt Crafton increased his standings lead over Ryan Blaney to 25 points.
Regardless of the performance of other drivers, Crafton can become the first back-to-back champion in the series' 20-year high octane history with a finish of 21st or higher in Friday's Ford EcoBoost 200 (8 p.m. ET on FOX Sports 1) – a finish he has scored in all but two races this season.
To get to his current position, Crafton accumulated two wins (Martinsville, Texas) and a series-leading 13 top-five finishes. The No. 88 ThorSport driver swapped the standings lead with Timothy Peters, teammate Johnny Sauter and Blaney throughout the season before regaining the top spot on Sep. 14 after his second place finish at Chicagoland.
Crafton, 38, has failed to finish in the top 10 in just five races this season. He leads the NCWTS with a 6.9 average finish and his 106.4 driver rating ranks second.
For Blaney to take the championship, he essentially must win and hope Crafton has a rough day. The No. 29 Ford F-150 driver has strung together a streak of six top-10 finishes to give himself a chance on Sunday. If Blaney can overtake Crafton, he would become the youngest NCWTS champion ever (20 years, 10 months, 14 days).
If Crafton clinches the title, he would rank tied with Todd Bodine for third in the Truck Series record book with two championships. The Tulare, California native would trail only four-time champion Ron Hornaday Jr. and three-time title-winner Jack Sprague for the most crowns in series history.
Kennedy Or Reddick? Rookie Race Ends At Homestead-Miami
A mere three points separate Ben Kennedy (184) and Tyler Reddick (181) in the Sunoco Rookie of the Year standings.
The two youngsters have one more opportunity to compete for who comes out on top – Friday's Ford EcoBoost 200 at Homestead-Miami Speedway (8 p.m. ET on FOX Sports 1).
In search of his first win, Kennedy ranks eighth in the overall standings and claims seven top-10 finishes this season. He has led the Sunoco Rookie of the Year points standings since the second race of the season and earned his career-best third-place finish at Martinsville in March. The 22-year-old NASCAR Next alum came in 30th at Homestead last season – his only previous start there – after experiencing an engine failure 45 laps shy of the finish line. At the conclusion of the race, Kennedy will be the first descendant of NASCAR founder Bill France Sr. to complete a season in one of NASCAR's three national series.
Though starting only 15 of the 21 races this season, Reddick has stormed his way into the Sunoco Rookie of the Year conversation with six top-10 finishes in the last seven races, including three season-best fourth-place showings. The 18-year-old Corning, California native took 10th in last week's event at Phoenix. Friday's start will be his first appearance at Homestead.
Rounding out the NCWTS Sunoco Rookie of the Year standings are Mason Mingus (44 points behind Kennedy), Tyler Young (-49) and NASCAR Next member Gray Gaulding (-103).
No. 51 Closes In On Second Consecutive Owner Championship For Kyle Busch
Ten victories split between Kyle Busch (7) and Erik Jones (3) have propelled the No. 51 Kyle Busch Motorsports Toyota Tundra to the top of the owner standings.
Busch leads Rhonda Thorson and her No. 88 ThorSport Racing entry – exclusively piloted by current first-place driver Matt Crafton – by 18 points.
Busch will control his own destiny when he takes the wheel of the No. 51 for the final time this season in Friday's Ford EcoBoost 200 at Homestead-Miami Speedway (8 p.m. ET on FOX Sports 1). A finish of 14th or higher will earn him his second consecutive owner championship and his third since KBM's first Truck Series season in 2010 (2010, 2013). The No. 51 has finished 14th or better in all but four races this season.
The No. 51 has visited Victory Lane in the past two weeks to increase its lead. Busch drove his truck to his third career victory at Texas, while Jones took it for a burnout in Phoenix for the second straight season.
KBM would become just the second organization to repeat as owner champions. Xpress Motorsports – owned by Steve Coulter – won consecutive NCWTS championships from 2002-03.
NASCAR Camping World Truck Series Etc.
Equipped with 12 years of experience in the NCWTS, Bryan Berry will make his 200th career trucks start as a crew chief in Friday night's 134-lap season finale, orchestrating the No. 02 Young's Motorsports team at Homestead-Miami Speedway. Berry, a Homestead, Florida native, will call his 10th race at his "home" track where he claims a high finish of second in 2006 with driver Brandon Gaughan.