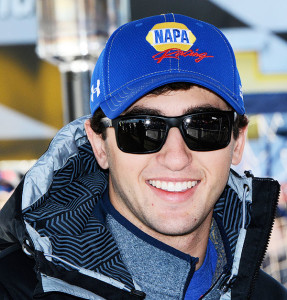 By Phillip Prichard, MSA:
The Atlanta Sport Speedway (AMS) treated NASCAR Fans to a triple header weekend. AMS had made a perfect weather guarantee and they fulfilled it with sunny weather and temperatures in the high 60s on Sunday.
Using strategy with a short pitting call, Jimmie Johnson won the Folds of Honor QuikTrip 500 Sprint Cup Series race for his 1st win of the season. This was Johnson's 5th win in at Atlanta and 76 career win. He tied Dale Earnhardt, Sr. for 7th on the all-time career wins list and has one at least 1 race in each of the last 15 years. Johnson led 52 of the 330 laps.
Dale Earnhardt, Jr. finished 2nd, followed by Kyle Busch, Kurt Busch, Carl Edwards, Kevin Harvick, Martin Truex, Jr., Chase Elliott, Brad Keselowski, and Ricky Stenhouse. The 8th place finish is a career best for Chase Elliott in the Sprint Cup series, he was the highest finishing rookie.
The race went caution-free for the first 209 laps, the longest green flag run to start a race in Atlanta history. A spin by Ryan Newman with 2 laps remaining sent the race into "NASCAR Overtime". A wreck on the backstretch after the leaders had already passed the overtime line, forced the race to end under caution. There were 28 lead changes among 8 drivers and 3 cautions for 13 yellow flag laps.
For a race with a mere three cautions, #88-Dale Earnhardt Jr. found Sunday's event with the new low-downforce competition package exhilarating. "I loved it," Earnhardt said. "We were sliding around and driving the hell out of the car. I had a blast! I had some good races there on the track with the #2 (Brad Keselowski) and the #18 (Kyle Busch) and a bunch of guys. Man, it was so much fun. And I post old pictures online all the time of the '80s and '90s, and that's when racing was racing. That's when it was good. That's what they (the fans) saw today."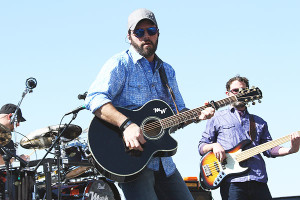 Ninth-place finisher Brad Keselowski echoed Earnhardt's sentiments. "I loved the way the cars drive," said Keselowski, who had the top-finishing Ford. "I understand that it takes more than my opinion to make the sport go round, but I thought it was awesome." Carl Edwards, a long-time advocate of the new aerodynamic package, stated, "This is real racing. We're driving hard. You can see the guys out here just digging for everything they're worth. I'm worn out. That's a tough race and just a lot of fun. I just can't thank NASCAR enough and Atlanta – don't ever pave this place – it's a perfect race track. I hope the fans enjoyed the show.
Changes to the car for this season's aero package include reductions to: Spoiler – 2015: 6″ tall, 2016: 3.5″ tall; A shorter spoiler creates less downforce than a taller spoiler; Splitter – 2015: 2″ overhang, 2016: .25″ overhang; Shortening the splitter reduces downforce;  and Radiator Pan – 2015: 38″ wide, 2016: 33" wide; A narrower panel is less effective in deflecting air, which slows airflow and creates less downforce.
Kyle Busch won the Heads Up Georgia 250 in the XFINITY Series on Saturday. It is his 77th XFINITY Series win and 1st of the year. He started from the pole and lead 119 of the 163 laps. Kyle Larson finished second, followed by Erik Jones, Paul Menard, Ty Dillon, Brad Keselowski, Daniel Suarez, Justin Allgaier, Elliott Sadler, and Jeb Burton. There were 5 cautions for 21 laps and 5 lead changes among 4 leaders.
John Hunter Nemechek won the Georgia 200 Camping World Truck series on Saturday. It is his 2nd career win, his 1st of 2016, and his first at Atlanta. At 18 years, 8 months and 16 days, Nemechek becomes the youngest NASCAR national series winner at Atlanta Motor Speedway.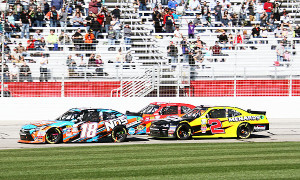 Cameron Hayley finished second, followed by Timothy Peters, Daniel Hemric, Grant Enfinger, Ben Rhodes, John Wes Townley, Parker Kligerman, Caleb Holman, and Spencer Gallagher. There were 5 cautions for 25 laps and the caution clock was used twice [for the first and third cautions]. There were 7 lead changes among 4 leaders.
A tip of the hat goes out to QuikTrip on their sponsorship of the race and honoring the Folds of Honor. The Folds of Honor Mission Statement is:             Of the one million-plus dependents adversely affected by deployments,
nearly nine out of 10 do not qualify for federal scholarship assistance.
Since 2007, the Folds of Honor has carried forth this singular, noble
mission. To close the gap, providing educational support to spouses and
children of America's fallen and wounded soldiers.
Check out www.atlantamotorspeedway.com for upcoming events at AMS.