Story & photos by: Jerry Towns, Atlanta Dragway: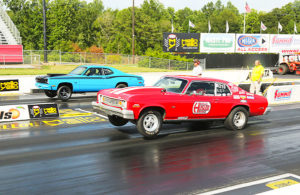 SUPER PRO – 2nd generation racer wins again
With 2 wins in the last four races, Hammering Hank Wilhelm has a .500 batting average.  Hank Wilhelm from Maysville, Ga in his '96 Ed Quay Dragster defeated Don Brown, Jr. in is '03 Spitzer Dragster in the closest race of the day and a double break out run.  Wilhelm wanted to thank his mom and dad (Linda & Marty), his girlfriend Erica and his good luck charm, sister Katie who drove eight hours from the beach to get there by the second round.
Wilhelm ran a 5.019 ET on a 5.02 dial in at 132.70 mph and a reaction of 0.015.  Brown from Buford, GA ran a 4.787 ET off his dial in of 4.79 at 143.25 and a 0.003 reaction.
Wilhelm beat Daulton Rogers from Hiawassee, GA in his '00 Undercover Dragster in the semifinals and Brown defeated Brian Scott from Flowery Branch, GA in his Undercover Dragster.
PRO – Racers for Christ Chaplin, Matt Ward may have had special help
Matt Ward from Anderson, SC in his '69 Camaro defeated Will Spearman from Walhalla, SC in his '74 Duster in an all-South Carolina final.  Matt wanted to thank God, Racers for Christ, his father in law Wayne, wife Crystal and his mother in law Carolyn for keeping his daughters so he could race today.  He also wanted to thank the track crew for a great racetrack.  This is Matt's second win this year at Atlanta Dragway.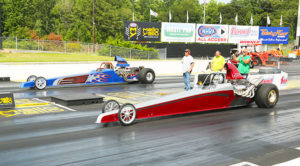 In the final Ward ran a (dead on) 6.437 ET on a 6.43 dial in at 106.38 mph and a 0.016 reaction time.  Spearman ran a 6.703 ET on his dial in of 6.69 at 101.99 mph and a 0.026 reaction
Ward had a single run into the finals.  While Spearman took the win light over George Mitchell from Canton, GA in his '70 Nova during the semifinals.
SPORTSMAN – "Mayor" of Hickory Flat, GA Dickey Forrester wins this election on the ¼ mile asphalt
Dickey Forrester defeated Ed Nalley from Carnesville, GA in his '83 Chevy Truck Forrester in his '68 Camaro ran a 11.946 ET on his 11.88 dial in at 100.66 mph and a 0.002 reaction time.  Nalley ran an 11.633 ET on his dial in of 11.55 at 114.76 mph and a reaction of 0.071.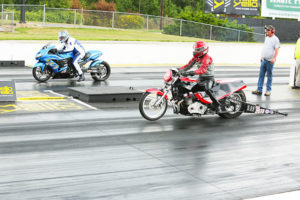 In the semi's Forrester beat Allen Smith from Cleveland, GA in his '91 pickup, and Nalley has a single.
SUPER PRO BIKE – Another notch in his belt
David Fletcher puts another notch in his belt in a shootout in super pro bike against Randy Day.  David from Lawrenceville, GA on his '84 Kawasaki defeated Randy from Anderson, SC on his Kawasaki.  Fletcher ran a 5.836 ET on his 5.82 dial in at 114.30 mph and a 0.059 reaction.  Day ran a 5.745 ET off his 5.78 dial in (break out) at 120.55 mph and a 0.029 reaction time.
Semifinals, Fletcher beat Tim Sutton on his '89 Suzuki from Clermont, GA.  Day had a bye run into the finals.
STREET ET BIKE – Jimmy cha-cha'd all the way to the winner's circle
Jimmy "Cha Cha" Heisler from Woodstock, GA defeated a red lighting Randy Day from Anderson, SC.  Both racers astride a Kawasaki met in the finals.  Heisler wanted to thank his wife Eeman for her help in getting to his second win of the year.  Thanks was also sent out to his sponsors, Vanson Leathers, Motul Oil, Shorai, Mattei Cycle Supply, Traxxion Dynamics, Brocks Performance, and Dragbike.com.
Heisler ran a 10.693 on a 10.71 dial in (break out) at 124.45 and a 0.088 reaction time.  Day ran a 9.386 ET on his 9.35 dial in at 144.69 mph but had a red light start of -0.027 reaction.
Heisler had the bye run to the finals, and Day faced Bryan Wilson from Maysville, Ga.
Sanctioned by the National Hot Rod Association (NHRA), Atlanta Dragway is located just off I-85 at Exit 149 in the Banks Crossing area of Commerce, Georgia. Information on all 2015 events, including the Night of Fire on June 27, 2015, may be obtained by calling the track office (706-335-2301) or logging on to  www.atlantadragway.com.