On a day when children across the country enjoy a nice dinner or cookout with their fathers, Monster Energy Top Fuel dragster driver Brittany Force will celebrate Father's Day with her dad at the NHRA Thunder Valley Nationals at Bristol Dragway.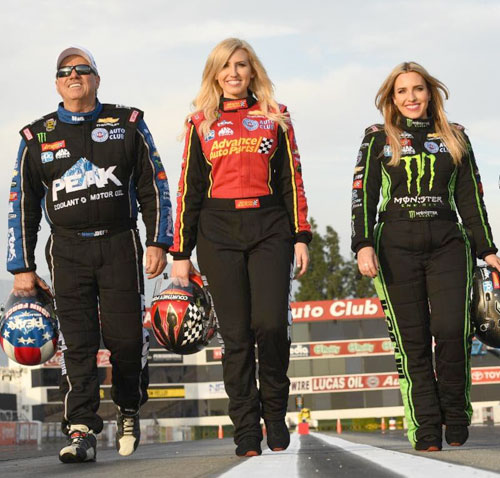 Father's Day at Bristol has become a tradition in NHRA – and with the Force family since John Force's daughters began racing in the professional classes. First, Ashley Force raced with her dad. In 2012, Courtney Force began racing Funny Car, and older sister Brittany joined the pro ranks in Top Fuel a year later.
"Racing in Bristol on Father's Day is always special," Brittany Force said. "It always happens to land on that weekend, and Courtney and I do the Track Walk with our dad, which is something fun before race day.
"Bristol is one of my favorite race tracks – Thunder Valley. It's a Bruton Smith track, and it's absolutely beautiful. It's a race that I want to win, it's a race I will win one of these days. I'd love to do it this year on Father's Day."
Brittany Force comes to Bristol with momentum, winning in Epping, N.H., to start the four-race "Eastern Swing." She also raced to the semifinals last weekend in Englishtown, N.J., as her Monster Energy team has reworked her dragster to find speed and consistency.
Winning in Epping came at the right time, as Force's team can carry positive momentum from there to Englishtown, then to Bristol and finally to Norwalk, Ohio next weekend.
"I've always liked back-to-back races," Force said. "For me, it makes me feel more comfortable. Taking a weekend off or two weekends off, you kind of have to find your way back into it. Four in a row, I'm pumped for it, I'm ready for it. It helps me stay on my toes, and the momentum just carries over.
"You have that hype, that energy from the last week. For me, I like four in a row. I'm not out of the seat long, and it's something I've always liked. Not just me as a driver, but the whole team. It keeps us moving forward."
Two rounds of qualifying are slated for Friday (5:30 and 8 p.m. Eastern) and Saturday (1:30 and 4 p.m.), with final eliminations scheduled for noon Sunday.
Fox Sports 1 plans to television one hour of qualifying highlights at Friday at 8 p.m. Eastern and Saturday at 11 p.m. FS1 will broadcast three hours of finals coverage at 6:30 p.m. Sunday.
4-Second Reads:
Brittany Force has competed in four races at Bristol Dragway and every race since 2013, her rookie season.
Force is looking for her first finals appearance. She has made it to the quarterfinals twice (2013 and 2016).
Force is 2-4 in six elimination-round races at Bristol.
Force qualified No. 1 in 2014 at Bristol Dragway.
Force is 2-2 in elimination-round races at Bristol.
Force is currently sixth in Top Fuel points standings.
In her career, Force has four victories, 100 elimination-round wins and six No. 1 qualifying spots.
Force's most recent NHRA victory – 2017 New England Dragway in Epping, N.H.
Force's most recent No. 1 qualifying effort – 2016 NHRA Route 66 Nationals in Joliet, Ill.
Force's best time/speed at Bristol – 3.747 seconds (2015); 326.24 (2014)
Force's best time/speed of career – 3.674 seconds (2017 Topeka Q3); 333.66 (2017 Topeka E1)